Why Another Airport Decided To Remove Chick-Fil-A From Its Future Dining Options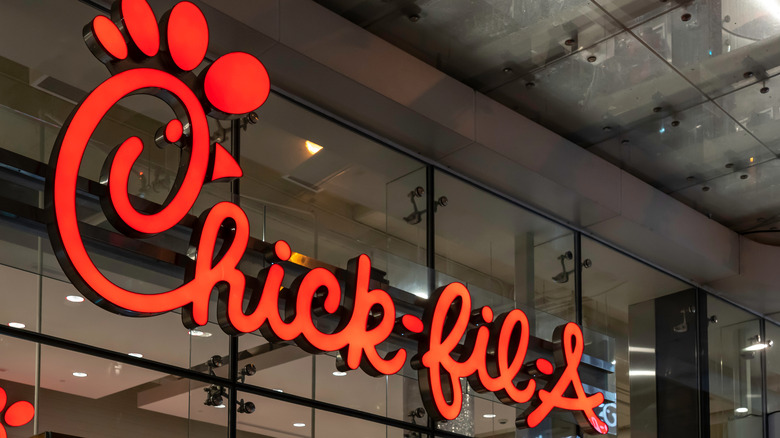 JHVEPhoto/Shutterstock
When the Kansas City International Airport opens its new single terminal, it is promising to deliver accessibility for those who might otherwise struggle to have a positive travel experience. Contractors are adding visual paging boards that will allow the hearing impaired to read important information such as flight changes. They are building a simulation room to help blind passengers navigate the facility. It even promises to have both gender-neutral and regular bathroom facilities, adult changing rooms, and private breastfeeding areas. It also offers areas for service animals to relieve themselves (via The Beacon). 
But what the new terminal won't have is a Chick-fil-A. Chick-fil-A was dropped from consideration due to opposition from those who said the chain is not inclusive (via Fox Business). The fast food chicken franchise has a reputation for its past support of anti-LGBTQ organizations, which have opposed same-sex marriage, among other issues (via Insider).
Gay-rights advocates like Justin Short, who sits on Kansas City's LGBTQ Commission, says its important that Chick-fil-A will not have a presence at the new airport terminal because "for the past six to eight months we've been putting out these inclusivity talking points, about having the most progressive airport in the country, and now we're throwing Chick-fil-A in there. You know you can't do both" (via Fox Business).
Why Chick-fil-A attracts controversy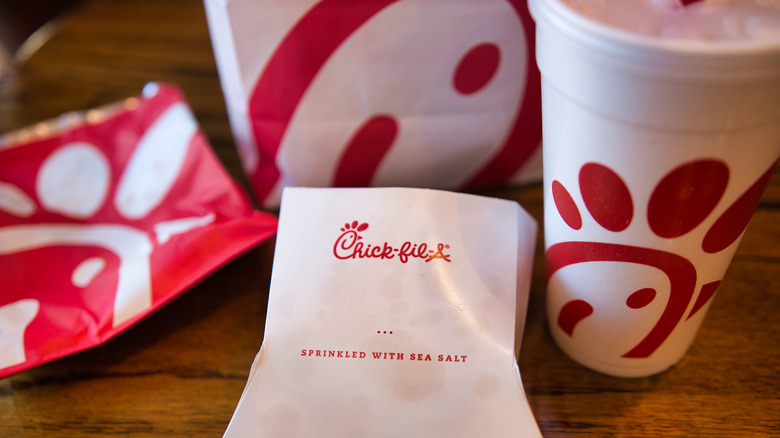 jmac23/Shutterstock
Fast food restaurants are often love 'em or hate 'em propositions, chiefly because they are perceived to serve food items that don't rank too highly on the healthy scale. But even in this contentious space, Chick-fil-A attracts more criticism than its peers because of the causes that its owners and members of senior management have either funded or supported. The restaurant chain's anti-LGBTQ stance is especially controversial, because it has donated to conservative groups that are known for their opposition toward the LGBTQ community. The controversy is also somewhat complicated. Facing backlash, the company announced in 2012 that it would no longer donate to most of these groups. However, according to Insider, donations were still made to some organizations, including the Salvation Army and the Fellowship of Christian Athletes, which were known for their opposition to LGBTQ issues, including same-sex marriage.
In November 2019, Chick-fil-A said it would cease to donate money to those organizations as well. However, in July of this year, Chick-fil-A CEO Dan Cathy, who has been vocal in his opposition to same-sex marriage, was called out over his personal donations to the National Christian Charitable Foundation, a group that gives money to organizations fighting against the Equality Act, legislation that would make it illegal to discriminate against LGBTQ people (via Daily Beast).
Chick-fil-A has had problems like this before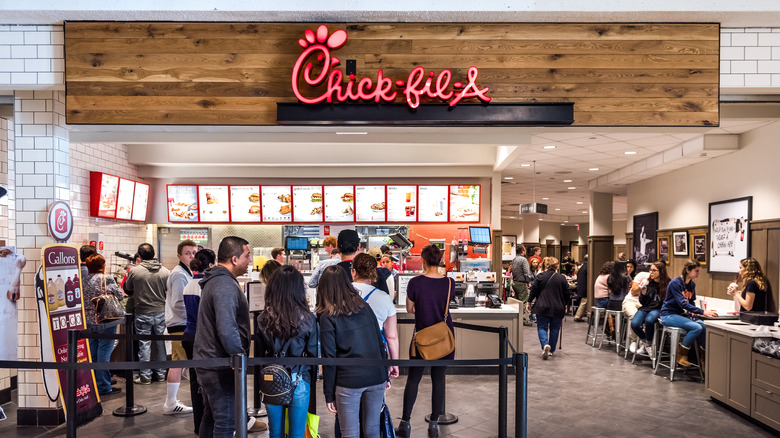 Andriy Blokhin/Shutterstock
This isn't the first time Chick-fil-A has had a wrench thrown into its expansion plans. In 2019, the San Antonio, Texas, City Council voted to reject Chick-fil-A's bid to open a restaurant at the San Antonio Airport. San Antonio eventually lifted the ban, but Chick-fil-A ultimately declined the offer to take up the spot (via Fox Business). The chain has even been the subject of scrutiny from New York Democrats, who pushed for Chick-fil-A to be kept out of rest stops in the state.
Even so, the chain does have a solid fan following, among them South Carolina Senator Lindsey Graham, who once famously said he would "go to war" for Chick-fil-A after students and faculty members tried to get it thrown off the University of Notre Dame (via Fox Business). And while we don't know if Graham has the pull to get the restaurant into the Kansas City airport's new terminal, we're pretty certain this isn't the end of this particular Chick-fil-A story.