Duff Goldman Just Shared His Secret For Making Ultra Crispy Focaccia Bread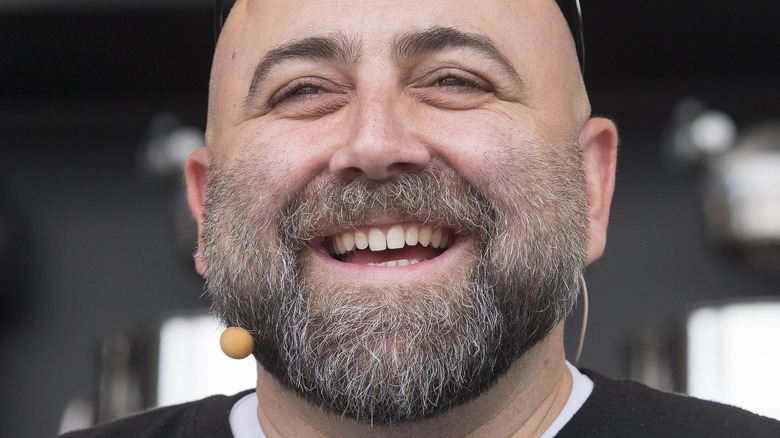 Sterling Munksgard/Shutterstock
Few chefs know how to bake better than Duff Goldman. This celebrity chef started experimenting in the kitchen at the age of 4, started professionally working in a bagel shop when he turned 14, and has gone on to work in professional kitchens, write cookbooks, and host multiple television shows, per Food Network. Goldman's particular specialty lies in baked goods and he has tasted a ton of breads, cakes, and cookies as a judge on shows like "Holiday Baking Championship" and "Spring Baking Championship."
While you may recognize this baker from his stint on "Ace of Cakes," Goldman knows how to handle a kitchen. In a recent Instagram post, the chef showed off a sizzling focaccia. The post received a ton of attention and raked in over 58,000 views. The popularity makes sense, especially considering the video contained a secret trick that can make any homemade focaccia that much better.
Duff Goldman's secret to the best focaccia
The Instagram post revealed that Duff Goldman's secret to the perfectly crispy crust, lies in frying the crust of the focaccia in oil as the bread bakes in the oven. The video doesn't hide this cooking trick, as an oven door opens to reveal a baking tray of dough, sizzling in a layer of olive oil. Goldman showed off the success in a follow-up post, featuring a browned and toasty loaf of focaccia sprinkled with baked-on seasonings. "Follow up to my previous post," he wrote in the caption. "I don't play games." 
Anyone that follows the chef couldn't disagree, and excited responses to this super crispy crust ranged from "Omg be right there," all the way to "Yum!" With a kitchen hack this easy, you don't have any excuse to not make an extra crispy focaccia the next time a craving strikes. Just remember to take a page from Goldman's book and let the crust fry in olive oil while it bakes, and you can end up with a loaf that has the power to make anyone simultaneously jealous and hungry.