In San Francisco, Getting This Tattoo Meant Free Tacos For Life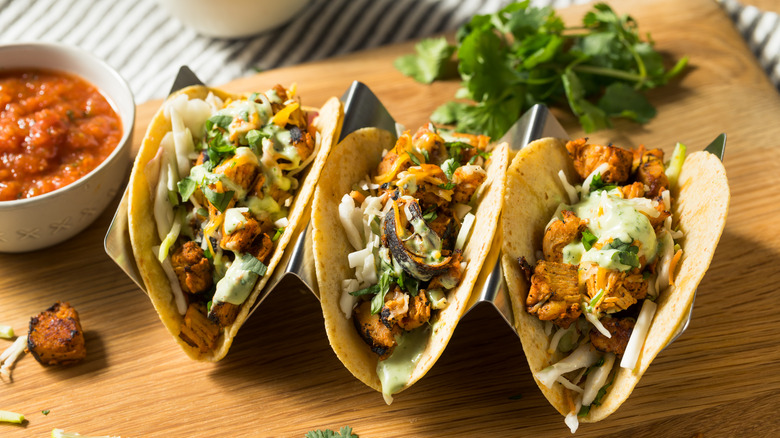 Brent Hofacker/Shutterstock
How far would you go to win free food for life from your favorite restaurant? Today, entering these types of contests might be as easy as crafting a catchy tweet or diligently filling out an entry form online every day for a month. However, in the days before the internet and social media ruled the world, the requirements weren't quite as simple. In fact, for one San Francisco eatery, getting a new tattoo was the price to pay for guaranteed meals for life — and not just any tattoo, either.
According to SF Gate, the California-based taqueria Casa Sanchez ran a promotion in 1998, in which they offered patrons the opportunity to score a free lunch of tacos or a burrito every day for the rest of their lives, in exchange for getting the restaurant's unique logo tattooed on their body. Their trademark featured a sombrero-wearing boy named "Jimmy The Cornman" riding a rocket ship shaped like an ear of corn. Marta Sanchez, who came up with the promo for her family's restaurant, didn't believe anybody would bite. Boy, was she wrong. In 1999, Sanchez told SF Gate that she estimated Casa Sanchez would be shelling out a whopping $5.8 million in food to customers free of charge — a number that grew even bigger when the restaurant revived the promotion in 2010 (via ABC7 News).
Dozens of people took Casa Sanchez up on their free meal deal
The above image is just one example of a Casa Sanchez customer's "Jimmy The Cornman" tattoo that they got permanently etched onto their skin in exchange for free meals for life. In reality, however, the website for the eatery's unique mascot says that there are more than 80 people walking around with the little guy somewhere on their bodies, and who could blame them? Per SF Weekly, the tattoo shop specializing in the design charged a mere $80 for the tat in 1999. With Casa Sanchez burritos going for $4.50 a pop back then, the art paid for itself after just 12 visits, which is what sold Greg Tietz on the idea. "I waited 35 years for my first tattoo," he told the news outlet. "I guess I wouldn't have done it without the free lunch. I don't like the logo that much. But I do like the burritos."
Casa Sanchez sadly closed up shop in 2012 in order to focus on their other business ventures, but no need to worry about the original participants in the restaurant's incredible meal deal. According to SF Gate, customers that got the "Jimmy The Cornman" design tatted on them all those years ago are able to head to D'Maize, which is the restaurant that took over the Casa Sanchez lease, and score a free papusa for their body ink.