Whataburger Has Good News For Hatch Green Chile Fans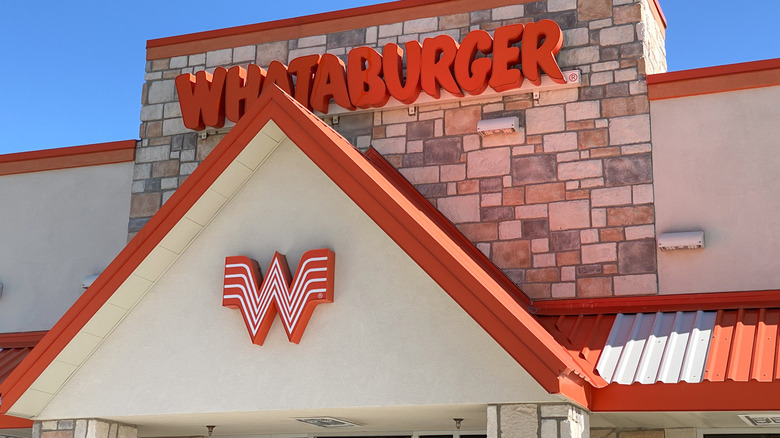 Moab Republic/Shutterstock
When Whataburger released their signature Hatch Green Chili Bacon Burger back in 2020, fans couldn't get enough of the limited-time offering that came with Hatch green chiles, bacon, two kinds of cheese, and two beef patties, per Chew Boom. Diners instantly loved the item — one reviewer with The Impulsive Buy even noticed that while jalapeños offer a specific kind of kick, the green chiles found on this special burger gave it something special. One year later, Whataburger has now brought the item back thanks to popular demand.
Though, this time, the chain has gone above and beyond, not only resurrecting the Hatch Green Chili Bacon Burger but also serving up a new Hatch Green Chile Bacon Chicken Sandwich. Like the previous burger, the menu item features two beef patties topped with slices of American and Monterey cheese, bacon, mayo, and roasted Hatch chiles. On the other hand, the Hatch Green Chile Bacon Chicken Sandwich comes with a choice of a Whatachick'n or grilled chicken filet, bacon, mayo, Monterey cheese, and roasted hatch green chiles on a brioche bun. With items this special, you have to act fast since Whataburger has cautioned they're available for a limited time only.
Whataburger is putting the focus on this specialty chile pepper
The chain released the new sandwiches as a way to celebrate Hatch green chiles, a pepper that originates in Hatch, New Mexico (known as the Chile Capital of the World). The crop is only harvested for a short time period of six weeks every year, per Whataburger, and you couldn't ask for a better (or fresher) way to enjoy this special ingredient. "Roasted Hatch chiles are a fall favorite that bring a different kind of spice to our Hatch Green Chile Bacon Burger, and now, Whataburger Hatch Green Chile Chicken Sandwiches," Rich Scheffler, Whataburger Senior Vice President and Chief Marketing Officer said on the official website.
These sandwiches offer the perfect way to enjoy some smoky flavor once a year. With any luck, diners might start associating fall with the unique taste of Hatch chiles and give pumpkin spice a run for its money. Not to mention, the new chicken iteration could be a big entrant into the chicken sandwich wars. In the meantime, enjoy these signature Whataburger offerings while you can for a one-of-a-kind kick you can't get anywhere else.