The Reason Anthony Bourdain Loved To Tan, According To Chef James Graham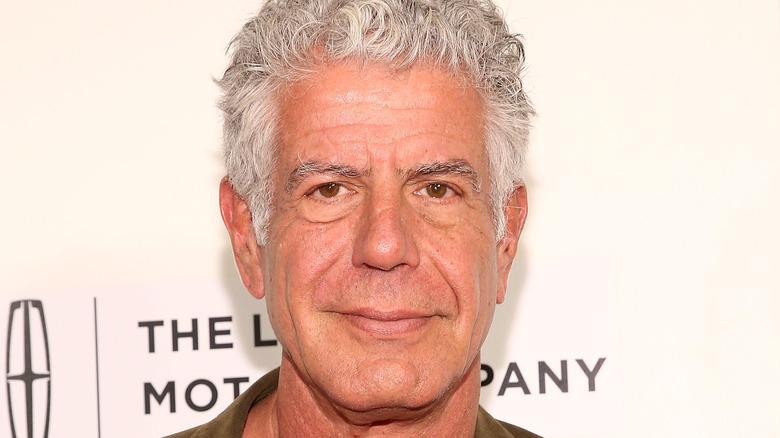 Robin Marchant/Getty Images
One of the tidbits to emerge from Laurie Woolver's book "Bourdain: The Definitive Oral Biography" is that Anthony Bourdain had an obsession with tanning. The New York Post quotes a theory offered by chef James Graham, "He would tan, I think largely to hide the pallor of heroin." Graham went further, remembering how Bourdain would "play hooky ... and tan aggressively. He looked like a Versace bag."
It's a theory that many might buy into, but it also reflects the time that James Graham would have known Bourdain. Talking to VoyageLA, the chef explained that his culinary background began with a few apprenticeships after high school: "I trained at the Four Seasons and then cooked for NY legend Sam Goldman, and then with Anthony Bourdain." That was a long time ago and, as a Grub Street piece about Bourdain's legacy illustrates, a large part of his image was that of an addict who overcame drugs. But Bourdain continued to tan even after he stopped using heroin.
Still, Graham's theory could be backed up by Bourdain's own words. In a 2017 profile for The New Yorker, Bourdain said that he stopped doing drugs after growing tired of living as an addict: "I'm a vain person. I didn't like what I saw in the mirror." So, the tanning could certainly have been an attempt to cover up the signs of addiction.
It's possible Bourdain just liked to tan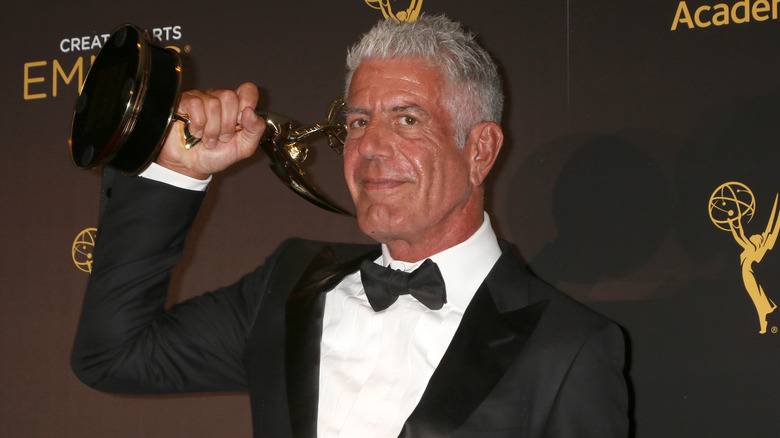 Kathy Hutchins/Shutterstock
However, Bourdain's vanity could have been just a general personality trait that extended beyond his feelings about drugs. Other quotations from Woolever's book (shared by The New York Post) suggest as much.
Anthony Bourdain's brother Christopher recalled how the chef would joke often about his tanning habits. Moreover, both of Bourdain's wives noted that changes in his appearance felt like the sign of a downward spiral. "I didn't like the way he looked in the last couple of years," Nancy Putkoski, his first wife, told Woolever. "He seemed to not care about being tan anymore." Octavia Busia-Bourdain, his second wife, offered a similar sentiment, saying she "stopped watching the shows toward the end, because I could not really recognize him." Perhaps the obsession with tanning was born from heroin's pallor as Graham posits, but it certainly extended long after Bourdain got clean.
Then, again, there are Anthony Bourdain's own words which seem to support this general view towards tanning. In 2011, TMZ acquired some pictures from 1999 of Anthony Bourdain utterly bared. Bourdain's immediate comment on the photo was "I look good! Nice tan." So, perhaps the man simply appreciated a good tan.
If you or anyone you know is struggling with addiction issues, help is available. Visit the Substance Abuse and Mental Health Services Administration website or contact SAMHSA's National Helpline at 1-800-662-HELP (4357).