Wendy's Canada Just Debuted Its Own Smartphone, But There's A Catch
When fast-food chains want to catch your attention, they have a few tricks up their sleeve. According to Quality Logo Products, Taco Bell released a line of trading cards to get customers in the door, Dunkin' produced custom branded tennis shoes, and KFC released a line of chicken-scented candles and fried chicken Christmas tree ornaments. Wendy's now has the honor of joining these competitors thanks to a promotion exclusive to the Great White North.
According to PC Magazine, Wendy's announced that they created a custom smartphone capable of sending and receiving texts and phone calls. This Samsung Galaxy A11 runs on Android and features a custom OS skin that hopefully shows the world how much you love this burger chain. The device sounds tempting — the brand claims it retails at $600 and comes with a Siri-like voice command system named Wendy. Anyone who loves novelty or Wendy's may want to get their hands on this smartphone, but unfortunately, you have to call Canada home to even have a chance to grab this unique item.
A novelty phone for the biggest Wendy's fan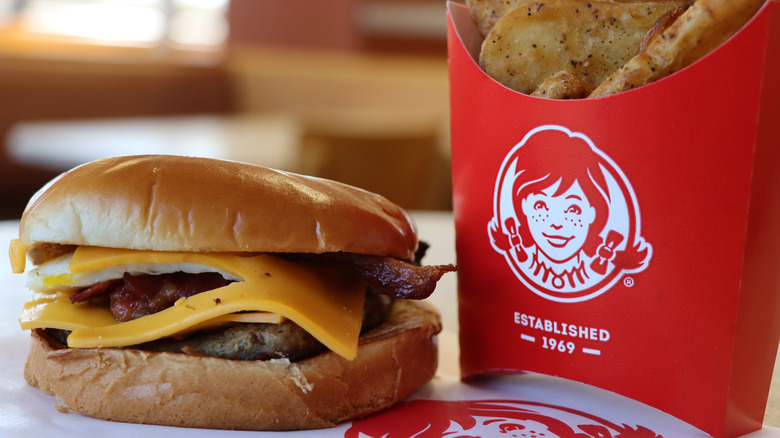 Deutschlandreform/Shutterstock
If you want to score this one-of-a-kind phone, you need to make sure you live in Canada. PC Magazine reports that Canadians can enter a competition to win this red-colored piece of hardware that features a 6.4-inch touch screen, rear-facing triple-camera system, and a fingerprint sensor. If you do happen to live in Canada, the rules of the contest require you to live in any province besides Quebec and can enter the competition through a tweet or a Twitter livestream, per the Wendy's website. Users need to take a screenshot of their favorite Wendy's meal in the restaurant's app, like the item, and tweet the photo to Wendy's with the #WendysPhone and #Contest hashtags. Alternatively, a Twitter livestream takes place on October 17, 2021, at 7 p.m. ET. Listeners need to tune in to get a secret voice command and then reply to the livestream in real time to guess the voice command that activates the Wendy's phone.
With any luck, this contest can catch on and has the power to make it stateside. With a fun product like the Wendy's phone, anyone can get excited to indulge at this fast-food restaurant and get some extra incentive to use the chain's smartphone app.