TikTok Is Freaking Out Over These Succulent-Shaped Raviolis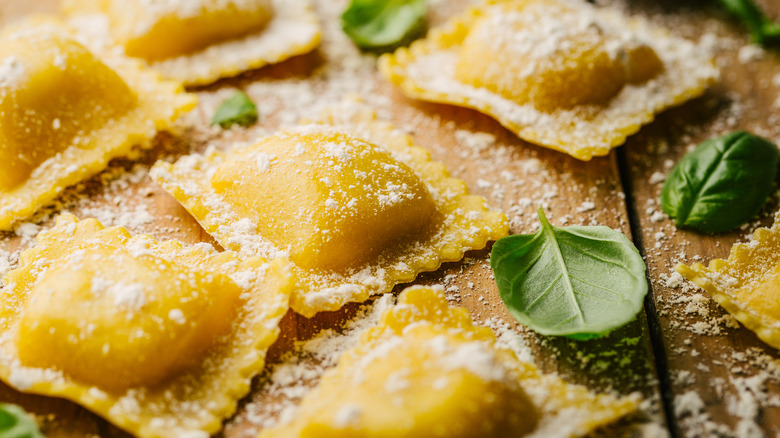 nerudol/Shutterstock
Trust the internet to come up with delicious ways to make food taste and look even better. For instance, in July, pasta chips started gathering momentum on TikTok as several users attempted to prepare the crunchy snack using air fryers (via Insider.) The cooking method was simple, too: all home cooks had to do was add some parmesan cheese and olive oil to cooked pasta before using an air fryer to make the chips. The process took just 10 minutes and yielded delicious results.
This was enough to generate interest among many other TikTok users, some of whom even tweaked the recipe to showcase their own versions to others. Well, pasta is popular once again on TikTok. This time around, a creative home cook has designed beautiful ravioli that look like tiny succulents. His work is gorgeous and has been getting plenty of appreciation from other TikTok users who can't get over how beautiful it looks.
The results are unbelievable
A New York-based lawyer, Dan Freeman has been delighting many TikTok viewers with his delicately designed edible ravioli that resemble succulents. According to Pop Sugar, Freeman wasn't expecting his work to get so much attention and was genuinely surprised by the response of the public. They liked his plant-shaped ravioli so much that they came up with suggestions. Thankfully, he decided to experiment with some of them. 
For example, in his second attempt, he added even more cheese to the recipe and made tiny pots for the succulents. Millions of fans were floored by this beauty. Freeman told Pop Sugar, "The response really blew me away! I'm happy that it was able to make so many people smile."
For Freeman, preparing pasta and coming up with new techniques is a way for him to honor his late Italian-American grandmother who loved preparing pasta dishes for the entire family. He's certain that she would've really enjoyed looking at his creative pasta designs. So sweet.