Everything We Know About Disney World's New Ratatouille Adventure Ride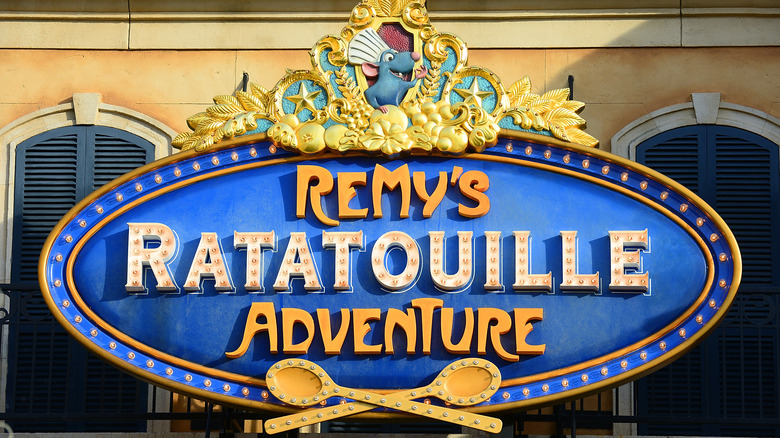 Gerada Mora/Getty Images
It's been nearly 15 years since "Ratatouille" hit the big screen, but we still remember it like it was yesterday. Created by Brad Bird and Pixar Animation Studios, "Ratatouille" follows an earnest and gifted Parisian rat named Remy, whose lifelong dream is to become a chef like his human hero, Auguste Gusteau (via The Hollywood Reporter). Unlike most rats, Remy has been blessed (or cursed) with a refined palate. While his fellow rats are happy to munch on garbage, Remy craves fresh berries and gourmet French cheeses, making him an outsider in his community. 
One day, Remy decides to sneak into Gusteau's once-renowned restaurant. He ultimately teams up with the kitchen's garbage boy, Linguini, who has no cooking abilities whatsoever. Together, the odd duo cooks up delectable dishes that help put the declining dining establishment back on the map. The best part about this movie: It can truly be enjoyed by children and adults alike. For long-time fans of the animated film, we've got good news for you. Disney World in Florida is debuting a brand-new Ratatouille-themed ride on October 1 of this year, and it's everything you'll want and more. Here's what you need to know about Remy's Ratatouille Adventure, opening at the France Pavilion in Epcot's World Showcase.
Remy's Ratatouille Adventure is an action-packed 4D experience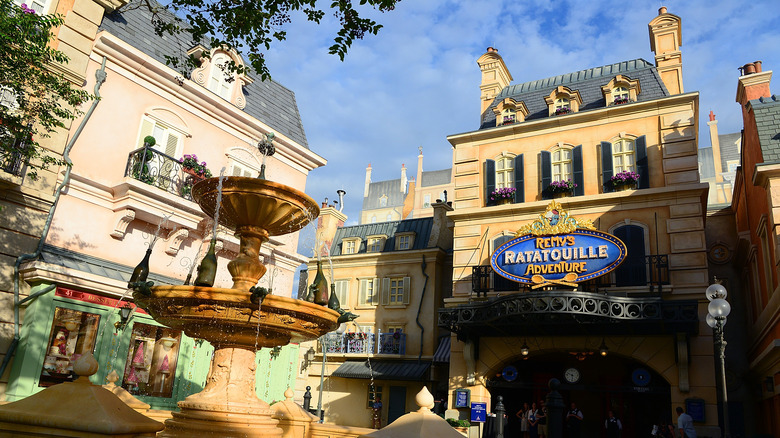 Gerardo Mora/Getty Images
Remy's Ratatouille Adventure is a fully immersive 4D experience, according to Disney World, and it gives lucky guests the chance to go on an enthralling culinary journey that speeds through the chaotic world of Gusteau's famous Parisian kitchen. This brand-new ride, suitable for all heights and ages, takes place in a trackless rat-shaped car that's meant to make you feel like Remy's size as you scurry from scene to scene.
While the ride is less than five minutes long, every second is action-packed. According to Eater, guests will gaze in wonder at 3D imagery playing across different screens as the 4D elements of the ride simultaneously activate their other senses. Visitors will feel a wave of heat, for example, when they are below a broiler, get a mist of water from a mop, and smell a cheese-like aroma wafting from the kitchen. Even the line to get on the ride has scenery to explore and a peaceful twilight setting. Disney World truly is the happiest place on earth. 
Inspired by a similar ride at Disneyland Paris, Remy's Ratatouille Adventure is surrounded by other "Ratatouille"-esque attractions, including a rat-topped fountain and plenty of crepes. Remy fans, don't miss this ride on your next trip to Orlando.