Ever Want To Choose The Ingredients On Chopped? Now's Your Chance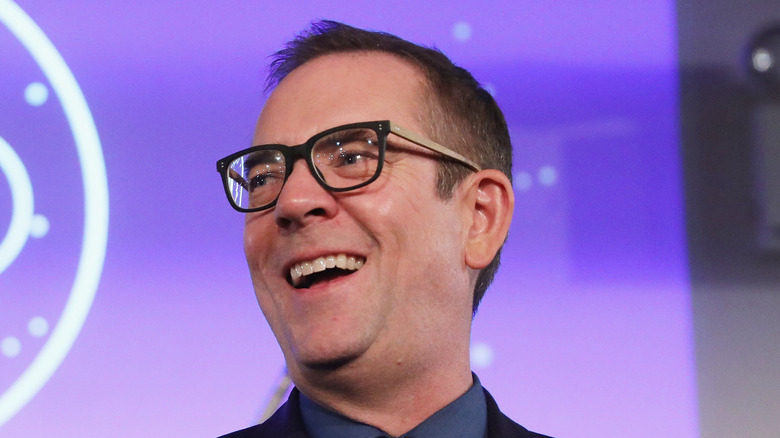 Ben Hider/Getty Images
When it comes to the mystery baskets on Food Network's hit competition series "Chopped," there's no telling what the contestants will find. Ostrich tenderloin, Anzac biscuits, cauliflower, and pork rinds are just one example of a mystery basket competitors have been tasked to cook with, which, believe it or not, is actually a fairly tame combination. Chefs vying to earn the elusive title of "Chopped" champion have faced ingredients that are even more bizarre, like dried fermented sea scallops and caul fat.
Clearly, the committee of culinary producers tasked with curating each "Chopped" episode's trio of mystery baskets is pretty good at its job, and if you've ever found yourself wishing you could get in on the fun, your time has finally come. Taking to his Twitter account on Thursday, September 30, longtime host Ted Allen revealed that the show is gearing up for another "Chopped: Viewers' Choice" episode that gives fans the opportunity to choose all 12 mystery basket ingredients that the competitors will face. He instructed fans to reply to his tweet with "the craziest things" they'd like to see competitors cook, and if Food Network uses one of their ideas, they might receive a shout-out on the air.
Chopped Viewer's Choice Ingredient Suggestions
In a video accompanying his tweet, Allen acknowledged that "Chopped" viewers have been "pretty rough in their choices when it comes to basket ingredients," landing on options like crunchy cheese curls, durian fruit, lime gelatin, and imitation crab meat for one particularly difficult Viewers' Choice episode in the past. Based on the dozens of responses that his announcement has already received, fans don't seem to be holding back this time around either.
"Okay, Ted, let's see what the contestants can make from these wacky ingredients: jellied moose nose, Tootsie Rolls, bok choy, and matzah brei," user @Phil0822 suggested, while another said they'd like to see competitors pull gummy worms, squid ink, cherries, and ostrich eggs from the same basket. Banana-Flavored Nesquik was the ideal basket ingredient from a third Twitterer, who stated they would love to see the chefs use the powdered drink mix in either the dessert or entree rounds.
Allen, unfortunately, did not disclose when the upcoming "Chopped: Viewers' Choice" episode would air. However, if your creative juices are starting to flow, it's probably best to submit your mystery basket ideas sooner rather than later.