Truly Is Opening A Hard Seltzer Taproom In This City
Truly has great news for hard seltzer fans who have been feeling cooped up over the past year. The popular hard seltzer brand has just announced it will be opening its very first brick-and-mortar location. With many people eager to connect once more, Truly has launched just the thing to fulfill that need with Truly LA, its very first hard seltzer taproom and creativity hub.
Now, Truly fans can get to enjoy the beverage in style in an 8,000-square-foot space, featuring enough indoor and outdoor seating to host up to 350 guests, according to Vine Pair. Truly LA will boast 12 taps that will include classic and exclusive Truly hard seltzer flavors. Talented bartenders will also be mixing up signature Truly cocktails, while cooks will be on-site to prepare a "globally-inspired" food menu for guests to enjoy with their beverages. Limited release Truly merchandise will also be available for purchase. Truly LA is scheduled to open its doors in early 2022.
Truly LA will also be a creative hub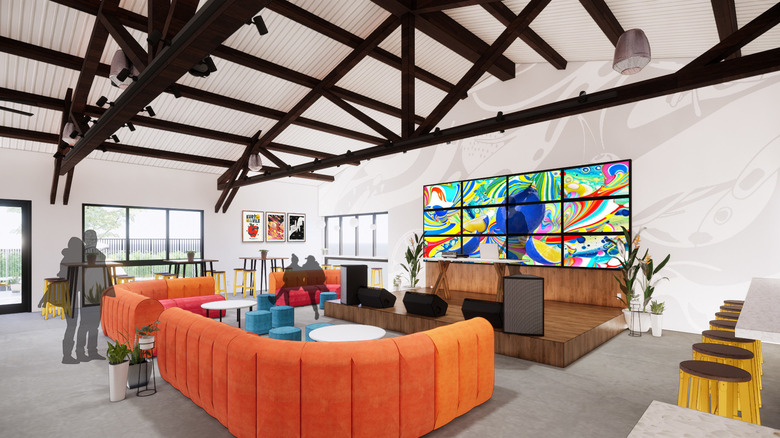 Truly Hard Seltzer
As of now, ground has only been broken on a single Truly taproom, located at 213 Alameda Street in the heart of sunny downtown Los Angeles. The brand plans to make the most of all the creativity L.A. has to offer by commissioning murals from local artists and hosting local up-and-coming talent to make it a truly one-of-kind space. Concert series and comedy shows will be a regular occurrence at Tuly LA, thanks to its partnership with Live Nation, which will allow them to showcase a variety of entertainment to their guests and to fans around the world via livestream, according to PR Newswire.
However, this, unfortunately, means that Truly fans who live in any of the other 49 states will have to wait to enjoy this hard seltzer experience. Although hopefully, if the immersive taproom experience proves to be popular, Truly might one day expand its physical locations to other parts of the world. "Our drinkers are all about exploration and discovery, and we want to give them that in unexpected ways. We wanted to do something no one else has done — and that's how Truly LA was born. At its core, our brand is all about bringing people together and forming genuine connections, and Truly LA is a physical representation of that sentiment," Lesya Lysyj, CMO of the Boston Beer Company, said in a statement.