Aldi Fans Are Freaking Out Over This Instant Brown Sugar Boba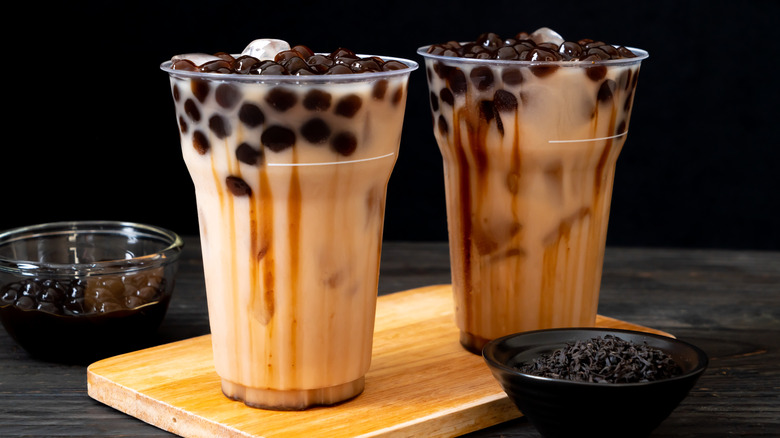 Gowithstock/Shutterstock
When you want to treat yourself to something unique, you can't go wrong with a boba tea. According to Eater, the item originated in Taiwan and generally refers to juices or teas that come loaded with tapioca bubbles. In recent years, a new, brown sugar version of this drink emerged that features a shaken mix of cold milk, brown sugar caramel, and tapioca pearls, per Michelin. You can make this drink at home, but you most likely have to rely on store-bought tapioca pearls. Anyone with a sweet tooth can take heart knowing that Aldi now carries this specialty product and can get you enjoying your very own homemade boba tea quicker than you ever imagined.
A Redditor over on r/aldi discovered the find and posted a picture of the product, alongside the title, "Fun find: Instant Boba Pack – Brown Sugar Flavor (frozen)." The post has attracted a solid amount of attention, having raked in over 200 upvotes. The top comment comes from the user who uploaded the find and reads, "This was a fun find. My kid loves boba and gives it two thumbs up. It's very easy to make – microwave the frozen boba/brown sugar packet, add ice and milk of choice and enjoy. The kit includes 4 packets and 4 boba straws." The rest of the thread couldn't hold back their excitement.
Aldi's instant boba is a refreshing and sweet drink
Boba fans who have searched high and low for similar products couldn't wait to show their love for the find. Comments range from, "Oh, I'm going to look for these the next time I'm in store! My stepdaughters love bubble tea" all the way to "Omg I have been boiling the tapioca balls myself this seems so much easier! (I live in rural a** America so no nearby option for me — gonna stock up!!!)," per Reddit. Another user compared the product to the boba found at a local Asian grocery, saying, "What? I just went to the Asian market to get some of this. Think it was 5-6 bucks for 4 servings." One Redditor already had the chance to try it, replying with, "Goes great with the Aldi oat milk!"
If you count yourself as a boba fan and have always wanted to whip up this drink at home, your time has finally come. This brown sugar boba deserves a shot, and with any luck, might just become your go-to ingredient next time you have to whip up a round of drinks to impress your friends. Make sure to grab this product on your next Aldi run and see if it can live up to these high expectations.