Target's Spooky New Treats Will Make Halloween Baking Easier Than Ever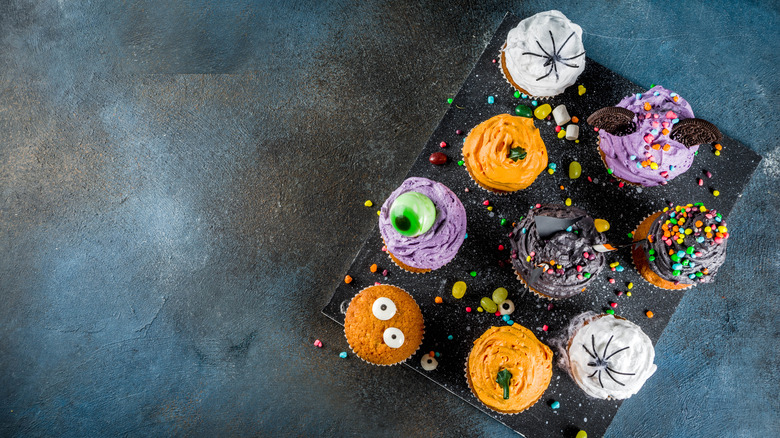 Rimma Bondarenko/Shutterstock
With Halloween just around the corner, you couldn't ask for a better time to break out some scary recipes that serve up the perfect combination of spooky and delicious. For years, bakers have had to rely on making spiderweb cookies and eyeball cake pops from scratch. While these baked goods can motivate anyone to come back for seconds, it's not easy whipping up a constant stream of holiday-themed treats. For any home baker a little pressed for time (or maybe not the best with a piping bag), Target has some new supplies that can spookify your treats and save you some time in the kitchen.
According to a press release sent to Mashed, Target is now carrying the adorably punny Hyde and EEK! Boutique baking supplies and kits. Fans of easy-to-make Halloween treats can pick up signature cookie kits that let kids and adults construct haunted manor cookie houses, spooky sugar cookies, or even sweet ghost hollows. And fear not, bakers that want to go the extra mile and decorate their made-from-scratch treats with some equally gross and scrumptious toppers, the company has new products for you as well.
Seriously scary Crafty Cookie Kits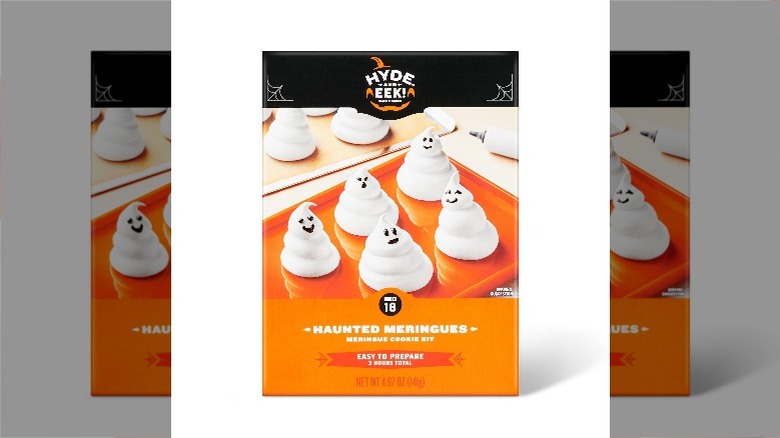 Target
If you're looking to whip up a Halloween treat with the whole family, you should definitely check out Target's Crafty Cookie Kits. The Walking Dyed kit features sugar cookie mix, orange, green, and purple dyes, plus candy eyeball decorations for one sweet and spooky snack. This basic cookie kit costs $3.99, according to a press release sent to Mashed. If you want to go all out and make a Halloween-centric gingerbread house, the Halloween Ghost Hollow Cookie Kit is perfect for you. This kit comes with frosting, themed candy and sprinkles, and pre-made cookies. Retailing for $9.99, it's guaranteed to put everyone who sees it in the holiday spirit.
If you're tired of cookies, Target is also selling rice crispy treat and meringue kits. For $5.99, the Frankenstein Crispy Rice Treats Kit has everything you need to make your very own Frankenstein's monster-inspired sweets. And there's no reason to fear whipping up meringue ghosts at home with the chain's Haunted Meringues kit for $4.99. Though these sweet treats take 3 hours to make, they promise to be easier than you think.
Other highlights from the cookie collection include the Scaredy Cat Chocolate Cookie Kit that goes for $7.99, the Twisted Tavern Chocolate Cookie Kit which retails at $4.99, and the Spooky Graveyard Chocolate Cookie Kit for $9.99. But if you want a bit more freedom in your baking, the brand has another line of products with you in mind.
Terrifyingly terrific dessert toppers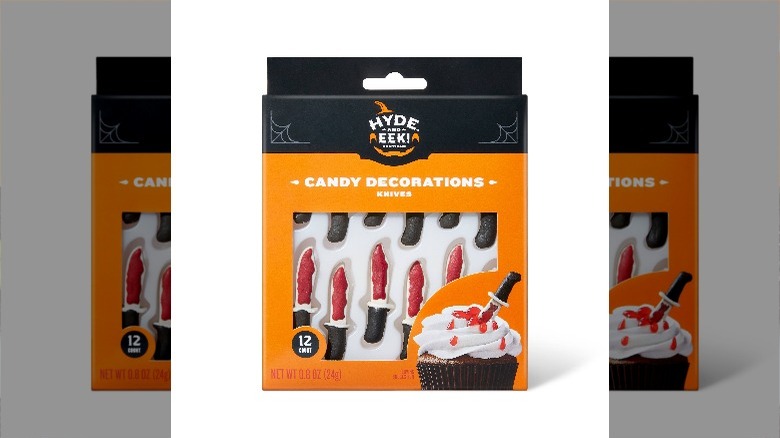 Target
Sometimes you want a bit more freedom when it comes to showing off your baking skills. Luckily, Target has some premade decorations in addition to their kits that can save you time and still look fabulous. If you'd like to make your baked goods a little more frightening, the gummy knives should do the trick. And if you need something slightly less spooky but still in the Halloween spirit, you may want to consider the gummy witch hats or opt for gummy candy corn and jack-o-lanterns instead. All of these decorations will set you back $5.
Sometimes your cake needs a touch of texture, and Target's candy eyeballs (for $3.75) are sure to do the trick. Use just two for a startling surprise or as many as can fit to set off someone's trypophobia. If you want to really up the ick, check out the chewy Rest In Pieces candy set for $4.99 (featuring bloodshot eyeballs and multicolored brains) or the Skeleton Bones Hard Candy for $3.49. With so many options, you should have no trouble finding the perfect balance of scary and sweet this Halloween.