Snickers' New Cinnamon Bun Candy Bar Is Only Available At One Place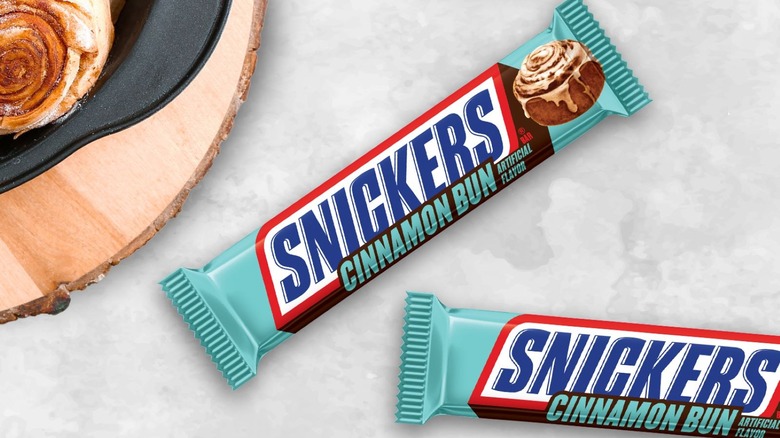 Mars Wrigley
When you want a quick treat or just have a sudden chocolate craving, nothing can beat a Snickers bar. Since the candy hit the market, parent company Mars Wrigley has since come out with a variety of flavors and styles of the confection, like Snickers Almond, Snickers & Hazelnut, and even Snickers Ice Cream Bars (via Chocolate Brands List). The brand truly knows how to pair up nuts and chocolate in just the right way, which makes the candy's latest flavor a real standout. According to a press release, Mars Wrigley is releasing a Snickers Cinnamon Bun candy bar this October.
The product features an artificially flavored cinnamon bun nougat center surrounded by peanuts, caramel, and milk chocolate. The confection comes just in time for fall, as it combines the autumnal aroma of cinnamon with Snickers' classic mashup of chocolate and nuts. While the news of the candy maker's latest flavor might have you rushing to the closest convenience store to try it, you can only pick up the limited-edition item at one grocery chain.
An exclusive Snickers flavor that gets you in the fall spirit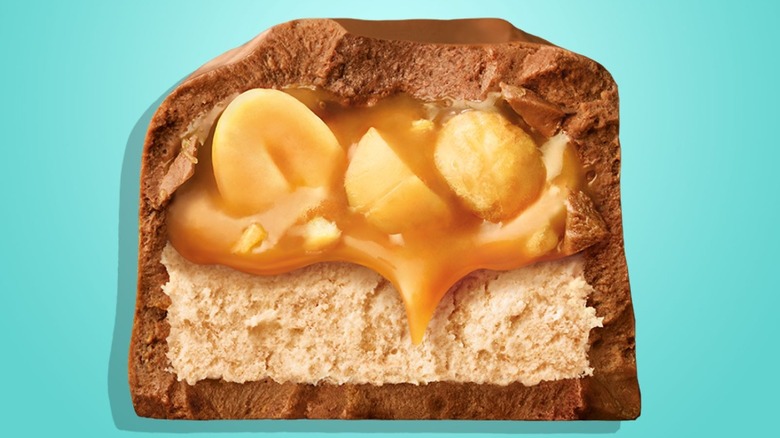 Mars Wrigley
According to a press release sent to Mashed, Mars Wrigley plans to exclusively sell Snickers Cinnamon Bun bars at Walmart, where shoppers can pick up individual 1.5-ounce bars or boxes containing 24 bars. The brand hasn't revealed how much the candies cost, but with any luck, they shouldn't set shoppers back too much. 
If this new product sounds tempting, make sure to get keep your eyes peeled for the cinnamony Snickers' Walmart appearance. While the press release states that the chocolates hit shelves in October, Mars Wrigley hasn't announced an exact launch date yet. When you do see them, you might want to buy in bulk; the brand only plans to keep them around for a limited time. Once they disappear, you might not get the chance to experience the rich, chewy, and crunchy goodness wrapped inside the Snickers Cinnamon Bun bar again for quite some time.