Costco Shoppers Swear This Breakfast Sandwich Tastes Just Like Starbucks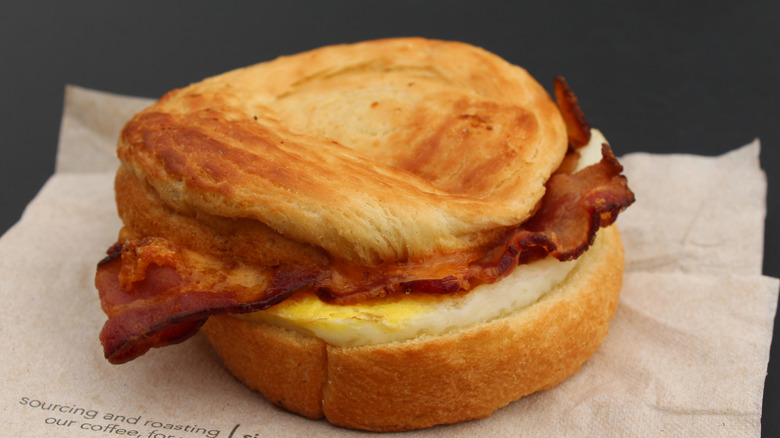 Deutschlandreform/Shutterstock
Starbucks is a popular place to get a quick, hot breakfast on the go. While many people stop by their local Starbucks every morning just to snag a specialty coffee or an iconic Pumpkin Spice Latte, quite a few others are also fans of the chain's breakfast sandwiches. Starbucks breakfast items can be warmed up and served hot, so customers can still enjoy a hot breakfast right along with their morning coffee, even on days they are in a rush.
However, while a Starbucks breakfast might be tasty, it can be pricey. A single Bacon and Gouda Breakfast Sandwich at Starbucks can cost around $3.75, so ordering one even just a few times a week can definitely add up (via Real Menu Prices). But luckily, Costco now has just the thing to save your wallet, without sacrificing the hearty, satisfying flavor. The fan-favorite Grace Gourmet Bacon, Gouda, and Egg Sandwiches have just returned to Costco's shelves, and according to many fans, they taste exactly like the Starbucks Bacon and Gouda Breakfast Sandwich. Right now, these Grace Gourmet alternatives are available for just $12.49 for a box of eight 3.7 ounce sandwiches (via Instagram).
Grace Gourmet Bacon, Gouda, and Egg Sandwiches are the perfect Starbucks dupe
The popular Instagram account @costco_doesitagain made a post announcing the return of these tasty breakfast sandwiches, and their followers were so excited to see their favorite Starbucks dupe was back on Costco's shelves. "These are the Starbucks ones!!" celebrated follower @soy_la_erika. "This could kick my Starbucks habit," another follower joked. Each Grace Gourmet Bacon, Gouda, and Egg Sandwich features a cage-free egg patty, a layer of rich Gouda cheese, and a slice of hearty bacon, all served on a delicious soft Ciabatta roll. They also boast a whopping 15 grams of protein per serving, so they are sure to provide a filling breakfast that will keep you satisfied all morning.
Many followers agreed that this sandwich tastes extremely similar to the ones served at Starbucks, and were delighted that they could now experience the same breakfast they enjoy at the coffee chain right from their own kitchen. "So this is where Starbucks gets them," joked @jamierae2121, while @kimneuschatz agreed: "Omg my favorite Starbucks sandwich." So if you've been looking for a way to satisfy your cravings for a filling breakfast sandwich on a busy morning while still being cost-conscious, look no further than your local Costco for this tasty Grace Gourmet dupe.