Oreo Cookie Bats Recipe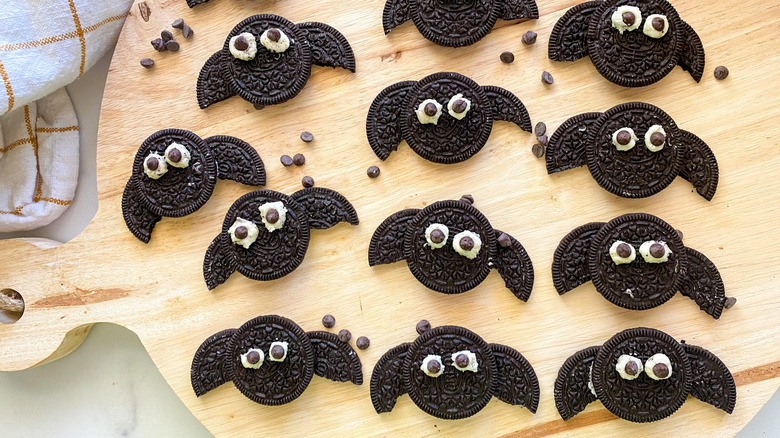 Miriam Hahn/Mashed
The Halloween season is upon us once again, and aside from creative costume projects, home cooks will be excited to make fun and inspired snacks. The general aesthetic involves anything black, orange, or creepy, and there are indeed plenty of foods that can be disguised into eerie Halloween treats. Recipe developer Miriam Hahn of YouCare-SelfCare created an Oreo cookie bats recipe that is oh-so-perfect for this time of year. She says, "I love that they are easy enough to do with kids and they have so much fun making them." 
Hahn has lots of ideas to branch out from the bat concept and notes, "I started with Oreo spiders and then later I created bats as an extension." This simple recipe is all about assembly and requires no actual cook time. As Hahn points out, it's a great Halloween recipe to try out with kids or for anyone who is a kid at heart. Even the most serious person will have to smile when they take a look at these cute cookies. Plus, they're Oreos — need we say more?
Gather the ingredients for Oreo cookie bats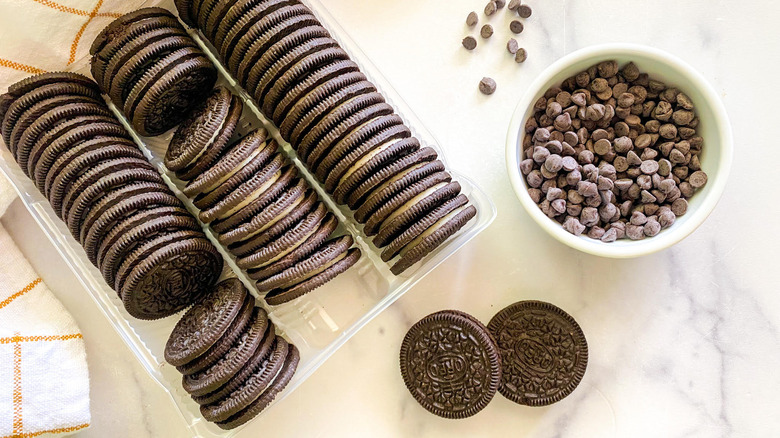 Miriam Hahn/Mashed
Start off by gathering the ingredients required for these Oreo cookie bat treats. You'll need a whopping two items to make these, which you might already have in your pantry. First of all, you'll need 12 Oreo cookies, enough to make 12 bats. Next, for the eye pupils, Hahn uses mini chocolate chips since the size is more suitable than regular ones. If you can only find regular sized chocolate chips, then the eyes will just be larger.
Hahn has lots of suggestions to expand on the idea and indicates, "If you want to mix it up, you can do my original spider idea and use black thin liquorice for the arms." Instead of mini chocolate chips, she adds that "you can use another small candy for the bat's pupils." (Tiny red M&M's would certainly evoke the spooky Halloween spirit!)
Split the cookies in two, and remove half of the frosting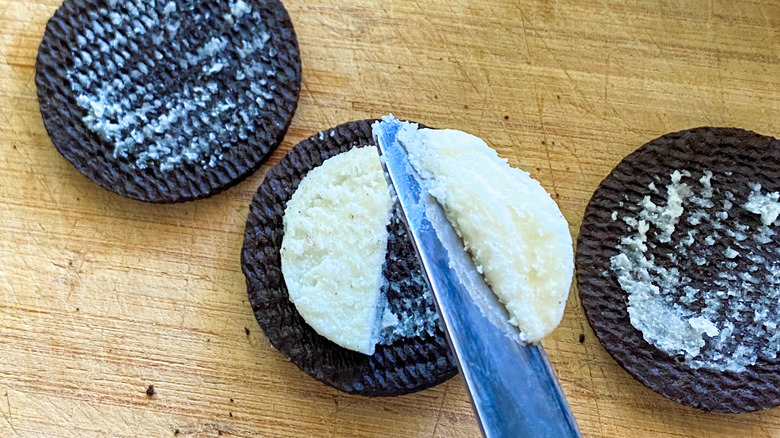 Miriam Hahn/Mashed
Begin by setting out your pile of Oreos so that you can assemble the bats methodically. First, take each Oreo in your hands, and one by one, twist the cookie so that it splits into two halves. Gather up the cookie halves that have the white frosting, and with the help of a butter knife, scrape half of it off. Do not discard the frosting you scrap off, as you will use it to make the eyeballs.
Roll the frosting into balls for the eyes, and make pupils with the chocolate chips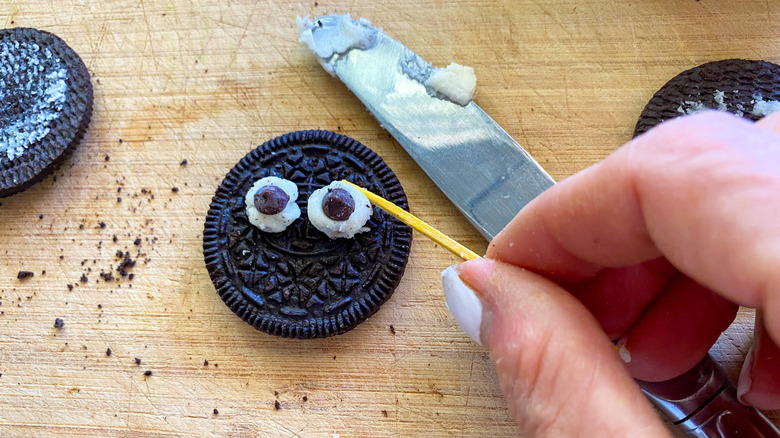 Miriam Hahn/Mashed
Now, use your fingers to roll each mound of frosting you removed from the cookies into two small balls. You should have a total of 24 white balls for the eyes once you're done. Take the cookies that are half covered in frosting, and flip them over so that the frosting is on the top underside of the cookie. Stick two white frosting balls on the top side of the cookie, directly behind the frosted half. Next, stick one mini chocolate chip in the center of each white ball to make pupils. If you want to have fun with it, you can place the pupils in a lopsided fashion.
Break the plain cookie half in two to make wings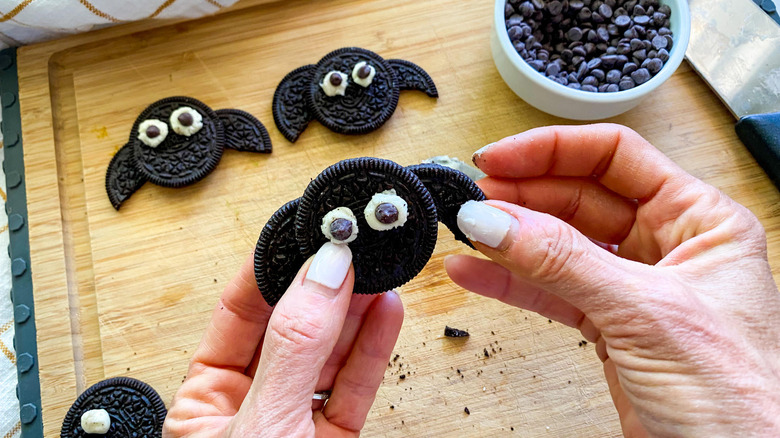 Miriam Hahn/Mashed
Now, go back to the frosting-free cookies, and using a large sharp knife, cut them all in half. You should have 24 pieces — these are the bat wings. Hold the cookie with the eyeballs in one hand, and place one half cookie on either side of the eyes, sticking it into the frosting behind the eyes. The frosting should behave like glue so that the wings stay in place. Hahn encourages having fun with the assembly, and adds, "If they all don't come out perfect, that is totally fine!" 
Serve these eerie Oreo cookie bats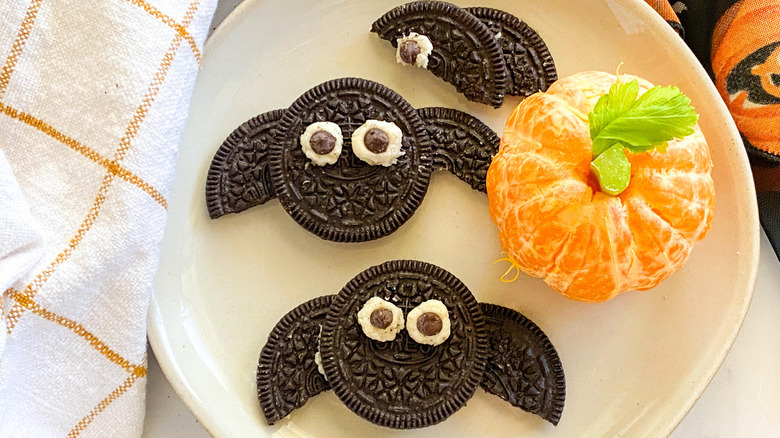 Miriam Hahn/Mashed
Once you've made your dozen Oreo cookie bats, it's time to enjoy this sweet treat. If you plan to serve them for a Halloween party, Hahn remarks, "You can actually make them ahead and they are fine." She recommends to "just keep them in an airtight container" until you're ready to set them out. If you want to add to the holiday fun, Hahn says, "I like pairing them with pumpkin oranges to bring in some color and nutrition." These are guaranteed to be popular with everyone from start to finish, and Hahn adds, "My favorite thing about this recipe is how the kids love making them."
Oreo Cookie Bats Recipe
These Oreo cookie bats are a great Halloween recipe to try out with kids or for anyone who is a kid at heart.
Servings
12
Oreo Cookie Bats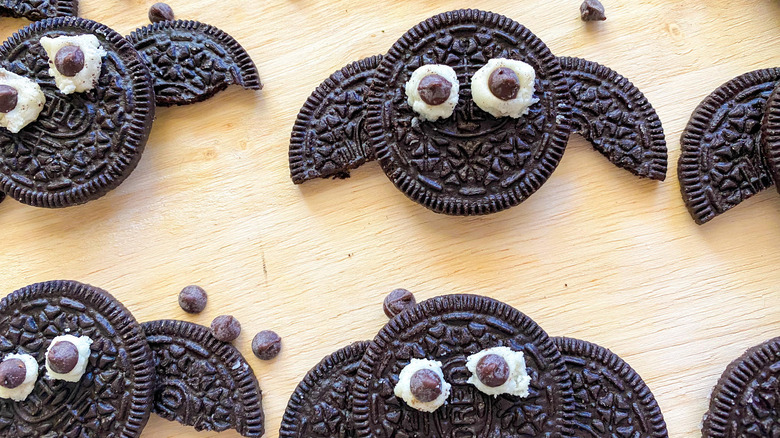 Ingredients
12 Oreos
24 mini chocolate chips
Directions
Twist each Oreo to separate them into halves.
Take the side with the white frosting, and scrape half of it off using a butter knife.
Roll the scraped-off frosting into two small balls, which will serve as the whites of the bat eyes.
With the frosting positioned in the upper half of that cookie piece, flip it over.
Add the eyes to the side directly opposite the frosting by placing the balls on the cookie, at the level where eyes would go.
Stick a mini chocolate chip in the middle of each frosting ball to create a pupil.
With a large, sharp knife, cut the cookie without the frosting in half. These will be the bat wings.
Stick the two half cookies on each side of the cookie with the eyes, sticking them into the back frosting, which will act as glue.
Serve, and enjoy this spooky treat!
Nutrition
| | |
| --- | --- |
| Calories per Serving | 432 |
| Total Fat | 20.1 g |
| Saturated Fat | 12.3 g |
| Trans Fat | 0.2 g |
| Cholesterol | 12.6 mg |
| | |
| --- | --- |
| Total Carbohydrates | 59.1 g |
| Dietary Fiber | 2.3 g |
| Total Sugars | 53.4 g |
| Sodium | 65.9 mg |
| Protein | 4.1 g |