Best Tuna Chili Pasta Recipe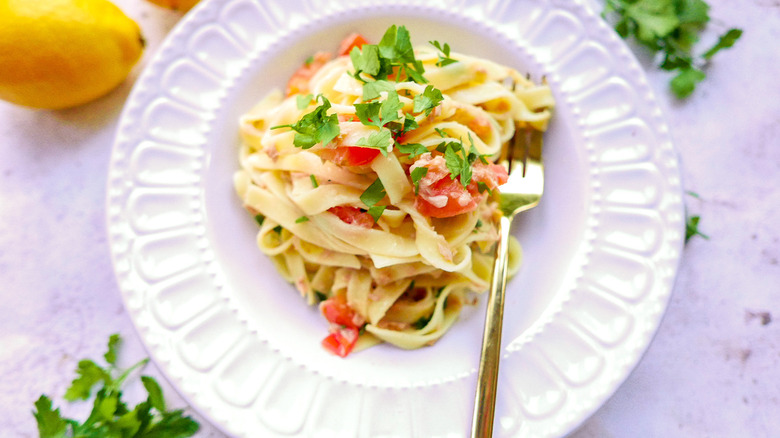 Ting Dalton/Mashed
If you've never thought of whipping up a tuna pasta dinner before, you're seriously missing out. It's a perfect, easy meal to make on a weeknight because it offers a good balance of protein, carbohydrates, and fat, without having to defrost meat or do a lot of prep work. "This is a refreshing and tasty pasta dish that can be whipped up very quickly," says recipe developer Ting Dalton of Cook Simply. "We love having it any time of the week. And, you can use your stored cupboard ingredients." 
When you're struggling to make it to the grocery store on a weeknight, this recipe can really come in handy. And of course, once you try it out, you can get creative and switch up or add ingredients based on what you have in your kitchen. For instance, if you want a dish with even more veggies, you can add peppers or onions. And if you like even more heat, you can always add diced jalapeños. We recommend that you try it as prescribed first. When you see how easy it is to prepare, you'll feel confident and creative to make some tweaks and personalizations as desired.
Gather your ingredients for tuna chili pasta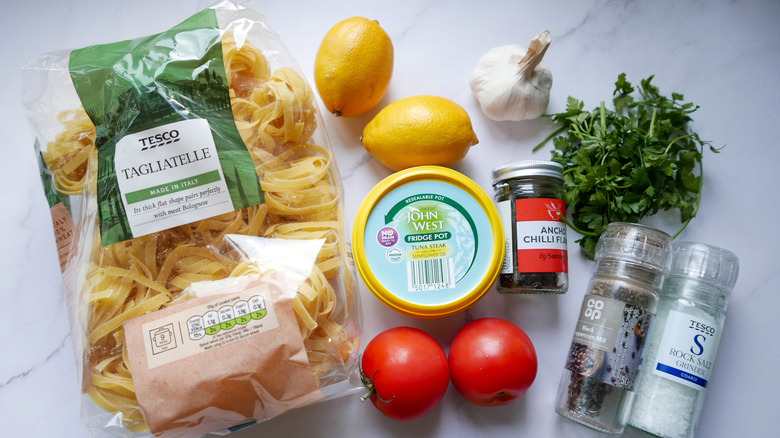 Ting Dalton/Mashed
The beauty of this dish is that almost all of the ingredients are pantry staples. You will need 8 ounces of dried tagliatelle pasta, three cloves of garlic, a 4-ounce can of tuna (The recipe calls for tuna packed in sunflower oil, but you can use what you have on hand.), ¼ teaspoon of chili flakes, 2 tablespoons of olive oil, two finely chopped tomatoes, juice from half a lemon, fresh parsley, and salt and pepper. Just about the only things you might not have ready-to-go are parsley, lemon, and tomatoes. Keep in mind you can always use dried parsley in place of fresh if you have to. It won't result in quite the same fresh flavor, but it'll work in a pinch.
Cook the pasta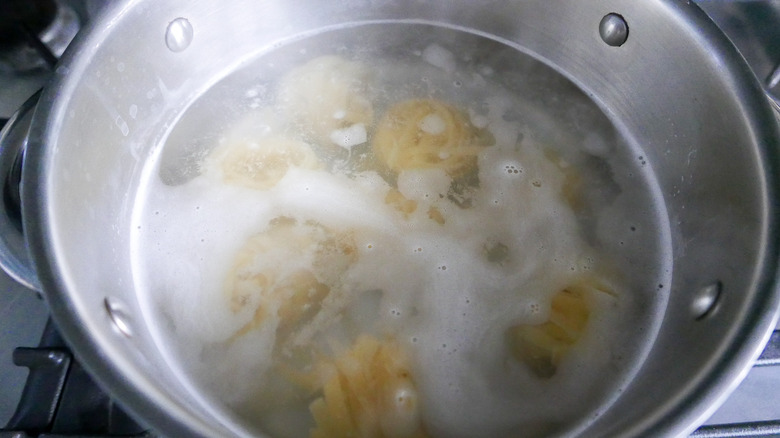 Ting Dalton/Mashed
Start by cooking the tagliatelle pasta. Bring a large pot of salted water to boil, then use the instructions on the pasta package to cook the pasta. Generally, you'll cook the tagliatelle for about 10 minutes. "If you don't have tagliatelle, use pasta shapes or spaghetti," says Dalton. While tagliatelle provides a nice, ribbon-like pasta, the type of pasta you use is less important than it might be in some dishes, so feel free to use what you have on hand.
Heat the garlic, chili, and tuna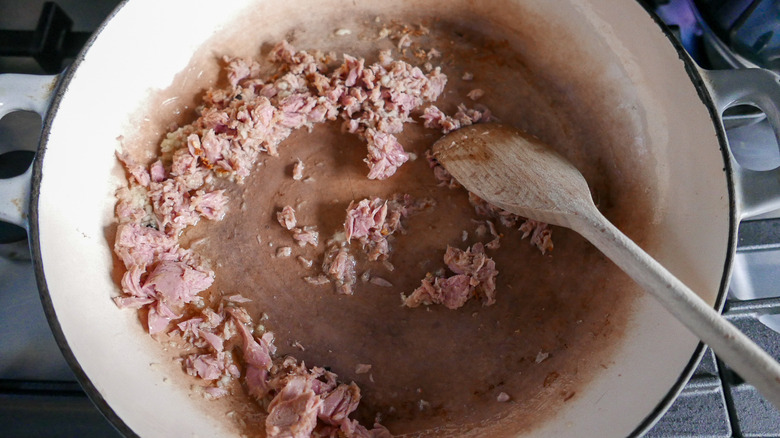 Ting Dalton/Mashed
The next few steps are all done using a single skillet. Start by heating 1 tablespoon of olive oil in the skillet over medium heat. Add the minced garlic when the oil is hot, pan-frying the garlic for roughly one to two minutes. Once the garlic has released its aroma, add the chili flakes and the tuna to the skillet, mixing well. You'll cook everything together for about two minutes. And of course, Dalton points out that you can add more chili if you like your dish extra spicy, or you can nix the chili altogether if you can't handle the heat.
Add the tomatoes, lemon juice, and oil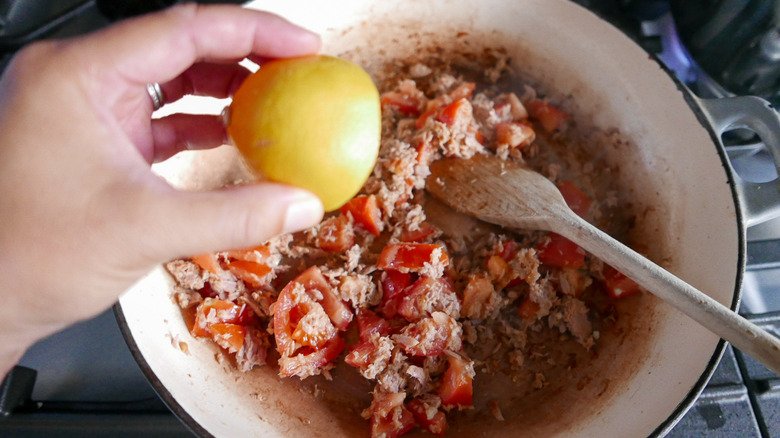 Ting Dalton/Mashed
Once the tuna has heated through, remove the pan from the heat source, and stir in the remaining tablespoon of olive oil and the diced tomatoes. Squeeze the lemon juice from half a lemon over the top. Add salt and pepper to your liking (Try a bite or two as you season to make sure you're getting the flavor right.), and mix everything well to combine. Then, set the skillet aside.
Add the pasta to the tuna mix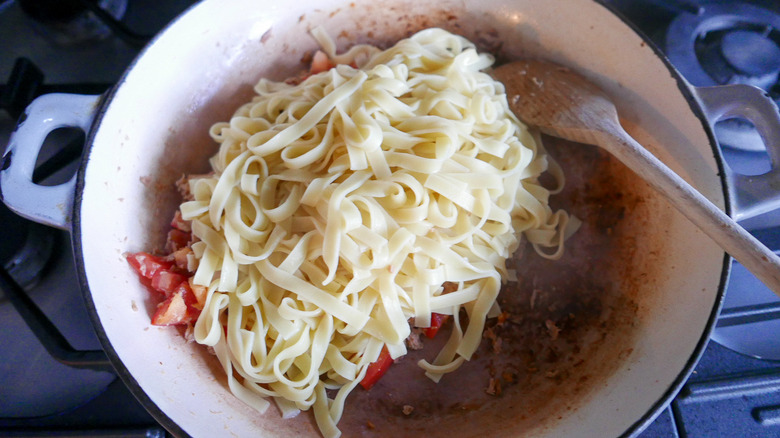 Ting Dalton/Mashed
When the pasta has cooked through, scoop out 1 cup of the pasta water, and set it aside. Drain the pasta, then add it to the skillet with the tuna and tomato mixture. Use a little bit of the pasta water that you reserved to add a touch of liquid to the dish. Stir until the pasta has mixed completely with the tuna and tomatoes. You want the flavors to be dispersed well throughout the dish.
Garnish and serve your tuna chili pasta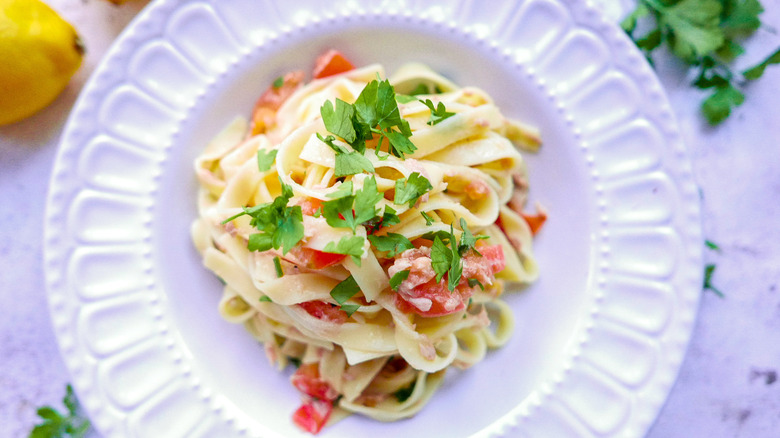 Ting Dalton/Mashed
Stir in the parsley, then plate the pasta evenly onto two dishes, sprinkling the extra parsley on top as a garnish. Serve hot, and if desired, add a green salad or a slice of crusty bread as a slide. Because this pasta offers a light, fresh, and spicy flavor, it pairs nicely with chilled white wine, or possibly a white wine sangria, if you like a sweeter pairing. This dish is perfect for a luncheon or dinner!
Best Tuna Chili Pasta Recipe
This tuna chili pasta recipe is a refreshing and tasty dish that can be whipped up in just about no time.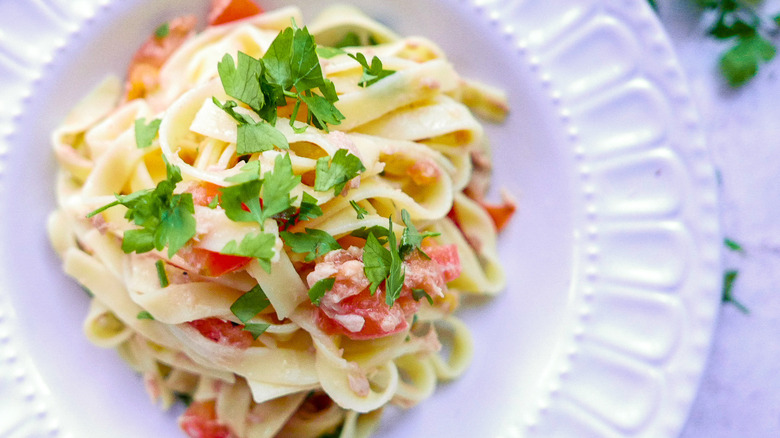 Ingredients
8 ounces dried tagliatelle
2 tablespoons olive oil, divided
3 cloves garlic, minced
¼ teaspoon chili flakes
1 (4-ounce) tin of tuna in sunflower oil, drained
½ lemon, juiced
2 tomatoes, finely chopped
salt, to taste
pepper, to taste
4 tablespoons fresh parsley, finely chopped
Directions
Cook the tagliatelle in a large pot of salted boiling water according to the package instructions, around 10 minutes.
Meanwhile, heat 1 tablespoon of olive oil in a large skillet over a medium heat. Fry the garlic for 1 to 2 minutes, then add the chili flakes and tuna, and cook for 2 more minutes.
Remove from the heat, and stir in the remaining 1 tablespoon of olive oil, lemon juice, and tomatoes.
Season well with salt and pepper, and set aside.
When the pasta is ready, reserve 1 cup of the cooking water, and put it to one side.
Drain the pasta, and add it to the skillet in addition to some of the reserved cooking water.
Stir in the parsley, then serve.
Nutrition
| | |
| --- | --- |
| Calories per Serving | 1,080 |
| Total Fat | 72.3 g |
| Saturated Fat | 9.6 g |
| Trans Fat | 0.0 g |
| Cholesterol | 0.0 mg |
| | |
| --- | --- |
| Total Carbohydrates | 93.4 g |
| Dietary Fiber | 6.1 g |
| Total Sugars | 6.8 g |
| Sodium | 777.8 mg |
| Protein | 16.6 g |