This Is What Jamie Oliver Would Eat For His Last Meal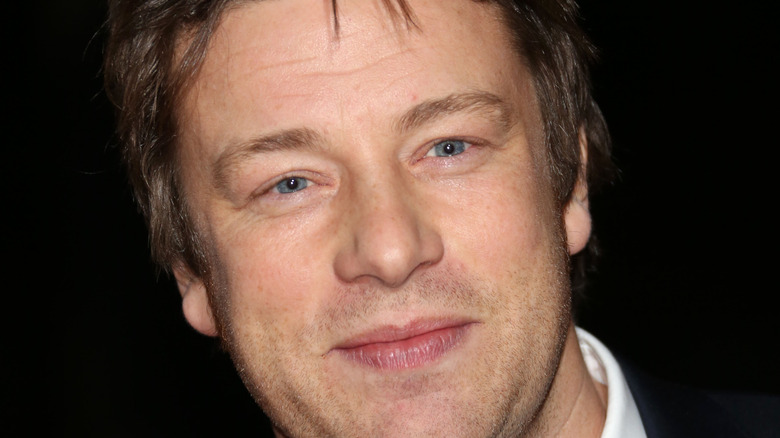 FeatureFlash Photo Agency/Shutterstock
With a string of successful restaurants and a bestselling cookbook career, Jamie Oliver is one of the UK's most beloved chefs. Olivier got his start in the restaurant business at only eight years old, earning about one pound (about $1.36) an hour at his parents pub, The Cricketers. At 10 years old, the budding chef graduated to pulling pints behind the bar (via Woman and Home). The Cricketers, which was just sold last year, was the place that Oliver discovered his love of cooking. "I remember being fascinated by what went on in the kitchen," he shared, via The Sun. "It just seemed [like] such a cool place, everyone working together to make this lovely stuff and having a laugh doing it."
The British chef's big break hit in 1999, when his show, "The Naked Chef," debuted on BBC. This triumph was immediately followed by another earth-shattering success, his first cookbook, which became a number one bestseller in the UK (via Useless Daily). Known for his stripped back culinary style and approachable cuisine, the father of five has a huge repertoire of recipes from his 24 best-selling cookbooks — but what would he chose as his final meal?
Jamie Oliver's last meal would be a simple and comforting pasta dish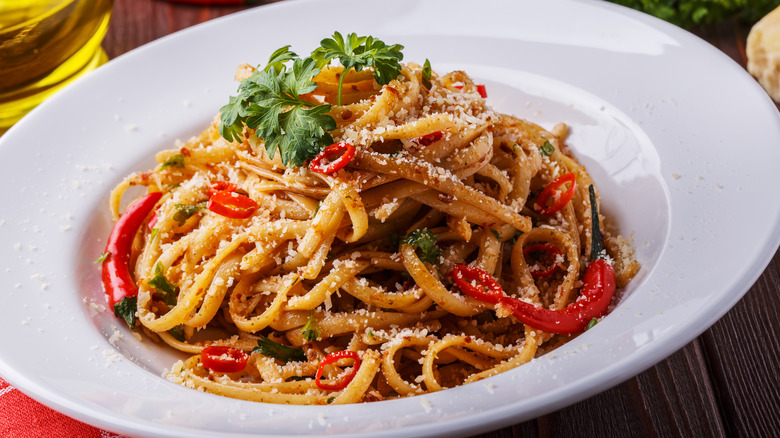 Tatiana Bralnina/Shutterstock
We've all heard the age old question: What would you last meal be? And while that's a difficult question for anyone to answer, it's infinitely harder for famous chefs, who live and breath word-class cuisine and delectable dishes on the daily. According to People, Gia Laurentiis would request a seven-layer chocolate cake, while Ina Garten would go with a humble hot dog from Frenchie to Go in Paris.
Like the Barefoot Contessa, Oliver would also opt for something more down-to-earth and simple: Spaghetti arrabbiata with three types of chilis. "It is soft, sweet, and silky... My perfect comfort food," the chef shared with My Last Supper. Oliver would pair his delicious dish with a bottle of Hoegaarden beer. And for dessert? Homemade rice pudding with roasted peaches. "The rice pudding would be served very cold and topped with the hot caramelized peaches," he shared.
Oliver goes on to paint a picture of what his last meal would look like. "There would be some crap on the television, and a fire going. The window would be open just a crack, with the fresh air cooling the back of my neck after all of those hot chilies in the pasta sauce," he described. As for who would join him, Oliver said that honor would go to his wife, Jools Oliver.