Pepsi's Newest Flavor Is Inspired By This Classic Baseball Snack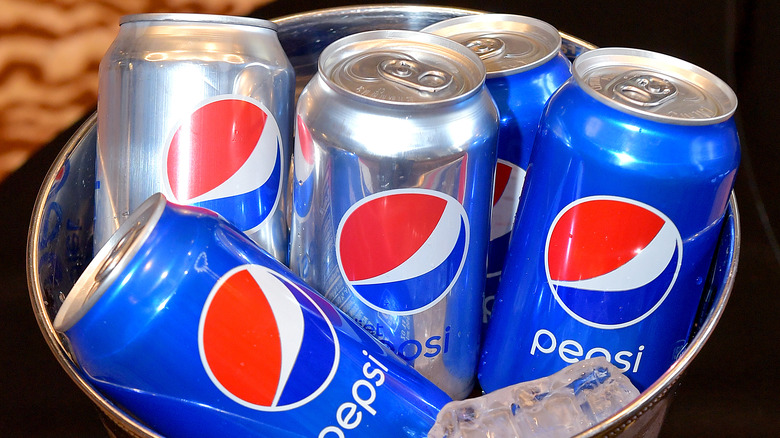 Roy Rochlin/Getty Images
Just in time for Major League Baseball postseason, Pepsi is taking inspiration straight out of the stands for its newest limited-edition creation. According to a press release sent to Mashed, the new product is a Pepsi flavor dreamed up in celebration of the most exciting part of the year for baseball fans. "Pepsi is a brand with a deep legacy in sports and is an endemic part of the ballpark experience, so we thought it would only be fitting to help fans celebrate the biggest month in baseball with our latest limited-edition drop," Pepsi's VP of Marketing Todd Kaplan explained. Want to take a swing at what the new flavor might be?
If you're trying to guess what this new Pepsi collaboration might be, a look at MLB's rankings of classic ballpark foods by deliciousness might provide a clue. The website has awarded the No.1 spot to soft-serve ice cream piled into a commemorative helmet. Though a Pepsi ice cream float sounds delicious, that is actually not the new Pepsi flavor. Thankfully, a number of the other stadium snacks following in the rankings, like pretzels, hot dogs (okay, we would have called the timeout on a Pepsi x hot dog flavor!), and chicken fingers were also not called up to bat to be featured in the product. So, what baseball snack did inspire the new flavor?
Cracker Jack is the inspiration for Pepsi's latest flavor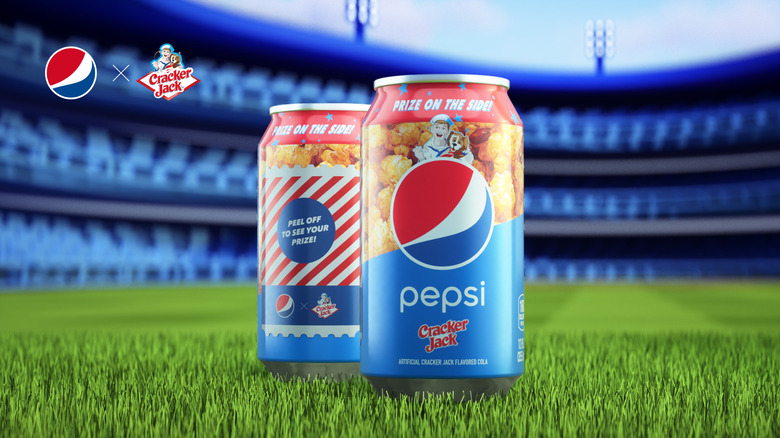 Pepsi
Pepsi paired up with Cracker Jack, that sweet, sticky treat that tastes even better when your favorite player hits a homer, to put a little nostalgia into this limited-edition drop. According to Pepsi's press release, the new product combines "the refreshing taste of Pepsi cola with the nostalgic blend of caramel, popcorn and peanut flavors." Maybe even more exciting is that the 12 oz cans of Pepsi x Cracker Jack will each have one of four unique peel-off temporary tattoos attached. What's Cracker Jack without a prize?
But, don't expect to find the new soda on store shelves. According to Pepsi's press release, the only way fans can get their hands on the limited-edition Pepsi x Cracker Jack is by entering the #PepsiSingToScore Sweepstakes on Twitter and TikTok. Entrants will need to post a video singing, what else, but "Take Me Out to the Ballgame" and tag the post with the hashtags #PepsiSingToScore and #Sweepstakes. Up for grabs, according to the official rules, are 2,000 prize packs, including a Pepsi x Cracker Jack can and three boxes of Cracker Jack. In addition, three grand prize winners will receive two tickets to the championship series with round-trip airfare and a night in a hotel, along with a Pepsi x Cracker Jack prize pack.
The contest runs from now until October 18, so if you plan to "root, root, root for the home team," it's as good a time as ever to take the mound.