Toll House's New Winter Flavors Will Make Cookie Swaps Easier Than Ever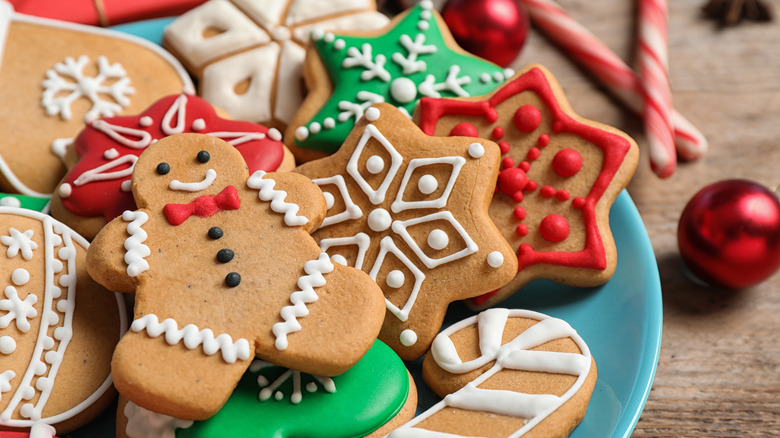 New Africa/Shutterstock
When it comes to celebrating the winter holidays right, nothing compares to a cookie swap. To set up this get-together, you first need to invite 10 to 15 friends or less to the gathering and have them bring their favorite cookies, per Cooking Light. Once everyone arrives, you have the chance to exchange your bakery worthy goods with each other, ensuring you end up with a wide selection of flavors you might have never tried. This powerful holiday tradition continues to go strong, and COVID-19 couldn't even stop people from exchanging cookies, according to CNN.
Toll House plans to make sure your latest cookie swap goes off without a hitch and announced a slew of new winter confections that can get you and your friends excited to trade your baked goods. The company announced new ready-to-bake packages of Snow Day, Peppermint Cocoa, Gingerbread, and Red Velvet cookie dough on their Instagram feed. In addition to posting the pictures, Toll House added, "NEW PRODUCTS ALERT! This holiday season is going to be extra jolly and delicious with our NEW limited-edition Winter Cookie Dough flavors! All these cookie doughs and more are hitting grocery store shelves nationwide beginning in November. Which cookies do you want to try first?!"
A Toll House winter cookie for everyone
If you can't imagine going through the holidays without sampling every last flavor of Toll House's latest offering, you have your work cut out for you. According to the Instagram post, the Peppermint Cocoa cookie comes with red and white peppermint pieces mixed into cocoa cookie dough that should resemble a festive mug of hot chocolate. The Gingerbread cookie comes with holiday sprinkles and comes in fun shapes, while the Snow Day dough features white chocolate chips, snowflake sprinkles, and sugar crystals. Red Velvet cookie dough rounds out the lot and comes packed with Premier White Morsels and red velvet chocolate that can get anyone excited to indulge in this confection.
If you can't wait to swap some cookies this winter, but don't have the time to slave over a hot stove all day, consider grabbing a pack or three of these new offerings perfect for any festive occasion. When you need to impress, you can't go wrong trying out these twists on classic flavors.