Why You Might Not Find Halloween Candy At Houses With A Teal Pumpkin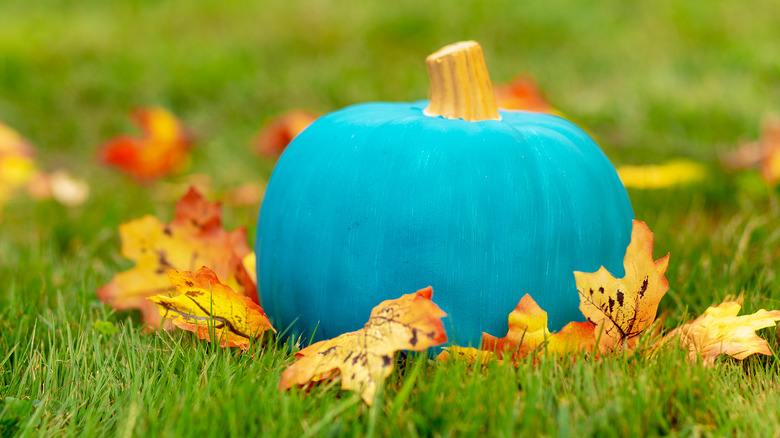 EvgeniiAnd/Shutterstock
Let's face it, Halloween is by far the best holiday of the year. Unlike other holidays, it doesn't come with the added financial stress of buying presents or preparing an elaborate and laborious dinner (cough, Christmas and Thanksgiving, cough). It's the one time of year where spider webs and creepy skeletons take over the neighborhood, you can dress up as anyone you want, and there's an excuse to stuff your face with candy. To top that off, it also takes place during the coziest time of the year. Halloween truly offers something for everyone. Not everything must be scary and not everything has to be for small children. Pumpkin carving, corn mazes, and festive parties are all fun Halloween activities everyone can enjoy.
While there are many things to love about Halloween, for little kids, the best part is surely the candy. Yet, while most kids get to trick-or-treat from house-to-house without a care in the world, not every child has this luxury. According to Food Allergy Research Education (FARE), one in every 13 children in the United States has a potentially life-threatening food allergy, which puts them at high risk in certain situations, especially on October 31st (via PR Newswire). That's where the teal pumpkins come in and why you might now see them lining neighborhood stoops more and more. Here's why these special gourds play such an important role for families dealing with food allergies during Halloween.
Thanks to the Teal Pumpkin Project, Halloween is more inclusive than ever before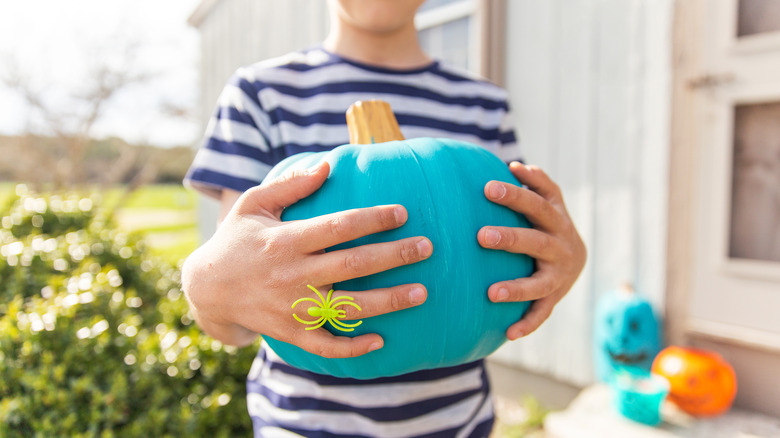 EvgeniiAnd/Shutterstock
Unlike their orange counterparts, teal jack o'lanterns are not just for decoration. The Teal Pumpkin Project's mission is to support inclusivity for the roughly 8% of trick-or-treaters with food allergies or other conditions. A teal pumpkin outside a home signifies that a participating family is giving out glow sticks or small toys, in addition to candy (via Food Allergy). According to PR Newswire, the Teal Pumpkin Project was launched in 2011 by a local food allergy group. What started out as a small act is now practiced in all 50 states and countries on six continents thanks to FARE's hard work of promoting this important project. 
"In the U.S there are nine foods that make up 90[%] of food allergies," said Tiffany Leon, a senior manager of training and professional development at FARE, in an interview with WKBN. This list consists of peanuts, tree nuts, fish, shellfish, milk, eggs, soy, wheat, and sesame. "And unfortunately, a lot of these things are found in Halloween treats," she continued.
With the number of children with food allergies increasing drastically over the last 20 years, this project is more important than ever before. The best part? It costs little or nothing to participate. All you need to do is purchase or paint a teal pumpkin to be featured on a special teal pumpkin interactive map. Visit tealpumpkinproject.org to learn more.