Alton Brown Fans Are Loving This Super Relatable Blueberry Cobbler 'Mystery'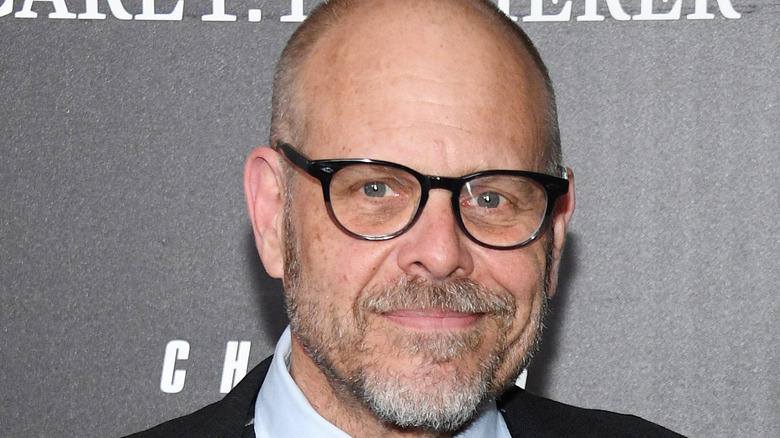 Dimitrios Kambouris/Getty Images
Fans of Alton Brown have been loving the latest bake that he posted to Instagram on October 7. The picture was a square baking dish with a half-eaten blueberry cobbler and the spoon still sitting in it. "Blueberry Smush. I don't know who ate it straight from the dish, but this is why we can't have nice things," he wrote. And within a day, the post had already received more than 10,700 likes.
While some fans think Brown himself is the one behind the half-empty dish, others wholeheartedly agreed with his choice of dessert. One person wrote, "100% support this decision." Another fan commented, "Straight out of the dish, standing up, with a cup of coffee looking out the window." One more said they had thought about making the exact same dessert that night.
Though Brown would likely have avoided this problem if he had stuck to his own recipe for individual berry crisps, chances are there will be another blueberry dessert at his house sooner rather than later (via Food Network).
There will likely be another blueberry dessert
If you are wondering why Brown is so likely to have another blueberry dessert so soon at home, it's because it's his favorite. "Due to their intense color, balanced flavor and unique texture, blueberries are my favorite fruit for baking," he wrote on his website. While the recipe itself was for blueberry buckle — which Brown describes as "an old-fashioned streusel-topped blueberry coffee cake," he clearly would stick to his favorite fruit for baking other desserts like crisps, smushes, or cobblers. "Although I may be a loyal cobbler fan, I think it's high time Americans rediscover the art of the buckle,"  he even wrote.
Obviously, his fans loved getting a laugh out of his post, and are still pretty certain he's the one who ate half the dessert straight from the dish. Even then, Brown might be better off keeping his favorite fruity baked desserts in individual servings to prevent another mysterious person from gobbling up his delicious dessert.