Auntie Anne's Pretzel Flavors You Can't Find In The US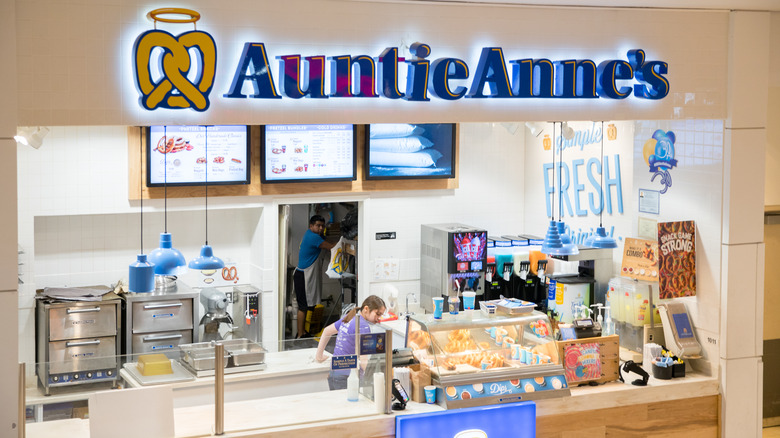 Helen89/Shutterstock
For those who shop at indoor or outdoor malls or even those walking through the concourse of some airports, the visit just isn't complete without a sweet or savory treat. While the decision to get a Cinnabon cinnamon roll or a soft pretzel from Auntie Anne's might be one of the most controversial snack decisions to be made in the locations, both are absolutely delicious. But for those who can't resist the sweet and savory options at Auntie Anne's, there's even more reason to make a pit stop while traveling abroad.
While Auntie Anne's offers a variety of pretzels such as pretzel bites, soft pretzels and even pretzel dogs, the options go even further in some other countries (via Auntie Anne's). Those who stop by the snack chain in the United States can pick up salted pretzels with savory dipping sauces like marinara or mustard or sweet cinnamon sugar pretzels with icing or caramel for dipping. But according to Fox News, there are some rather interesting flavor options in both the United Kingdom and Singapore.
Try a seaweed pretzel in Singapore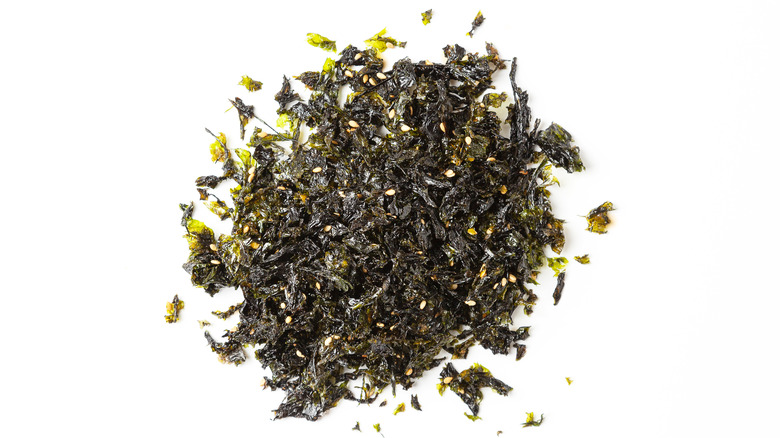 Elena Verba/Shutterstock
Singapore offers several exclusive pretzel flavors that customers can only find there. According to Auntie Anne's Singapore menu, the unique options include seaweed, matcha green tea, roselle, chocolate éclair, chocolate mint, garlic, or cheesy turkey. While some flavors might be easy to imagine topped on an Auntie Anne's pretzel, such as garlic or either of the chocolate flavors, others would likely be an exciting change for Americans.
The salty seaweed or herbaceous matcha green tea flavors would be exciting to try. However, those who are not familiar with roselle might be curious about the flavor. Roselle is a relative of both okra and hibiscus plants (via Edible Northeast Florida). According to Growing in the Garden, the plant's leaves, petals, and pods are all edible and taste kind of like "spicy spinach." So if you are in Singapore and decide to give this pretzel a try, expect more of a savory flavor.
The United Kingdom offers a banana pretzel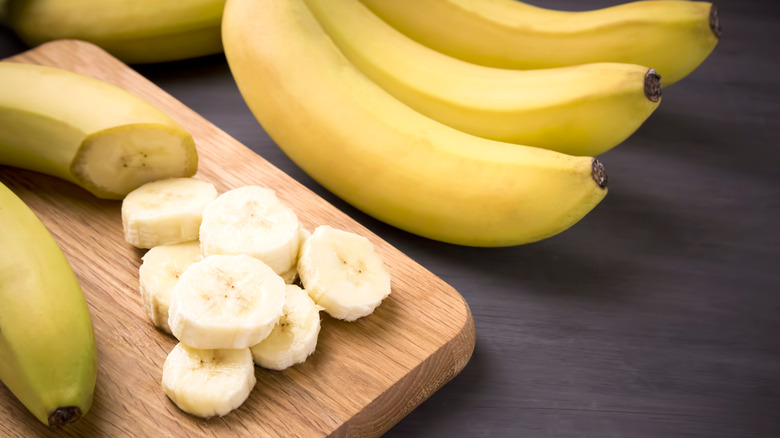 Fernati2007/Shutterstock
The United Kingdom also has several different pretzel flavors from Auntie Anne's locations in the United States. One such flavor is a banana pretzel, according to Fox News. However, the Auntie Anne's United Kingdom menu does not show the fruity option online, so it might be a seasonal flavor. The U.K. locations do have other options such as a vanilla pretzel and savory pizza-like flavors including cheese and bacon, cheese, and cheese and jalapeño. They also have a sweet Twix candy bar wrapped in their signature pretzel dough, too. So fans of Auntie Anne's visiting the U.K. have plenty of options to try.
Really no matter where you travel, it's worth checking out the menu at local Auntie Anne's stores. For example, Saudi Arabia offers a date pretzel, according to HuffPost. With the Perfect Pretzel Guarantee, Auntie Anne's ensures customers will love their pretzel every time (via Fox News). So, go ahead and try a new flavor — no matter where you are in the world.