Best Pumpkin Mac And Cheese Recipe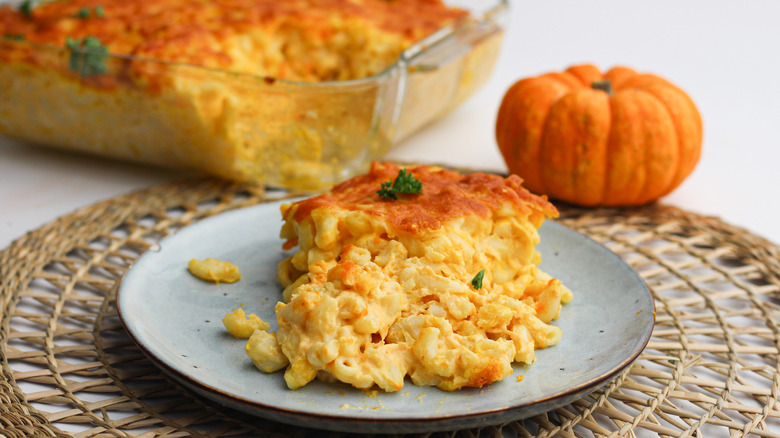 Susan Olayinka/Mashed
There are plenty of pumpkin-themed spins on everyday classics, and believe it or not, mac and cheese is no exception. We don't think that the pumpkin frenzy in the fall is going anywhere anytime soon, and we must admit that we, too, have jumped on the bandwagon. Just call us pumpkin lovers four life. This recipe takes your average, everyday mac and cheese and kicks it up to a new level thanks to the addition of pumpkin. It's ooey, gooey, cheesy, and pumpkiny, and it's one of the best dishes that you will ever have the pleasure of trying. There's a whole lot to love about this pumpkin mac and cheese — especially during sweater weather. 
Recipe developer Susan Olayinka of The Flexible Fridge came up with this tasty main course that is sure to be a hit. "[This] is quite unusual — I don't think I've ever seen a pumpkin in mac and cheese! The fact that pumpkins are so in abundance at the moment ... it's a must to use it in most recipes," Olayinka shares. "The [dish has such a] lovely, rich color, and it adds a bit of sweetness [to your classic mac and cheese] as well." Keep reading to find out how to make this cheesy mac in a snap.
Gather the ingredients for pumpkin mac and cheese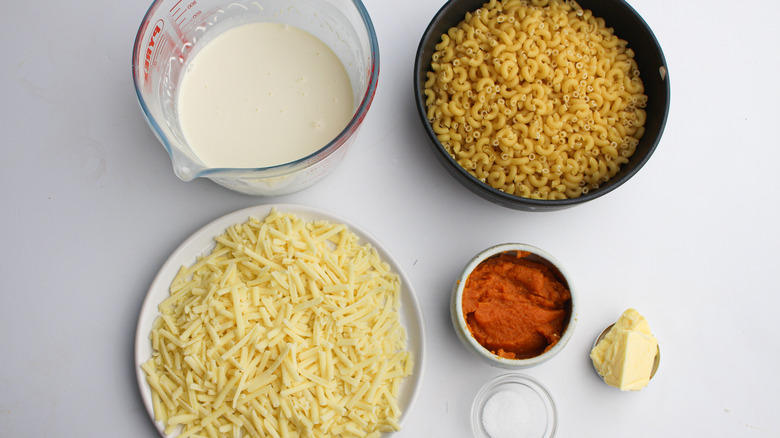 Susan Olayinka/Mashed
Macaroni and cheese is such a classic dish, and one of our favorite parts about it is the fact that it requires just a few ingredients to make it. Grab a pen and paper or hop on the "notes" section of your iPhone, and jot down a quick grocery list. 
To start, you will need a few cups of dry macaroni. For the cheesy base, get some mild cheddar cheese. You can get a block and grate it or buy shredded. The only other ingredients that are required are heavy cream, butter, pumpkin puree, and salt. As a reminder, be sure to check your cupboards for ingredients that you may have already at home.
Cook the pasta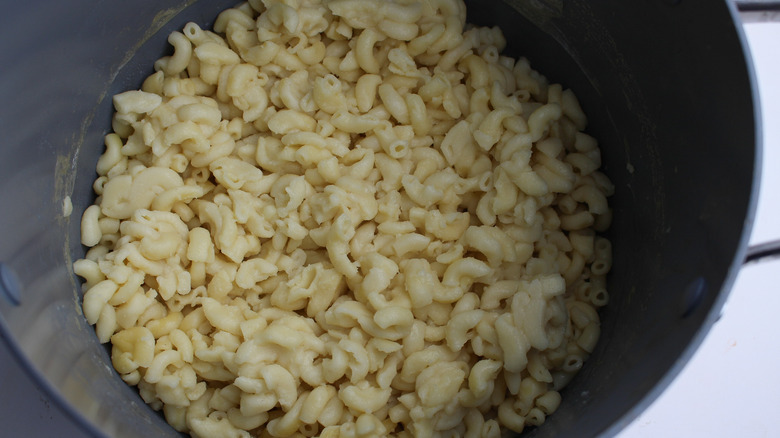 Susan Olayinka/Mashed
Now that you have all of your ingredients before you, it's time to get cooking. The beginning step is super basic, and you've likely done it plenty of times before. First, you'll want to grab a pot and your macaroni. Since there are hundreds of different brands of macaroni and the instructions vary for each one, it's best to look at the back of the package for specific details. You'll need to add the water and the pasta, but the specific brand will fill you in on the specifications. Let the pasta do its thing, and then move on to the next step.
Add cheese and other ingredients to the pasta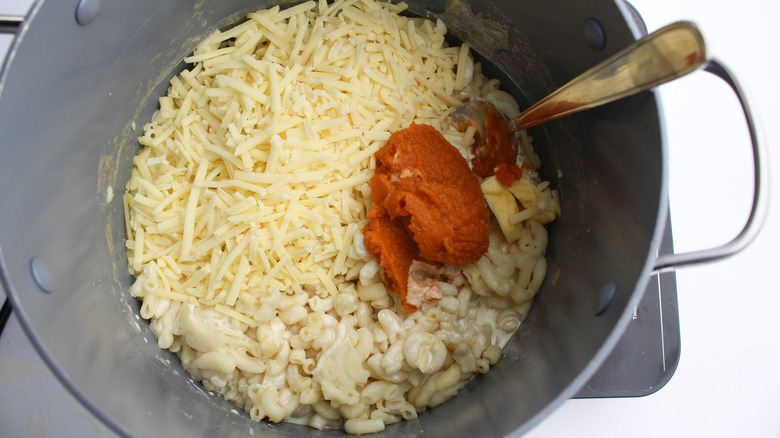 Susan Olayinka/Mashed
Once you have finished cooking the pasta according to instructions on the back of the box, measure out your cheese, and toss it in with the cooked macaroni. Remember that you should have grated the cheese ahead of time if it wasn't already. Then, throw in the heavy cream and butter. We go by the motto, "the more, the merrier!" To add a little fall touch to this recipe, toss in the pumpkin puree, and then finish things off with a dash of salt. Give the mixture a few big stirs to combine everything nicely.
Move the pumpkin mac and cheese to an ovenproof dish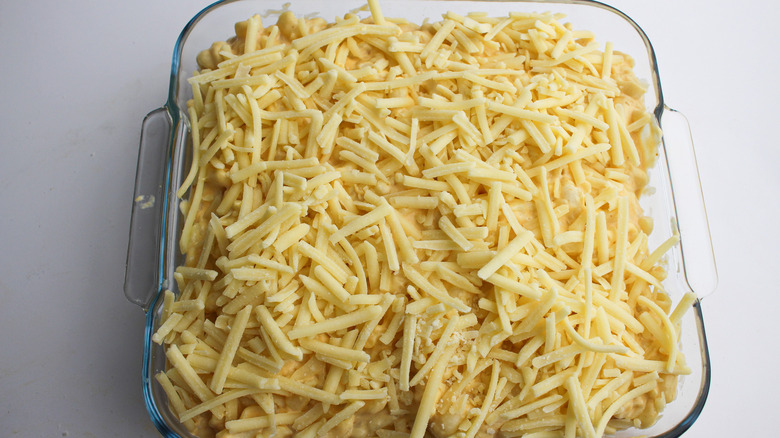 Susan Olayinka/Mashed
Once you have added all of the ingredients to the mac and cheese, empty it into an ovenproof dish. It's crucial to make sure the dish is oven-safe. Then, top the mac and cheese with ½ cup of shredded cheese, and sprinkle it as evenly as possible. Finally, pop the mac and cheese into the oven. Before you do so, make sure that it has fully preheated, and set your timer for 25 minutes to bake. Get ready, because very soon, your kitchen is going to smell oh-so delightful!
Serve and enjoy your pumpkin mac and cheese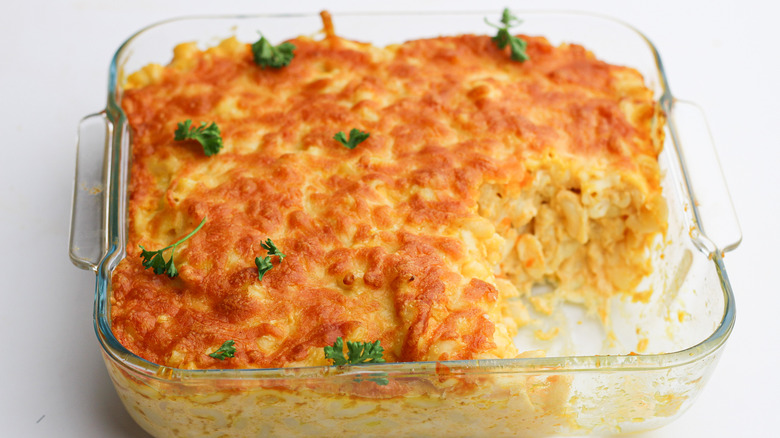 Susan Olayinka/Mashed
Once your timer for 25 minutes goes off, grab the oven mitts, and remove the cheesy pasta from the oven. Let it cool off for a few minutes before serving, as the dish will be extremely hot. You can serve this dish by itself, or accompany it with a protein. "[You can] serve [this dish] with meat, or slip some bacon pieces in [it]," Olayinka says. Greens are another option. "[Enjoy this] with a salad, as it's quite dense ... I think [this recipe] serves well with a light salad," she continues.
We hope you love this tasty and unique mac and cheese as much as we do! It's a scrumptious fall staple to have on deck for busy weeks or lazy, cozy weekends at home.
Best Pumpkin Mac And Cheese Recipe
There's a whole lot to love about this pumpkin mac and cheese — especially during sweater weather.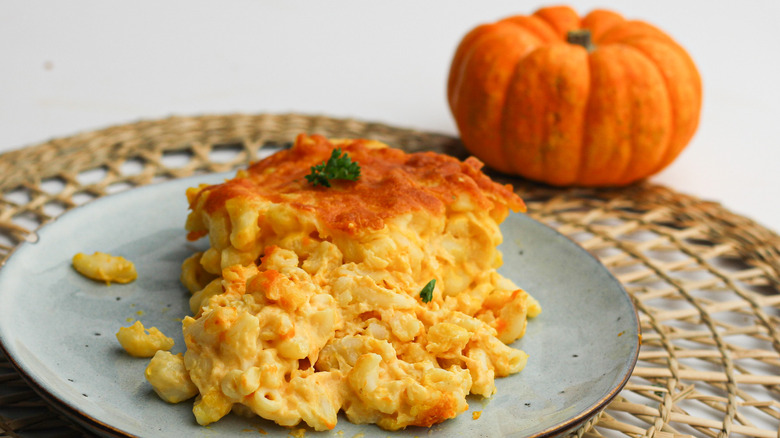 Ingredients
2 ½ cups dry macaroni
2 ½ cups mild cheddar cheese, grated, divided
1 ½ cups heavy cream
2 tablespoons butter
½ cup pumpkin puree
1 teaspoon salt
Directions
Preheat oven to 350 F.
Cook the pasta according to the package instructions. Then, drain and set aside.
Add 2 cups of cheese, the heavy cream, butter, pumpkin purée, and salt to the pot with the cooked pasta.
Stir the mac and cheese, and then empty it out into an ovenproof dish.
Top with ½ cup of cheese, and bake for 25 minutes.
Take the mac and cheese out of the oven, and serve.
Nutrition
| | |
| --- | --- |
| Calories per Serving | 632 |
| Total Fat | 45.2 g |
| Saturated Fat | 26.9 g |
| Trans Fat | 0.8 g |
| Cholesterol | 147.8 mg |
| | |
| --- | --- |
| Total Carbohydrates | 36.7 g |
| Dietary Fiber | 2.0 g |
| Total Sugars | 3.7 g |
| Sodium | 426.5 mg |
| Protein | 20.4 g |