Why Fans Were Calling Out Valerie Bertinelli For Her 'Perfect Chicken Dinner'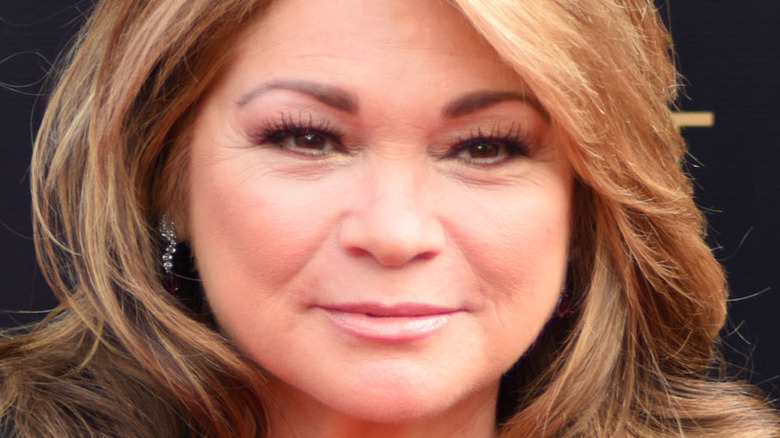 Michael Mattes/Shutterstock
Valerie Bertinelli began her career in the entertainment industry as a child actor on "Apple's Way" and rose to fame as the younger teenage daughter of the late Bonnie Franklin's character on "One Day At A Time." Per Page Six, she married rockstar Eddie Van Halen in 1981 and became mom to their son Wolfgang 10 years later — all while continuing to pursue acting. However, all along, Bertinelli was busy behind the scenes, cooking for friends and family and generally finessing her epicurean techniques. Decades after her 2001 divorce from Van Halen, Bertinelli got two of the biggest shows of her career — "Hot in Cleveland" and her Food Network program, "Valerie's Home Cooking," the latter of which she has hosted since 2015 and is generally well-received by fans.
Therefore, it's noteworthy that some fans took to Instagram to call out the actor regarding her "heirloom garlic clove chicken" recipe posted by the Food Network. The network referred to Bertinelli's creation as the "PERFECT chicken dinner" in the Instagram share, and yes, they used all-caps. Although some fans voiced strong disagreement, others rushed to her defense. Here's what went down.
Food Network fans don't think Valerie Bertinelli's chicken recipe has enough flavor
When the Food Network posted a video of Valerie Bertinelli making her recipe for "heirloom garlic clove chicken thighs," some followers did seem genuinely impressed by the one-skillet dish consisting of golden-browned chicken thighs, simmered in a white wine-based sauce enhanced with shallots, garlic, thyme, and nice briny olives. In addition to the many comments to the effect of "yum," "looks scrumptious," and "sounds right to me," at least one fan tagged another user to say, "you might enjoy this." 
However, many detractors felt that the recipe's aforementioned flavors and seasonings were inadequate. Although no one used the word "bland," per se, that was clearly the theme. "Looks good but that wasn't enough seasoning," said one commenter. "Salt n Pepper is not seasoning," wrote another. "That chicken ain't hardly seasoned..," complained a third user.
And so it came to pass that the critics became... the criticized. "The wine combined with the garlic, shallots & kalamata olives, & salt is the perfect amount of seasoning — so good!" argued one of Bertinelli's fans. "Looks good to me," shared another.