Chris Santos Calls This Food His 'Guilty Pleasure'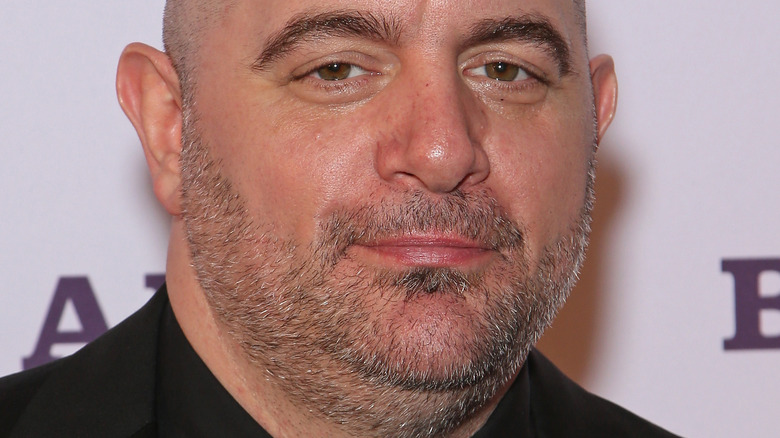 Gabe Ginsberg/Getty Images
Celebrity chef Chris Santos has a list of food items of which he can never get enough. According to Parade, he's unable to resist chicken wings anytime he spots them on the menu at a restaurant. He also likes treating himself to a nice pasta meal, French toast, and more. For Santos, one of the most important parts of devouring a well-prepared meal is sharing it with loved ones. 
According to the Food Network, another snack that never lets Santos down is Smartfood popcorn. He says that it works really well when he's in the mood to munch on something late at night. Oh, and if he had to pick just one dish as his final meal, Santos would go for chilaquiles. According to Simply Recipes, this is a Mexican dish that consists of fried corn tortillas, served with a generous helping of eggs, cheese, or beans. With that said, there is one food staple that beats everything else, as far as Santos is concerned.
Chris Santos loves burgers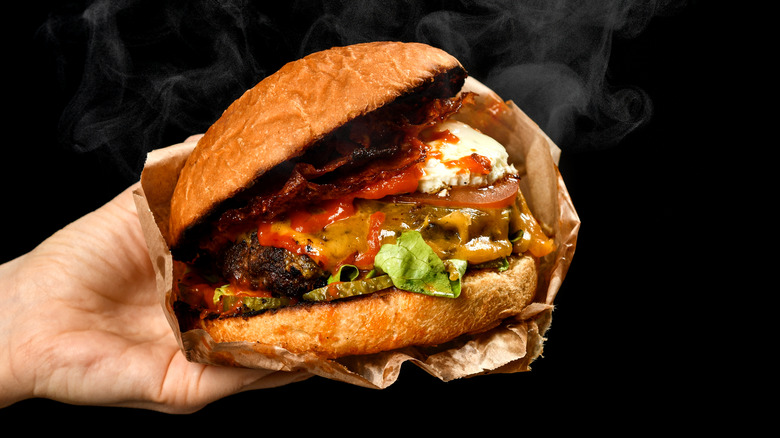 Dmitry Lobanov/Shutterstock
When asked about his favorite "guilty pleasure" food by the Food Network, Chris Santos shared that he loves a good burger. He said, "[I'm] always on the hunt for the city's best new burger. And whenever I travel, I always have to seek out the best burger joints in town." He also said that when he's in Los Angeles, he loves searching for "old school burger counters."
When it comes to burgers, Santos is also not afraid to be experiment and try new things. Per First We Feast, he once made a Jägermeister Stag Kobe Burger. The dish featured two patties, bacon jam, ghost pepper, guacamole with Jägermeister, ghost pepper cheese, and more. Santos prepared the dish with the outlet's Camera Guy Bill in a fun video and the results looked absolutely delicious.