Reddit Is Shocked By This Chick-Fil-A Referral Bonus Poster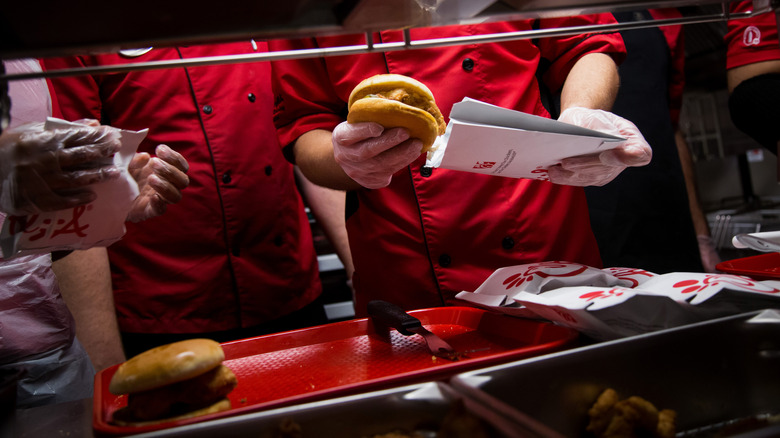 Bloomberg/Getty Images
When it comes to earning a living wage, 24 states have stepped up and passed laws over the past year that require employers to raise the minimum wage, per U.S. News & World Report. According to Payscale, the average cashier or restaurant worker at a Chick-fil-A only makes an average of $9 per hour, despite the fact that U.S. residents need to make $16.54 per hour to provide for a four-person family as of 2019 (via MIT).
With financial tension like this, it only makes sense that Reddit took offense to a recent Chick-fil-A referral bonus poster. Users over at r/antiwork couldn't believe the flyer, which read: "Refer your friends, family, even neighbors to all of our open positions! Get 30 people in 30 days, you get a 30 cent raise!" The flyer concluded with, "$0.30 may seem small, but every penny counts!" Redditors immediately took offense to the post and quickly replied, sharing their outrage.
A poster too outrageous to believe
Redditors felt disgusted upon seeing the supposed Chick-fil-A flyer and quickly responded to the post. Comments like, "Love how they refer to their employees as 'the herd' as if they're livestock and cattle too," and "An extra f****** 30 cents?? And they wonder why loyalty doesn't exist." Another user questioned who could gather 30 friends, family members, and neighbors together to apply for the job, saying, "For 30 people no less! Who the f*** even knows 30 people looking to fry chicken for $7.25?" Others agreed with the sentiment, and they replied with, "Yeah, the amount of money is one thing, but 30 people in 30 days seems impossible anyway." "If you can refer 30 people in 30 days to staff a restaurant you should be promoted to Talent Manager," someone else commented.
The public has spoken and the ball's now in Chick-fil-A's court. Only time can tell what happens next, but hopefully, the fried chicken chain can offer a solid defense for the flyer. Otherwise, they might find themself in even more hot water, especially as the U.S. continues to push for higher wages.