Dunkin' Just Dropped These Bewitching Halloween Cups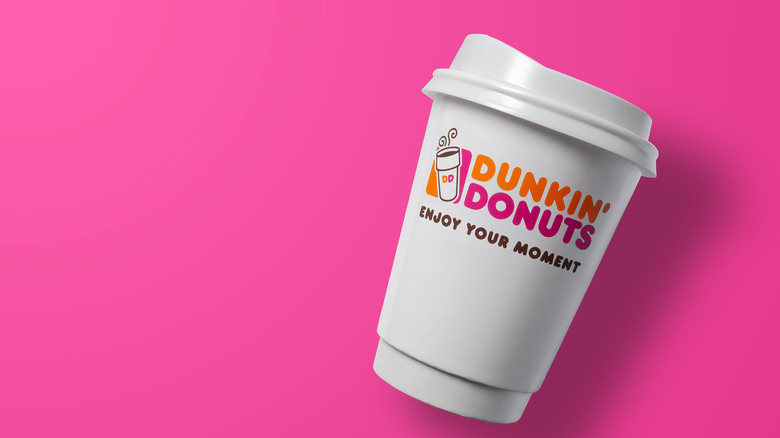 Nixx Photography/Shutterstock
Starbucks fans are far from new to the idea of seasonal merchandise, but now Dunkin' loyalists can get in on the fun, too. According to Elite Daily, on October 6, Dunkin' announced that they would be releasing a Halloween item, their first in a very long time. Dunkin' posted a photo on Instagram of two new tumblers fans can buy at their nearest location, and people seem to be very excited. As one person commented on the post, in all caps, "NEED STAT."
In fact, the Instagram post has gained more than 220,000 likes in less than a week. However, that could be due to the fact that Dunkin' aced their design by basing it on Disney's "Hocus Pocus" — a cult classic movie released in the early 1990s.
As it turns out, these Dunkin' tumblers have actually been available since late September 2021, according to Elite Daily. But now that the chain has officially shared the news, those who simply must have this limited-edition item will want to hurry. Supplies are limited and they likely won't last long. However, you'll need to ask for it in-person when you visit your local spot because the merch is not available in the mobile app (via Pop Sugar).
Dunkin's Halloween tumblers glow in the dark too!
While it's very exciting that Dunkin' has finally released Halloween merchandise, the details everyone really wants to know about are what the new tumblers look like. There are two versions — true to Dunkin's brand, one tumbler is pink while the other is orange — and they're both perfect for Halloween night. Each comes outfitted with a screw-on lid and a reusable straw and has the words, "Hocus Pocus I need my Dunkin' to focus" written on the side. Towards the bottom of the cup, there's a donut sprinkle design for an added touch of Dunkin' sweetness. 
The best, and spookiest, part of all is that the writing and sprinkles actually glow in the dark. That way you can always find your Dunkin' coffee in the earliest of mornings to the latest of nights.
According to Pop Sugar, each signature tumbler runs for about $11 and can be added to any order you place at the coffee chain. Whether you are a die-hard "Hocus Pocus" fan and cannot pass up the special-edition item or a Dunkin'-loving Halloween enthusiast, these new cups are a seasonal must-have.