Dunkin's New Fall Drink Is Inspired By This Popular Halloween Candy
Oh, Halloween: There's so much to love about this festive, frightful, and all-around fun holiday, but we'd be willing to bet it's most widely beloved for the plethora of sweet treats it offers. With Hallow's Eve almost upon us, we know we're getting excited to chow down on more than our fair share of cavity-inducing Halloween candy, from Snickers to Kit-Kat to Baby Ruth.
Beyond the actual candy, however, stores, restaurants, and cafés also tend to roll out sweet Halloween-themed snacks and treats this time of year. The International House of Pancakes — more commonly known as IHOP — is offering a stack of pancakes drizzled with peanut butter and chocolate sauces and sprinkled with Reese's Pieces to celebrate the season (via the official website). Starbucks has also lined its shelves with Halloween-themed cold cups printed with images of spiderwebs and black cats (via Good Housekeeping) — the perfect vessel to fill up with a pumpkin spice latte. 
And over at Dunkin', select stores are brewing up an iced macchiato with flavors inspired by a perennially popular Halloween candy.
Dunkin's new macchiato is inspired by peanut butter cups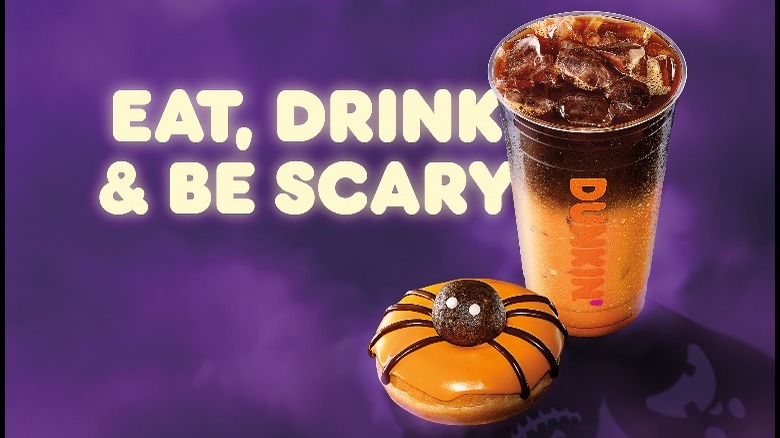 Courtesy of Dunkin' Donuts
While all kids have a favorite trick-or-treat candy, we don't think it's a stretch to say that Reese's Peanut Butter Cups are one of the top contenders. Milk chocolate cups stuffed with peanut butter are quite likely to please an adult palate, too — so it makes sense that, for this Halloween season, select Dunkin' locatios across the country are offering a drink inspired by the treat: a Peanut Butter Cup Macchiato.
In a press release, Dunkin' stated, "The world's favorite flavor combo of chocolate and peanut butter is now available in the eerily delicious Dunkin' Peanut Butter Cup Macchiato ... The creamy and chocolatey flavors of Halloween's favorite candy, the Peanut Butter Cup, paired with layers of bone-chillingly bold Dunkin' espresso, make for a frightfully enchanted new brew."
So if you love peanut butter cups, and you love iced coffee, head to your local Dunkin' to sip on this sweet caffeinated drink — no costume required.