Easy Cucumber Roll Recipe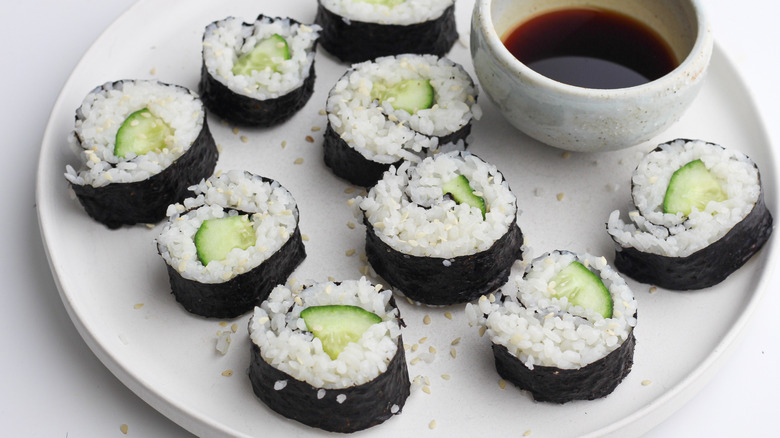 Susan Olayinka/Mashed
There are some dishes that we resort to buying rather than making ourselves, because they appear to require complicated techniques best left to the masters. Sushi rolls are one such example, but the process is actually pretty straightforward as long as you're not cramming them with dozens of ingredients. Susan Olayinka is a recipe developer and food blogger at The Flexible Fridge, and she has created a recipe you'll love. These cucumber rolls come together in less than 30 minutes and will give you the perfect practice if you plan to move ahead in your sushi roll game. 
Olayinka remarks that she enjoys this dish as both a "snack and appetizer," and there's no shortage of ways to pair it. Thanks to the basic ingredients and subtle flavors, these cucumber rolls make a great dish to serve for lunch, dinner, a cocktail party, and more. Olayinka is a fan and notes, "I like these because they are so simple and just use a couple ingredients." She adds, "Even though it's a couple of ingredients, it tastes so good." 
These cucumber rolls are also an excellent option for vegetarian or vegan diets. Once you get the hang of the method, you'll be able to expand your repertoire and experiment with other fillings. 
Gather the ingredients for this cucumber roll recipe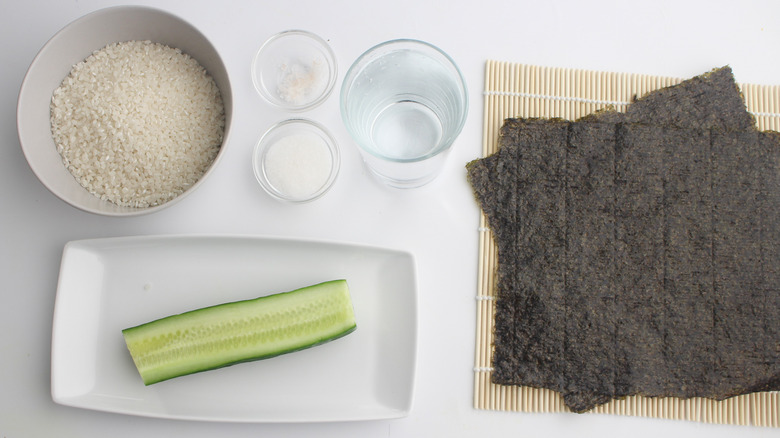 Susan Olayinka/Mashed
These cucumber rolls boast a short list of ingredients. Apart from food, you'll need a bamboo mat to roll up the cylindrical shape. Olayinka notes, "Any flexible mat would do if someone doesn't have a bamboo mat." As for items of food, you'll need sushi rice. Thanks to its shape, this rice develops a firm yet sticky texture when cooked that makes it ideal for rolls (via Gimme Some Oven). You'll need water to cook the rice, and Olayinka recommends a rice to water ratio of 1 to 1 ½ cups. You won't want to forget to season the rice, since it will add plenty of flavor to the roll. A simple combination of sugar and salt creates a basic yet balanced profile. 
Next, one quarter of a cucumber is required for the filling. It might not appear like much, but it will be cut into thin strips to add into the rolls. Finally, you'll need nori sheets as a container to hold the rest of the ingredients. The Kitchn explained that nori sheets are made from edible seaweed which is flattened into a paper thin sheet. Be sure to buy the full size nori sheets and avoid salted nori snack packs.
Cook the sushi rice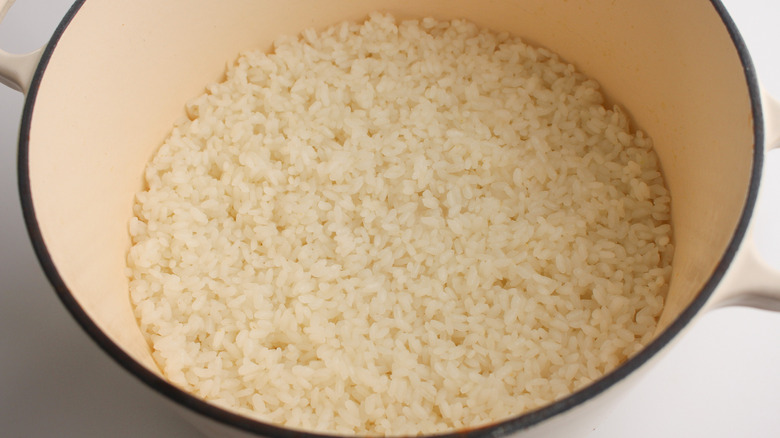 Susan Olayinka/Mashed
The first step you'll need to begin with before you can start the rolls is to cook the sushi rice. Olayinka recommends to follow the package instructions, since different brands have their own specifications. However, sticking to a ratio of 1 cup of rice to 1 ½ cups of water should work well. Now is the time to stir in ½ tablespoon of sugar and ¼ teaspoon of salt. Cook the rice for about 20 minutes, until "it's not hard and [it becomes] soft", Olayinka describes. Essentially, you don't want it to have too much bite, but the grains should still be distinct. While the rice is cooking, slice the piece of cucumber vertically into three even strips.
Add the rice and sliced cucumber to the nori sheet, and roll it up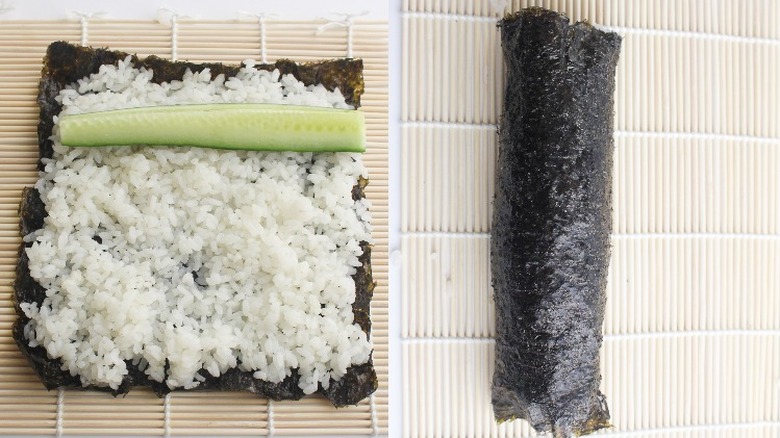 Susan Olayinka/Mashed
Once the rice is cooked and the cucumber has been sliced, it's time to prepare the rolls. You'll want to set up your workspace by laying out the bamboo mat or whatever flexible mat you will use to assist with the rolling. Place one nori sheet on top of the bamboo mat, and spread some rice across the surface to cover the whole sheet. Be sure to leave about ¼ inch around all of the edges to facilitate the rolling. Place a strip of cucumber along one of the short edges of the nori sheet.
From this end, carefully begin to roll the sheet using the mat to help push it along. Olayinka suggests, "When you are first rolling it just tuck in the first part tightly," to ensure that the roll stays together. Repeat the process with the remaining sheets of nori, rice, and cucumber strips to make three cylinders.
Slice the cucumber sushi roll, and serve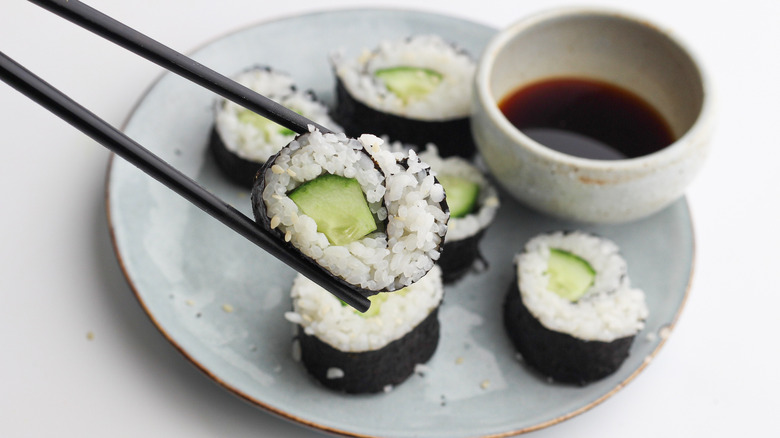 Susan Olayinka/Mashed
Finally, using a sharp knife, slice the cylinders into six pieces about ½ inch in size. Each will make the perfect bite — especially dipped into sauce for contrast. Olayinka enjoys them "with a dipping sauce like hoisin, soy sauce, or sriracha sauce." These would make a great appetizer for a flavorful Asian-inspired dish like this easy, fresh ginger and salmon recipe.
If you aren't serving them immediately, Olayinka says, "This can keep in the fridge." Once the pieces are sliced, you're best off eating the cucumber rolls soon to prevent the rice from drying out. Gather up a couple of friends, and you can even invite them to share the task of preparing these tasty rolls! You might need to make extras, because Olayinka notes, "My family and I went back for seconds."
Easy Cucumber Roll Recipe
These cucumber rolls come together in less than 30 minutes and will give you the perfect practice if you plan to move ahead in your sushi roll game.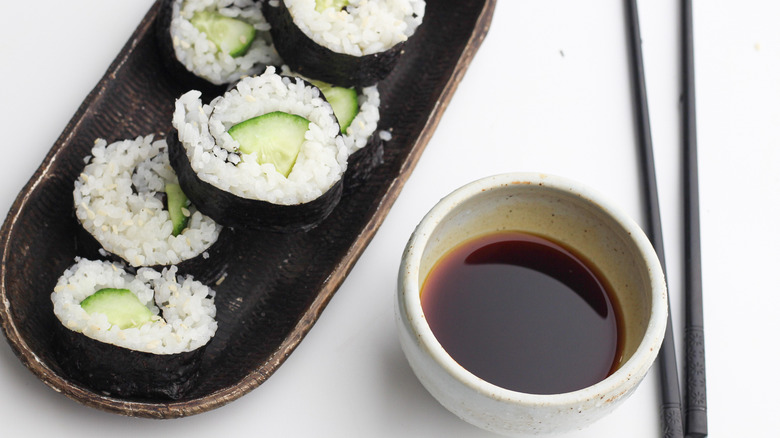 Ingredients
1 cup sushi rice
1 ½ cups water
½ tablespoon sugar
¼ teaspoon salt
¼ cucumber
3 nori sheets
Directions
Begin by cooking the sushi rice according to the package instructions, adding the sugar and salt.
While the rice is cooking, slice the cucumber vertically into 3 strips.
After the rice has cooked, remove it from the heat.
Lay down 1 nori sheet.
Spread the rice in an even layer across the nori sheet, covering the whole sheet while leaving about ¼ inch from the edge.
Place one strip of cucumber on the outer edge of the nori sheet, and begin to roll the contents to form a cylinder.
Slice the sushi roll into bite-sized ½-inch pieces. (One cylinder makes 6 sushis.)
Serve, and enjoy!
Nutrition
| | |
| --- | --- |
| Calories per Serving | 41 |
| Total Fat | 0.1 g |
| Saturated Fat | 0.0 g |
| Trans Fat | 0.0 |
| Cholesterol | 0.0 mg |
| | |
| --- | --- |
| Total Carbohydrates | 9.1 g |
| Dietary Fiber | 0.0 g |
| Total Sugars | 0.4 g |
| Sodium | 33.5 mg |
| Protein | 0.8 g |