This Is Zendaya's Go-To Meal On Set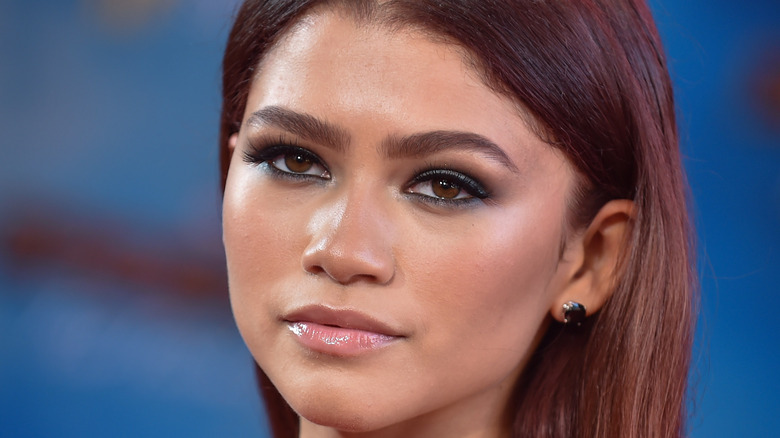 DFree/Shutterstock
From slaying it as a trapeze artist in "The Greatest Showman" to capturing our hearts as MJ Jones in "Spider-Man: Homecoming," Zendaya is a force to be reckoned with on the silver screen (via IMDB). While she may be best known as a talented actress, the quadruple threat is also a dancer, singer, and published author (per the San Francisco Chronicle). Perhaps the biggest highlight of Zendaya's career? Her stunning performance on HBO series "Euphoria." The role led to the Oakland-native winning an Emmy for Outstanding Lead Actress in a Drama Series at the age of 24, making her the youngest female actress in history to win an award in that category (via Cosmopolitan). The former Disney star continues to deliver one impressive performance after the next, and is on her way to becoming one of Hollywood's most famous stars.
However, with all glitz and glam aside, the "Dune" actress is extremely humble and down-to-earth. Her love of ice cream and "Harry Potter" truly make her a girl next store at heart (per Insider). Keep reading to find out more about what a day in the life of this Hollywood starlet really looks like — including her favorite on-set meal.
Zendaya loves a good ol' cup of noodles with hot sauce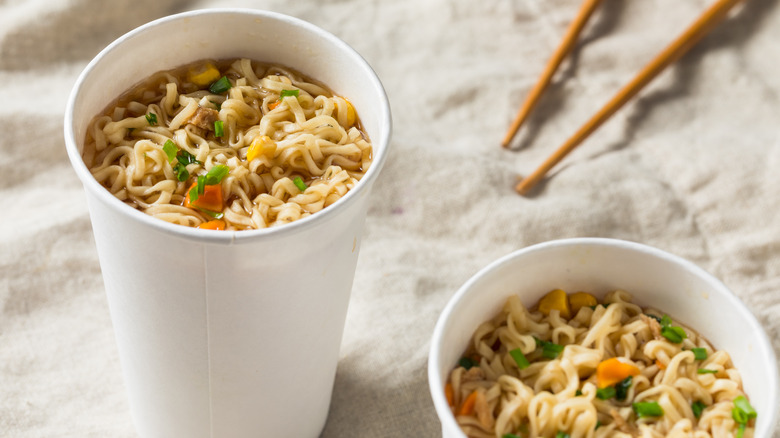 Brent Hofacker/Shutterstock
In an interview with Harper Bazaar, Zendaya walks us through a regular day in her life. While stars aren't always "just like us," there are a few things that make them relatable. For one, they also have to eat! The "Shake It Up" star starts her morning off with breakfast, even though she confesses that she's not the biggest breakfast person. "I love breakfast food, just not at breakfast time," she explained. "I'll eat breakfast food, but it must have some Nutella on it: pancakes, berries, and Nutella." Yum!
Ever since she was nine-years-old, Zendaya has maintained a vegetarian diet (via Spoon University). However, she doesn't love eating vegetables (go figure!). Like many other stars, Zendaya struggles to carve out time for lunch when she is busy on set. Her quick and easy go-to? Noodles with hot sauce. "I know it's bad for me. People are like, 'Zendaya, it's high in sodium,'" she said. "But it's what I want to eat."
When it comes to her daily dinners, Zendaya likes to "shake it up" — get it? Evening meals range from a delicious burrito from Los Burritos to Häagen-Dazs coffee ice cream (via Insider). Whatever Zendaya's eating, she's not usually cooking. "I just (a) don't like following directions, and I'm (b) too lazy," she admitted to Harper Bazaar.