Coffee Mate's New Flavor Is Inspired By This Classic Childhood Treat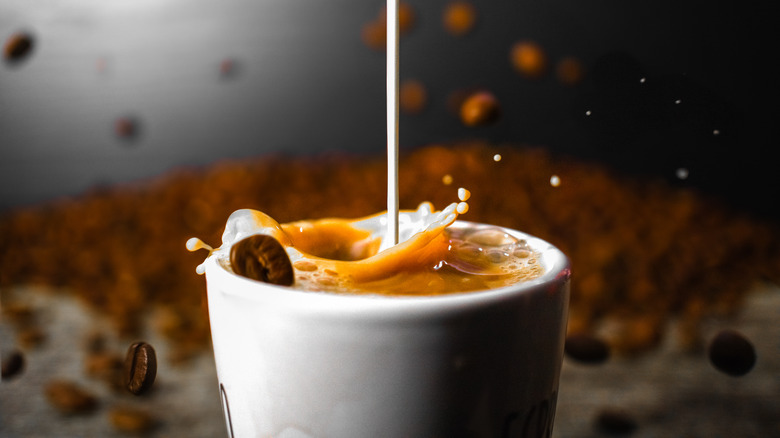 Charles Andrew Palmer/Shutterstock
When you need to mellow out your coffee and spice it up with a bit of flavor, you can't go wrong with Coffee Mate. The brand has released creamers with signature tastes like Himalayan Salted Caramel, Strawberry Cheesecake, and even Snickers, per Eat This, Not That!. These branded items might throw a bit of fun into your morning joe, but Coffee Mate now plans to one-up themself with its latest product that can make anyone nostalgic.
According to Delish, you can soon plan to pick up your very own bottle of Coffee Mate Rice Krispies Treats-flavored creamer to sweeten up anything your heart desires. The product hasn't made its debut appearance quite yet, so the word's still out on what the product tastes like, but with any luck, it can deliver the signature taste of this marshmallow snack straight into your cup. Just get ready to pounce on this offering once it does hit shelves — you can guarantee everyone will want to get their hands on this sweet creamer that captures the essence of Rice Krispies Treats.
A creamer loaded with sweet flavor
If you can't wait to pick up a bottle of Coffee Mate Rice Krispies Treats Creamer for yourself, you'll unfortunately have to hold out a bit longer. According to Thrillist, the new coffee add-in won't begin appearing in stores until January 2022, and will likely retail at $3.99 per 32 ounce bottle. The new creamer arrives alongside a Froot Loops-flavored milk from Nestlé, which the brand describes as capturing the citrusy-sweet taste of the namesake cereal.
The product should fit well alongside other dessert-themed creamers Coffee Mate has put out in the past. This Kellogs-Nestlé team-up may even have the power to spark further product collaborations and could lead to some other classic cereal making their way into your coffee. Keep your fingers crossed and you might even see other cereal brands make the jump from breakfast staple to coffee creamer in the near future.