KFC Just Dropped A Texas-Inspired Menu, But Not Where You Might Think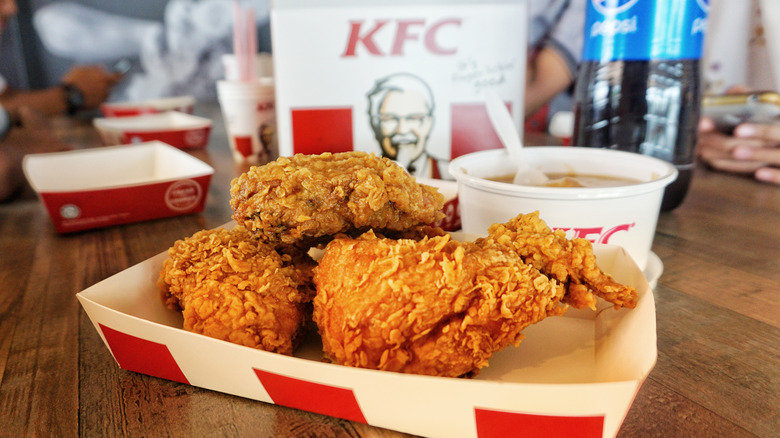 Sapadia Aku/Shutterstock
Who doesn't love KFC? One bite of their breaded chicken will send you straight to Kentucky fried heaven. While KFC is now one of the most iconic, recognizable fast food chains in the world, it had extremely humble beginnings. In 1930, Harland Sanders — now famously known as Colonel Sanders — began selling his signature fried chicken from his roadside gas station in Kentucky, per Delish. The delicious fare was so beloved, that Sanders decided to convert his side hustle into a full time gig, opening the first KFC location in Salt Lake City, Utah in 1952. Even today, the Colonel's special blend of 11 herbs and spices remains top secret and is safely locked away in the chain's headquarters (via First We Feast).
It turns out, Americans aren't the only ones that love his fried chicken. KFC has transformed into an international phenomenon, with more than 25,000 locations across 145 countries and territories around the world (via Global KFC). In Japan, it's even common practice for families to celebrate Christmas with buckets of fried chicken. Lately, KFC has been busy cooking up a finger lickin' good Texan-themed menu. Surprisingly, the menu won't actually be featured in any Texas locations. If you want to get your hands on these new tasty morsels, you'll have to travel all the way to France — sorry Texans.
The new Texas-themed menu is only available in France
According to Chew Boom, KFC is debuting an all-new Texas inspired menu in France. The menu currently includes two limited edition items — the Texas Grilled Cheese & Bacon Sandwich for 7.45 Euros ($8.63 USD) and the Texan Fries for 3.95 Euros ($4.58 USD). The Texas Grilled Cheese and Bacon Sandwich will include a breaded chicken fillet, caramelized onions, bacon, lettuce, aged cheddar, and grill-house sauce, held all held together by toasted sandwich bread. Is your mouthwatering yet?
The next equally tasty item on the menu, will be the Texan Fries. These loaded fries will include crispy potato wedges, with fried onions, cheddar cheese, and grill-house sauce on top. If you are planning on taking a trip to France soon, make sure you don't miss out on these limited-edition items. As of right now, you won't be able to find them anywhere in the U.S. Bon appétit!