National Dessert Day 2021: Where To Get The Best Food Freebies And Deals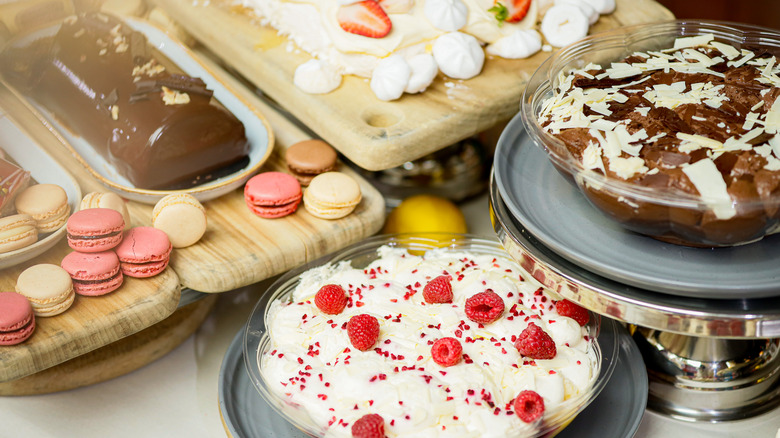 Hanna Lassen/Getty Images
You may have already missed National Cinnamon Roll Day on October 4, and National Cake Day doesn't roll around until November 26, but that doesn't mean you can't enjoy a bit of both treats today (via National Today). Sweet-toothed fans across the country can easily find something to enjoy every October 14, National Dessert Day. On this special holiday, you can feel free to grab as many sugary goodies as you can and treat yourself to a wide variety of offerings that stores across the country offer in honor of this iconic celebration of every confection.
Mass Live reports that Friendly's Sweet Rewards Club members across the U.S. have the chance to score 50% off any ice cream or beverage purchase today only in honor of the holiday. If ice cream's not your style, head over to Sweet Paris today and get a free plain, Nutella, or Dulce de Leche crepe if you have a Sweet Passport Reward membership, per Elite Daily. If the mood strikes, you can also pick up a free scoop of ice cream from Baskin-Robbins if you download their app for the first time today. Anyone who has gotten fully vaccinated can get a sweet deal October 14 from Baked By Melissa — show your vaccination card and receive a free three-pack of cupcakes while supplies last. Don't feel like you have to head to a brick-and-mortar location either. The bakery offers a 10%-off deal today on their 50-pack of cupcakes with the promo code DESSERT10.
Get in on the sweet action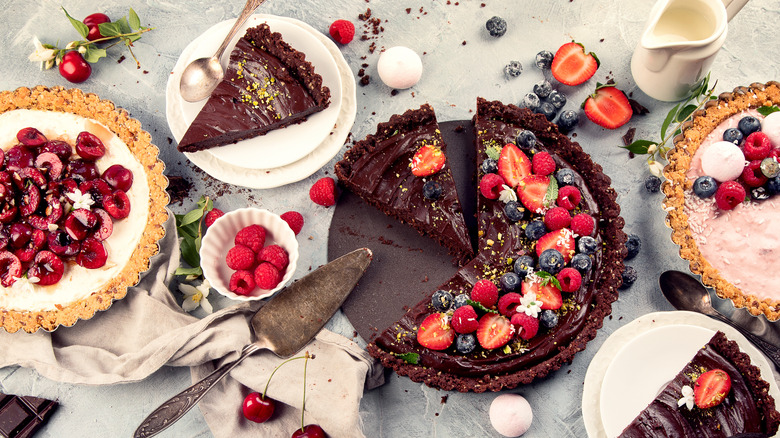 Tatjana Baibakova/Shutterstock
Some regular restaurants have decided to get in on the fun and help celebrate National Dessert Day just right. According to Elite Daily, Barbecue at Home by Dickey's has a great deal where you can bring home free cheesecakes, cookies, or pecan pies when you order over $150 worth of food on their website and use the codes 2FREETREATS or 4FREETREATS to grab two or four desserts with your order. Cold Stone Creamery wants to get you in today and have you sign up for their rewards program and plans to reward you with a buy-one-get-one-free deal on their Creations.
Meanwhile, Jack In The Box has a free churro with your name on it. Just go to their website and fill out your contact order to get a coupon that can help you bring home your own free churro. If you sign up for the Krispy Kreme app today, the restaurant can help you take home a free doughnut too. For the pièce de résistance, head on over to BJ's Restaurant and celebrate National Dessert Day right with the company's Pizookie, a pie-cookie mashup that can get anyone excited to indulge a bit. Just make sure to sign up for the restaurant's reward program to score the dessert. With so many treats available today, you can't go wrong as long as you listen to your sweet tooth.