Wendy's Is Now Promising To Replace Your Unsatisfactory Fries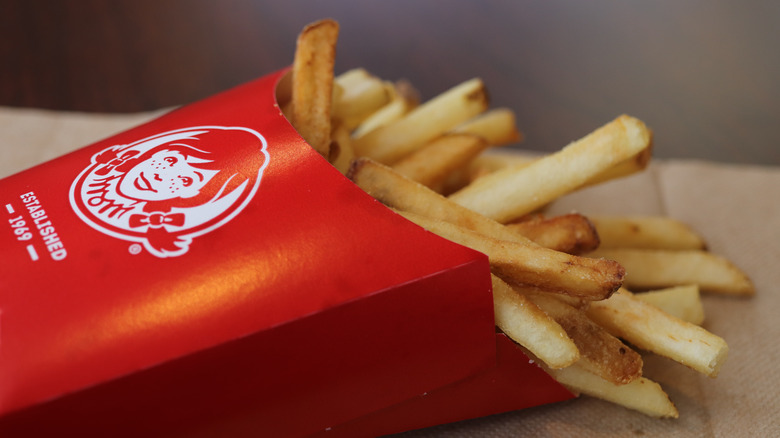 Deutschlandreform/Shutterstock
There have been some big changes afoot at Wendy's locations lately. And these changes center around one menu item in particular: its fries. In late August, the fast food behemoth with more than 6,500 worldwide locations (via Wendy's) announced that it would be revamping its spuds recipe, according to The Takeout. Changes that were on the docket, according to the chain's senior specialist of culinary and innovation, included using skin-on potatoes and employing a new, light coating of batter that promised to keep the fries crispier, longer (via Restaurant Business).
Since the fries debuted, customer reactions to them have been mixed, with many comparing them to Burger King fries or just out-and-out saying they don't taste good. But Wendy's has continued its fervent promotion of its new taters, recently announcing yet another incentive to buy them: the promise to replace your fry order — no questions asked — if you're not pleased with them.
Wendy's promises hot and crispy fries every time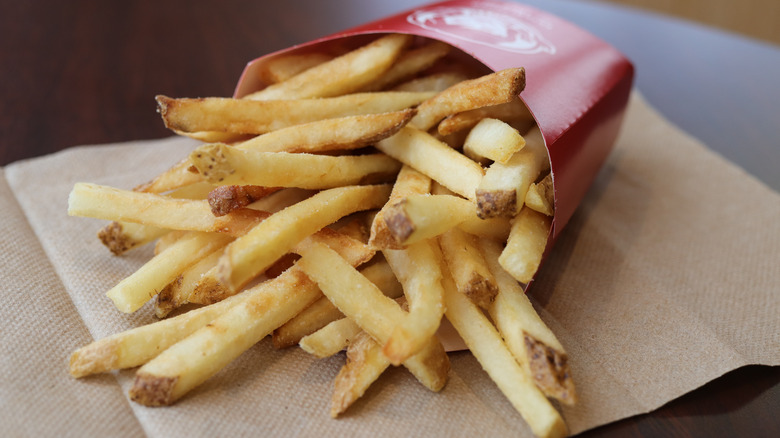 Deutschlandreform/Shutterstock
Fast food giant Wendy's has been on something of a media blitz lately promoting its new Hot & Crispy Fries, which, according to Restaurant Business, took more than two years to develop. And yesterday, the chain announced a new way to promote the improved-upon taters: its Hot and Crispy Fry Guarantee. In a press release posted at PR Newswire, Wendy's promised to replace any order of fries that's delivered to the customer either insufficiently hot or crispy.
"We know customers deserve better than the cold, soggy fries they've been receiving at competitors," says U.S. Chief Marketing Officer Carl Loredo in the release. "That's why we're committed to delivering hot and crispy fries with every single order — if your fries aren't hot and crispy when you receive them, we'll replace them, no questions asked."
In the same press release, Wendy's dangled another enticing carrot for would-be customers: the gift of a free small Frosty with every order of fries placed via the Wendy's app. Considering how delicious fries taste dipped into a milkshake, we're considering downloading the app right now.