Aldi's Quesadilla And Churro Makers Are Turning Heads
When you want to get the party going, you can't go wrong serving up a steaming plate of quesadillas or churros. But while both of these items taste great, quickly making these foods takes time and patience — not to mention the right cookware. According to Cooking Classy, anyone who wants to make their favorite churros recipe has to laboriously whip together a dough and then deep-fry the perfectly shaped dessert in a bunch of oil. Making a quesadilla takes less effort, but trying to quickly assemble a few of these Tex-Mex classics in a rush can take some time, especially if you want to grill each side in a standard frying pan, per Delish.
Luckily, Aldi now offers a solution for both of these problems. In an Instagram post, the grocery chain showed off its new churro and quesadilla makers alongside the caption reading, "Add some fun to your kitchen with our churro or quesadilla maker! I mean, is there anything better than a fresh, hot churro?" The post has received a ton of attention, and fans can't get enough of these new products.
Aldi's quick and easy way to make Tex-Mex treats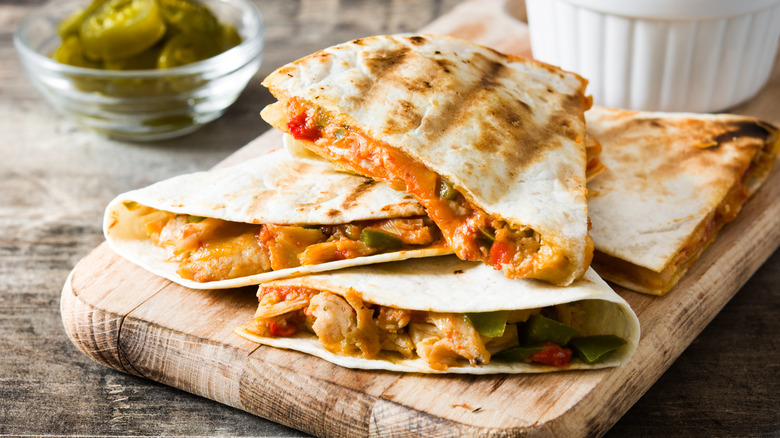 Etorres/Shutterstock
Aldi fans love this new offering. The Instagram post has received a ton of replies, including gems like "I got the quesadilla maker a couple of years ago it was one of my BEST Aldi purchases EVERRRR!!!!" and "I need both of these." Others questioned the churro maker, with one user stating, "If my churro isn't fried in hot oil, I don't want it. Another was intrigued with the quesadilla maker, stating, "That sounds awesome." Aldi's official Instagram account had even better news: "They are $16.99 each!"
If you have ever wanted to start making more churros or quesadillas at home, make sure to pick up these new time-saving devices next time you go on your next grocery run. With any luck, you'll be churning out these Tex-Mex favorites in no time and won't have to worry about the hassle of slaving over a hot stove for hours.