Instagram Is Impressed By More Than Just The View In Paul Hollywood's Pic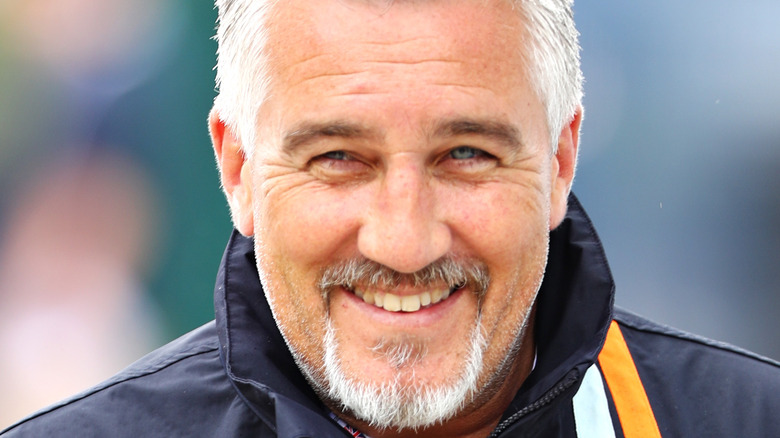 Clive Mason/Getty Images
Paul Hollywood has made a name for himself as a judge on the popular cooking competition "The Great British Baking Show." The bestselling cookbook author and of the UK's leading artisan bakers and authorities on bread (via the Great British Bakeoff's website), Hollywood is also known for his dashing good looks and sex appeal (via Cosmopolitan), which often garner him just as much attention as his baking bona fides.
Hollywood recently posted a photo to Instagram that shows him relaxing at the edge of an infinity pool, with bare shoulders, arms, and back of head visible, looking out at a view of ocean and mountains. He captioned the photo, "Happy place ... and chill ... Thank you for a great view x FYI no, not Paphos." It's one of Hollywood's most popular recent posts, racking up more than 26,000 likes and 500 comments in just one day. While some fans were appreciative of the ocean and mountain view, asking if the photo was taken in Cyprus, Croatia, or even Costa Rica, most of his legion of fans were focused on something else entirely.
Instagram appreciated the view of Hollywood himself
Hollywood is not shy about showing some skin, and has been known to leave a few buttons on his shirt undone (via Vulture), yet the sight of his bare shoulders in the recent post sent Instagram into a delighted frenzy. "Thank YOU for the view!" wrote one fan, a sentiment shared numerous times in the comments. 
"I think we have the better view, hot stuff," wrote another. 
One fan came out and explicitly stated, "Best view is the body in the pool."
"I assume those muscles are the result of many years of kneading bread!" commented one fan, in reference to Hollywood's belief that you should always knead dough by hand, something he clearly puts into practice. 
Bread references were plentiful and almost a little too easy. "A superb bake! Look at those tan buns!" wrote one follower. Some fans couldn't resist teasing Hollywood about whether he was under- or over-proofed, while others warned him against having a soggy bottom. 
And then there was the fan who lamented, "JFC, all our wives have left us now."