José Andrés' New Speakeasy Is All About This Pricey Pork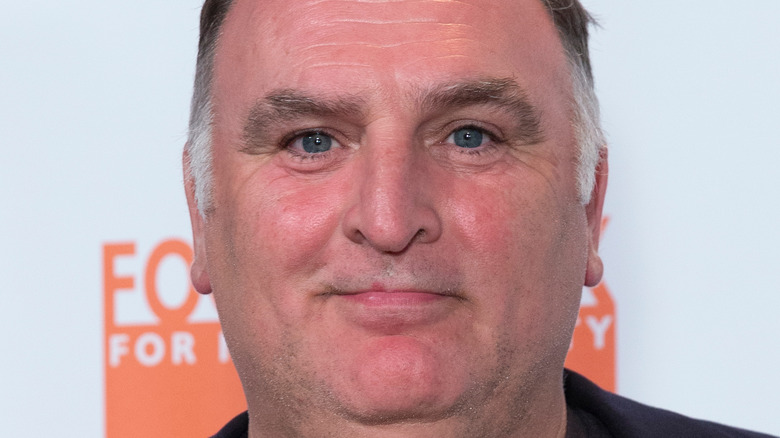 lev radin/Shutterstock
At his new downtown Chicago speakeasy, Chef José Andrés has just one thing on his mind: pork. It's not just any pork, though. His new spot will feature jamón Ibérico, a high-quality, specialty-cured meat from Spain. This pork, which is among some of the most expensive in the world, is made exclusively from black Iberian pigs, which are fattened with acorns before they are slaughtered, salted, dried, and cured in a climate-controlled cellar for at least a year and half before they finally reach the market (via Serious Eats). The end result is a complex and robust flavor unlike any other pork.
This pricey meat can be somewhat rare to find on menus in the United States, but that certainly won't be the case at Andrés' new basement cocktail and small plates restaurant, Pigtail. Chef Andrés plans to feature the premium pork front and center, with just about every dish — and cocktail — containing the fancy ingredient. "I absolutely love the speakeasy bar scene in Chicago, so when I saw the lower level space at Jaleo I knew we could create something really special. We're combining two of my favorite things: jamón and cocktails! It's going to be a fun destination to start or end your night," Andrés said in a press release (via Food & Wine).
The dishes and cocktails will feature jamón Ibérico ham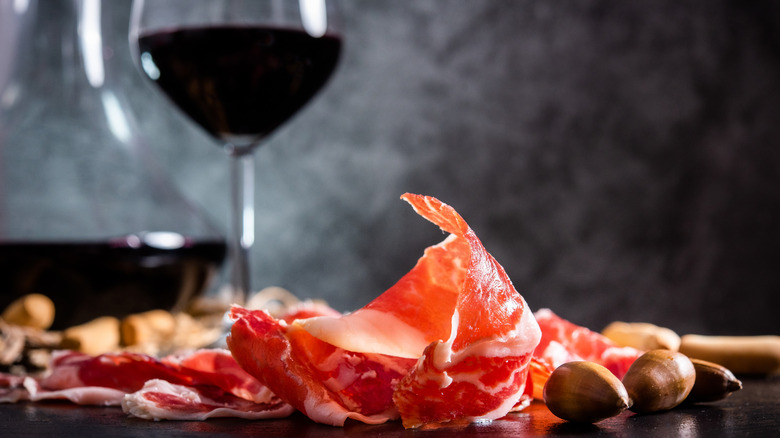 OMP.stock/Shutterstock
The menu will include specialty dishes like la croqueta de jamón de bellota, a jamón and béchamel fritter, and fried pig ears and snouts with rey silo cheese foam. There will also be one-of-a-kind pork cocktails like mezcal distilled with a leg of Ibérico ham and the Negroni Cristal, which features Ibérico fat-washed gin, according to Food & Wine.
But while pork is the main dish on the menu, there will also be some other flavors to enjoy at Pigtail as well. The menu will also include fish dishes and greens, as well as an elegant drink list that includes gran reserva wines and sherries that are not typically available outside of Europe. "I'm very excited for the opportunity to showcase real Spanish flavors presented in a fine, elegant way, with the drink menu designed specifically to go with the ham, said Miguel Lancha, the cocktail innovator for Pigtail (via Food & Wine). "It's very unique, and the team we've got here is great, and the fact that we're doing it in Chicago is special." 
Pigtail, which is located on 500 N. Clark Street in Chicago, is scheduled to open its doors to the public on October 15.