Easy Pumpkin Bread With Cake Mix Recipe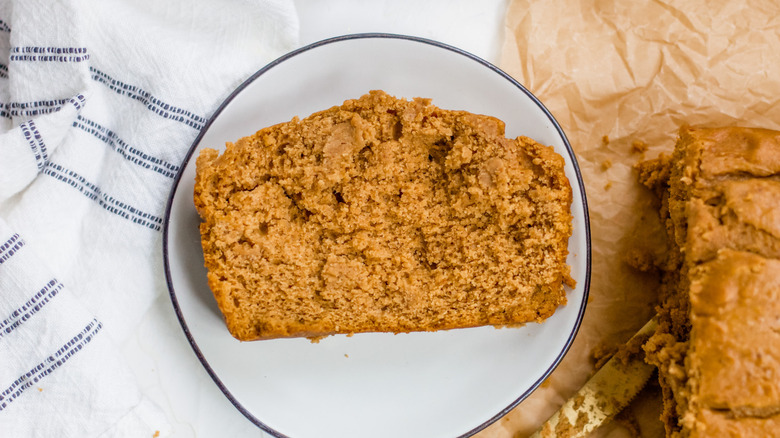 Jaime Bachtell-Shelbert/Mashed
Baked bread and sweets are great to whip up all year round, but with the addition of a little bit of pumpkin flavor, we think that this recipe screams fall. There are so many amazing things about this recipe, and we're here to shout it from the rooftops. Many bread recipes can be time-consuming and require a lot of ingredients, making it a little more involved to make. This recipe for easy pumpkin bread with cake mix lives up to its name, as it's simple, affordable, and can be made by even the most novice of bakers.
Recipe developer Jaime Bachtell-Shelbert of Wholly Nourished has a knack for coming up with simple recipes that taste so good, they should be illegal, and for that, we are truly grateful. "You can't help but like how easily this comes together," Bachtell-Shelbert shares of the recipe. "As a dietitian, I especially love that the addition of canned pumpkin negates the need for the addition of oil or eggs to the mix, thereby adding health benefits." Keep reading to find out how to prepare this tasty fall bread recipe.
The benefits of pumpkin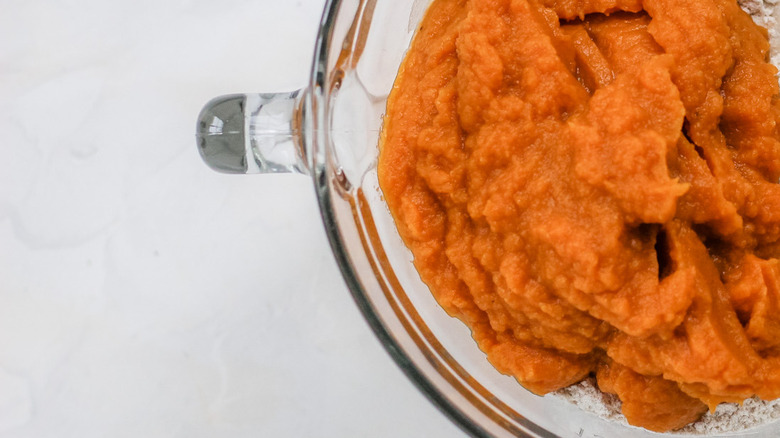 Happy Author/Shutterstock
This recipe has a good bit of pumpkin in it, which not only tastes good, but is also good for your health. We call that a win-win. Bachtell-Shelbert explains the health benefits of this tasty orange veggie the best, and we should absolutely be eating more of it. 
"Pumpkin is packed with vitamins, minerals, and free radical fighting antioxidants. Pumpkin is especially rich in vitamin A and free radical fighting beta carotene. Pumpkin is a good source of fiber at 3 grams per serving, which is important to gut health," Bachtell-Shelbert raves. "Also of note are vitamin C and potassium. Pumpkin is considered a nutrient-dense food in that it contains a high amount of nutrition at a low amount of calories." So you can feel good while enjoying this delightful treat!
Gather the ingredients for pumpkin bread with cake mix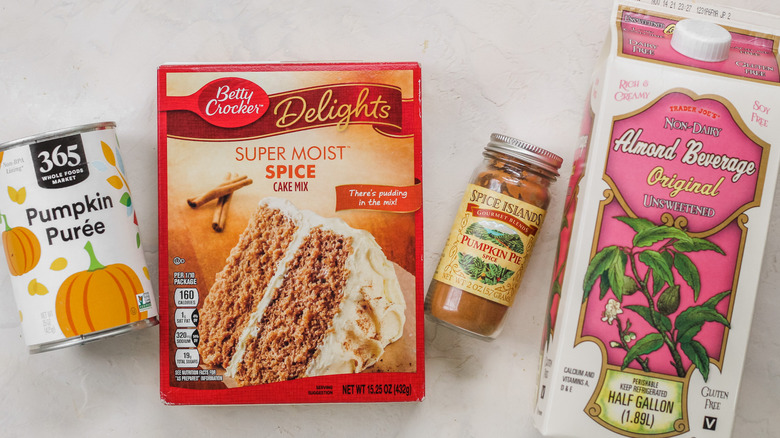 Jaime Bachtell-Shelbert/Mashed
Now that you've got the scoop on pumpkin, let's get ready to bake! Take out a pen and paper to make a list of the items you will need to pick up at the store. It's always a good idea to check what you have at home versus what you need to purchase. Be sure to get some box spice cake mix, which makes this recipe super simple. You will also need to pick up some pumpkin puree and any type of milk. In Bachtell-Shelbert's case, she opted to use almond milk. In addition, be sure to get some pumpkin pie spice. That's all you need! 
Preheat the oven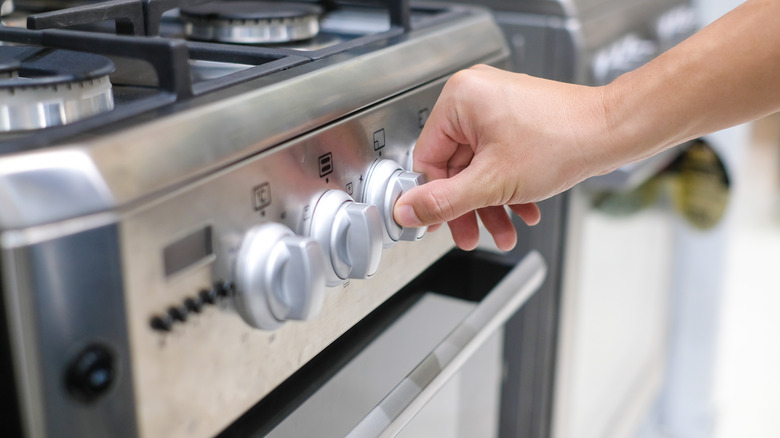 Pitchyfoto/Shutterstock
Before you start getting your hands dirty and baking, the first thing you need to do is preheat the oven. Set the temperature to 375 F, and let it get nice and hot. Preheating may seem like a nuisance, but it's a very necessary step that should never be skipped. If you don't wait for the oven to fully heat and you put your dish in ahead of time, it could completely ruin the pumpkin bread, and we certainly don't want that. Once you turn the oven on, you can get down to business.
Place the ingredients into a mixing bowl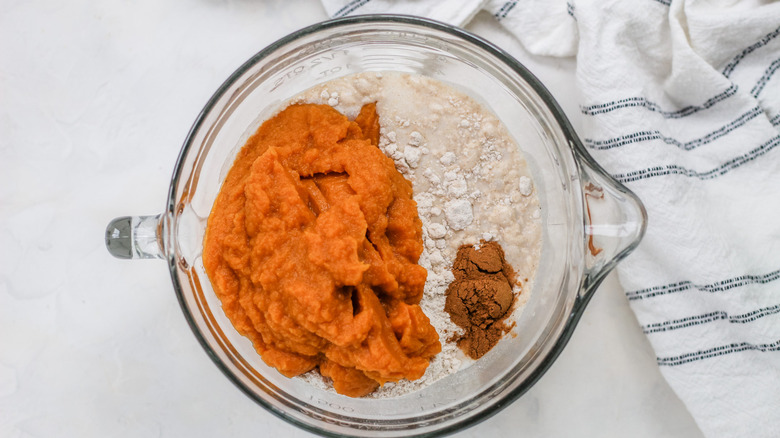 Jaime Bachtell-Shelbert/Mashed
Now, take out a mixing bowl, and toss in all of your ingredients. We don't know about you, but we love a recipe that involves throwing everything in during step one, because it makes it so much easier to keep track of. 
Start with the box of spice cake mix first. Cut it open, and pour all of the contents into the bowl. Next, add in the can of pumpkin puree. Then, pour whatever milk that you opted to use, followed by the pumpkin spice. (After all, you can never have too much pumpkin!)
Mix the batter, and pour it into a loaf pan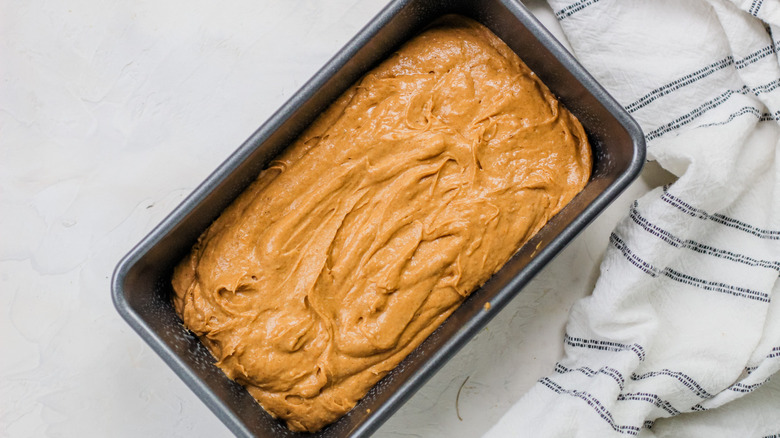 Jaime Bachtell-Shelbert/Mashed
Once you have all of your ingredients in the bowl, turn the speed to medium. Then, set your timer for a minute, and let your stand mixer do its thing. If you don't have a stand mixer at home, that's not a problem at all, because there are other methods you may use. "You can absolutely mix by hand," Bachtell-Shelbert says. "You are just watching to make sure that all ingredients are uniformly incorporated and that the batter is free from lumps." Then, pour the batter into a nonstick loaf pan.
Bake your pumpkin bread, and enjoy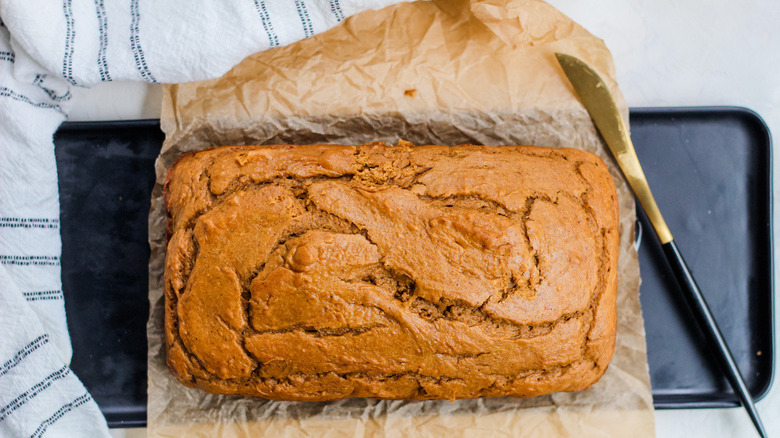 Jaime Bachtell-Shelbert/Mashed
Before you pop the pumpkin bread into the oven, be sure that it's fully preheated. Then, go ahead and place the bread on one of the racks, and set your time for 50 minutes. Once the timer dings, remove the bread from the oven, and let it cool before you slice it up.
"I like to serve this as a snack for my kids along with some nuts and a fruit or vegetable," Bachtell-Shelbert says. "Store in an airtight container for up to three days, after which you will have to refrigerate since the moisture content lends to mold." Cheers to another wonderful recipe, and enjoy savoring this treat all season long and beyond!
Easy Pumpkin Bread With Cake Mix Recipe
This recipe for easy pumpkin bread with cake mix lives up to its name, as it's simple, affordable, and can be made by even the most novice of bakers.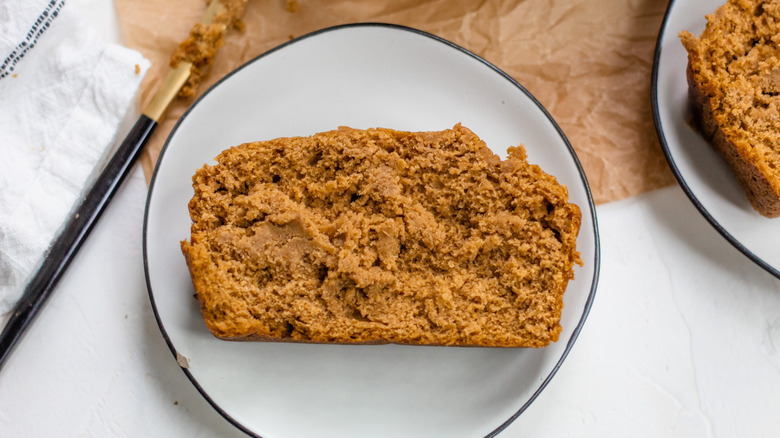 Ingredients
1 (15-ounce) box spice cake mix
1 (15-ounce) can pumpkin puree
½ cup almond milk (or the milk of your choice)
2 teaspoons pumpkin pie spice
Directions
Preheat oven to 375 F.
Place the cake mix, pumpkin puree, milk, and pumpkin pie spice into a mixing bowl.
Mix on medium speed for 1 minute.
Pour the batter into a nonstick loaf pan.
Bake in preheated oven for 50 minutes.
Remove from the oven.
Cool before removing from the loaf pan and slicing.
Nutrition
| | |
| --- | --- |
| Calories per Serving | 237 |
| Total Fat | 3.3 g |
| Saturated Fat | 0.9 g |
| Trans Fat | 0.0 g |
| Cholesterol | 0.0 mg |
| | |
| --- | --- |
| Total Carbohydrates | 49.5 g |
| Dietary Fiber | 2.4 g |
| Total Sugars | 1.8 g |
| Sodium | 334.6 mg |
| Protein | 3.2 g |