Trader Joe's Fans Are Psyched For These Returning Cranberry Cheeses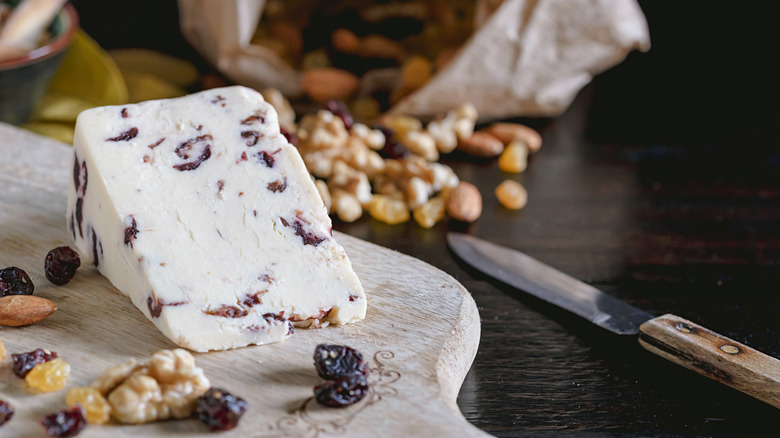 Shootdiem/Shutterstock
Some products at Trader Joe's are such a big deal, everyone gets incredibly excited when they hit the grocery chain's shelves again. And that was certainly the case with Trader Joe's cranberry cheeses. Three huge Trader Joe's fan accounts on Instagram — Trader Joe's List, Trader Joe's Aficionado, and Trader Joe's Obsessed — all spotted and shared that the cheeses had already returned to the store ahead of Thanksgiving and just in time for fall.
Trader Joe's Aficionado was the first to share the beloved grocery store's cranberry chevre on October 5, and the post gained more than 750 likes. Trader Joe's Obsessed was the second to post on October 13, with more than 4,000 likes, while Trader Joe's List was the last to post on October 14, with more than 7,000 likes. Trader Joe's List was the only one to spot and share Trader Joe's White Stilton cheese with cranberries, too.
What fans are saying
Of course, Trader Joe's fans were so excited to see the autumnal-inspired cheeses on shelves again. Those who saw the news thanks to Trader Joe's Aficionado's Instagram post agreed that the cranberry chevre is definitely a fan favorite. One person wrote, "Yes love that stuff!" Other people gave tips and reminisced on flavors past. "Love!!! They have a cranberry cinnamon one at Aldi all year round!" one comment read. Someone else wrote, "They used to have a fig version of this, and I feel like I'm the only person who remembers!! Where did it go?"
Others were super excited to see both cheeses, according to the comments on Trader Joe's List's Instagram post. While quite a few people commented that they love both the cranberry chevre and the white Stilton cheese with cranberry, tons of people said the cranberry chevre was perfect for their charcuterie boards. One person really loves the Stilton option, though. "That white Stilton had been my favorite favorite FAVORITE since...2005? 2006? Something like that (I remember the approximate year because I remember what apartment I was living in when I first got it for a cheese board for a dinner party...)," they wrote. Clearly, it was a hit for that Trader Joe's shopper.