Easy Persimmon Jam Recipe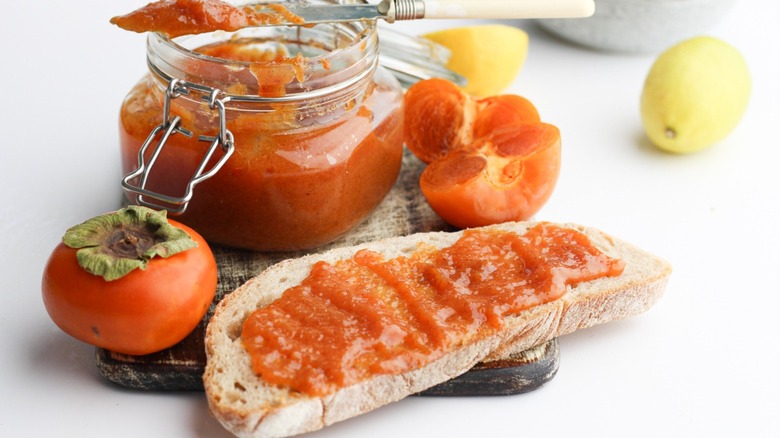 Susan Olayinka/Mashed
Did you know that persimmons can be used to predict what kind of winter it's going to be? Well, that's what they say, at least. According to the Missouri Department of Conservation (via KFVS), you do this by splitting a persimmon seed in half lengthwise, then doing your best to detect some type of utensil shape inside the split-open seed. If you see something resembling a spoon, winter will bring lots of snow needing to be scooped up. If you see a knife, winter's cold will cut right through you. If you see a fork, though, this means a mild winter's on its way.
While this fall fruit may or may not be the produce equivalent of the Farmer's Almanac, persimmon prediction is not only a fun experiment but a great excuse to try this fruit if you haven't done so already. Recipe developer Susan Olayinka says of the persimmon, "It is one of my favorite fruits, and the fact that it only comes out [in] fall makes it even more desirable!" If you're not sure how best to enjoy this perhaps-unfamiliar fruit, she suggests you may like to try making it into a jam using this easy recipe.
Gather your ingredients for the jam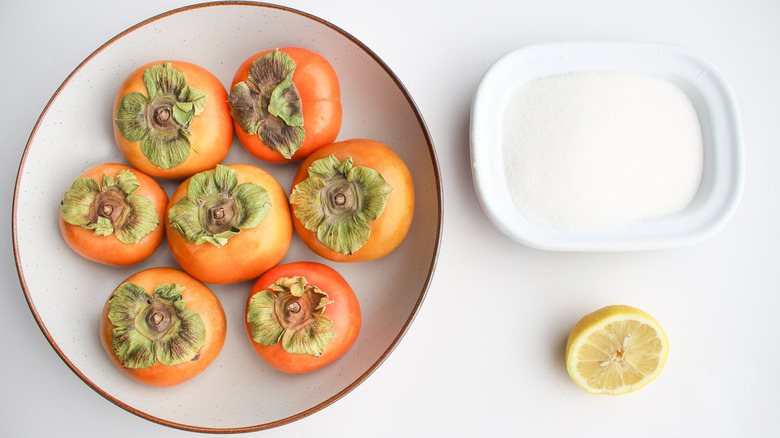 Susan Olayinka/Mashed
The ingredient list for this recipe is short and sweet: persimmons, sugar, and a lemon. If you've never tasted a persimmon before, Olayinka describes them as a "honey-flavored fruit which is a cross between grapes and apricot."
The two main kinds of persimmons you'll find in the store are short, squat hachiyas (the kind Olayikna used) and taller, more tomato-shaped fuyus. You can make the jam with either kind, but there's a critical difference you must know in order to determine their ripeness. While fuyus can be eaten when they are crisp, hachiyas aren't ready until they are very soft. The deeper the color, the better for both kinds, although ripe hachiyas may have a little black tinge to their skin, which is perfectly okay.
Prepare and puree the persimmons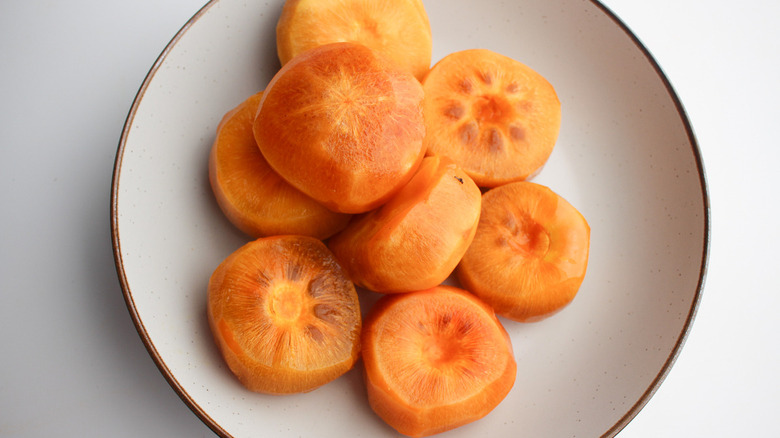 Susan Olayinka/Mashed
Start by slicing the green tops off the persimmons, then peel the fruits. Olayinka says these are "not at all hard to peel when they are ripe." You won't have any seeds to remove, either. As Olayinka informs us, this fruit has "no seeds, thankfully!" something that makes it "easier to eat."
Put the peeled persimmons into a blender or food processor, and puree them on high for 15 minutes. Then, pour the persimmon puree into a small saucepan.
Cook the persimmon jam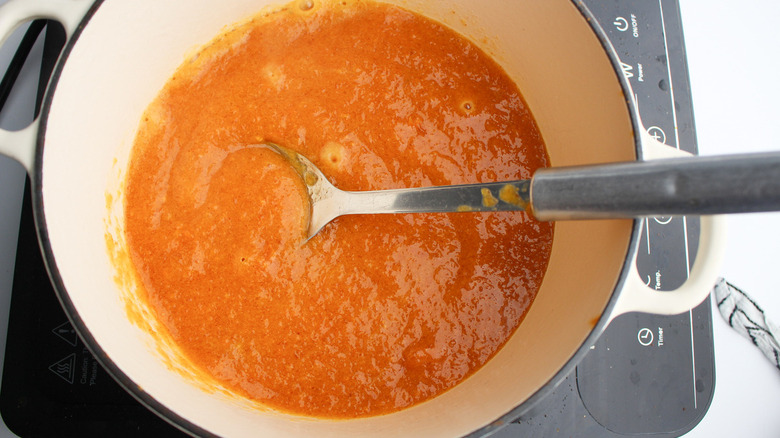 Susan Olayinka/Mashed
The saucepan, naturally, will go on top of a stove burner, which you should set on medium-low heat. Stir the sugar into the persimmon puree, then let the sweetened fruit sit and simmer. After 10 minutes, give it a stir, then let it simmer some more. Keep stirring every 10 minutes. After half an hour has elapsed, add the lemon juice. Simmer the persimmon jam for an hour total, then turn off the heat and let it cool thoroughly before serving.
Here's what to do with your persimmon jam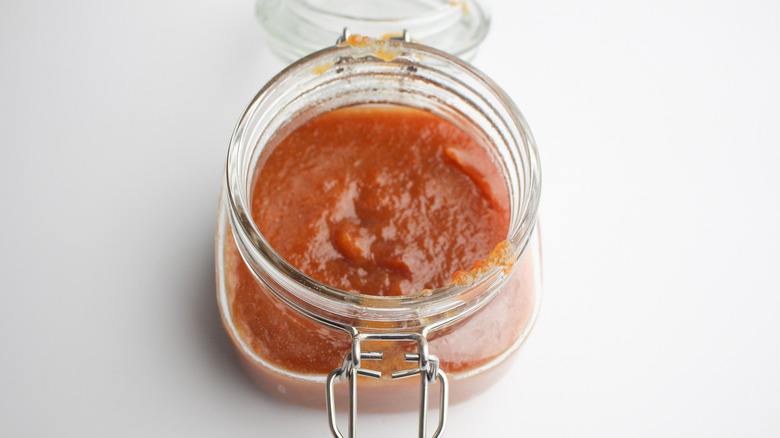 Susan Olayinka/Mashed
If you're wondering what to do with your persimmon jam, you can use it like you'd use any other kind of jam or jelly. Peanut butter and persimmon sandwiches? Sure, why not? Olayinka's serving suggestions include "on bread, porridge, pancakes, [or] by the spoon." You could also use it as a topping for ice cream, yogurt, or pound cake.
This jam should be stored in an airtight container in the refrigerator, and Olayinka says, "as persimmons have a bit more water content, this will keep [for] two to three weeks." If it starts to have a fermented smell, this indicates it's starting to go bad. If it grows mold on top, this means it has gone bad. That would be a real shame to let it get to that point, though, so plan to use it up in a week or so if you can.
Easy Persimmon Jam Recipe
If you're not sure how best to enjoy this perhaps-unfamiliar fruit, you may like to try making it into a jam using this easy recipe.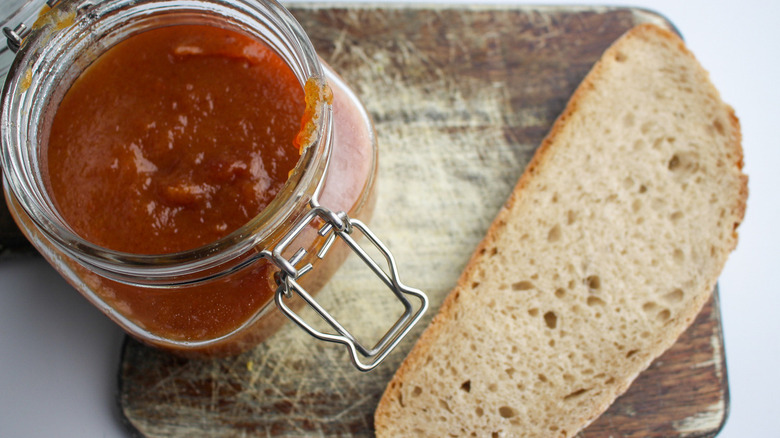 Ingredients
8 persimmons
1 cup sugar
Juice of ½ lemon
Directions
Puree the persimmons in a blender on high for 15 seconds.
Pour the persimmon puree into a saucepan and set the stove burner to medium-low.
Stir in the sugar and cook the persimmon jam for 1 hour, stirring every 10 minutes.
Add the lemon juice halfway through the cooking time.
Let the jam cool before serving.
Nutrition
| | |
| --- | --- |
| Calories per Serving | 259 |
| Total Fat | 0.2 g |
| Saturated Fat | 0.0 g |
| Trans Fat | 0.0 |
| Cholesterol | 0.0 mg |
| | |
| --- | --- |
| Total Carbohydrates | 67.4 g |
| Dietary Fiber | 0.2 g |
| Total Sugars | 50.1 g |
| Sodium | 1.1 mg |
| Protein | 0.5 g |