This Boozy Combo Is Like A Grown-Up Root Beer Float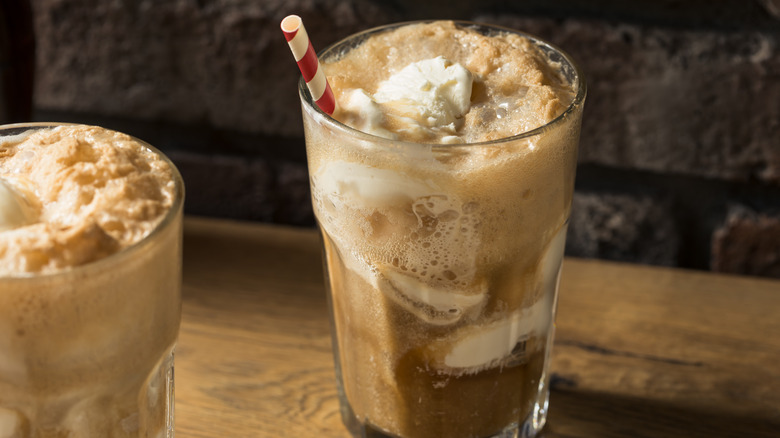 Brent Hofacker/Shutterstock
As years carry on, it's only natural to miss the candor of being a kid. Becoming an adult means greeting bills, long work days, and piles of stress, so do we really have to say goodbye to all the honest pleasures of our schooldays? They say hanging onto your childlike innocence is the key to happiness, and a drink here or there doesn't hurt either. Epicurious blended both to create an epic grown-up root beer float that will remind you of the simpler times — but with a buzz.
Mixologists continue to surprise patrons with complex infusions and unexpected additions in a glass, but certain trends can inspire cocktail creators as well. As the craft beer scene has boomed over the past few years, bartenders have explored beer as more than just a refreshing pint on its own. With so many different brews out there offering complex flavors, it turns out they can make a great mix-in for cocktails. 
Stout, in particular, is a creamy type of ale with chocolate notes. Its rich, bold flavor will certainly dominate the taste in any beverage, which is why it makes the perfect component for a grown-up root beer float. For those that always opt for chocolate-heavy options when craving something sweet, blending a deep stout with some chocolate ice cream can give you one incredible treat.
The options are endless when it comes to amping up your boozy float
Creating an adult root beer float doesn't have to be one-size-fits-all, either, as you can experiment with different flavors and additions. The Kitchn's boozy ice cream float is another option that utilizes a heavy double chocolate stout with a more delicate vanilla ice cream that helps create that iconic creamy flavor and consistency. Considering a root beer float is typically only a few elements, it's all about the quality when making one — grown-up versions too. The better the ice cream, the better the float. The same goes for beer if that's your alcoholic component of choice. To create their boozy float, The Kitchn used Young's Double Chocolate Stout.
If the day calls for an extra kick (of either booze or flavor), a coffee-flavored liqueur will also do the trick. Liqueurs such as Bailey's and Kahlúa have cocoa notes that will take your boozy root beer float up a notch. It's also easy to get creative with festive autumn zests like cinnamon or pumpkin. Minimalist Baker's alcoholic root beer float is frothed up with cinnamon toast ice cream that's not only delicious, but also dairy-free. 
If you want every ingredient to be booze forward, Haagen-Dazs has boozy ice creams that recently hit freezer shelves with flavors such as Whiskey Hazelnut Latte and Rosé and Cream that would compliment a boozy root beer float recipe quite well. For an ultimate fall experience, Whitney Bond tossed in some pumpkin ale to create a sweet beverage just in time for ​​spooky season.