Dickey's Barbecue Pit Has Good News For Fans Of Its Brisket Chili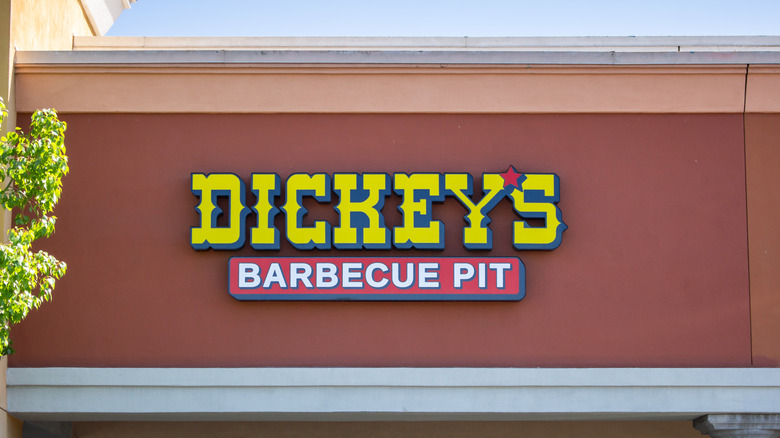 TonelsonProductions/Shutterstock
Fans of Dickey's Barbecue Pit have a reason to be excited – Texas-style Brisket Chili is making a comeback (via Chew Boom). This dish debuted in October 2020 and evidently became a big enough hit with barbecue fans to offer it again. Describing the idea behind this chili, Laura Rea Dickey, the CEO of Dickey's Barbecue Restaurants, Inc. explained in a 2020 press release, "In Texas, chili is a tradition during the fall and winter" (per Dickey's website). The limited-time offering definitely sounds like it would pair well with soup season, and the pairing of brisket and chili was apparently a no-brainer.
As Dickey put it, "As brisket runs deep in our roots, combining the two was an easy decision. We look forward to giving our guests an opportunity to try our seasonal Brisket Chili and spicy spin on a beloved comfort food as we move into the cooler months of the year." And for fans craving this proprietary dish, there are a few different ways to enjoy it.
Different ways you can enjoy Dickey's Brisket Chili
Dickey's Texas-style Brisket Chili contains and chopped smoked brisket (via Chew Boom). A YouTube review of the chili paired with mac and cheese was overall positive, giving the dish a score of 84 out of 100. But as one person commented on the review, "If you have the right chili, it'd make a brick taste good. lol That looks tasty." 
Dickey's Barbecue Pit doesn't have bricks on the menu, but customers can choose from a series of other options. In addition to ordering the chili by itself, people can choose the Brisket Chili Mac; the Brisket Chili Baker, which puts the chili atop a smoked baked potato with the works, and the Brisket Chili Frito Pie Stack which includes chili, cheese, onions, and of course, Fritos. 
Of course, people's idea of "the right chili" will be shaped by personal tastes and maybe even family traditions. So this seasonal offering might not please everyone, especially those with exacting preferences. But for people in search of a quick fall chili fix PLUS brisket, it sounds hard to beat.