Buddy Valastro Has Instagram Freaking Out Over His Nephew's Wedding Cake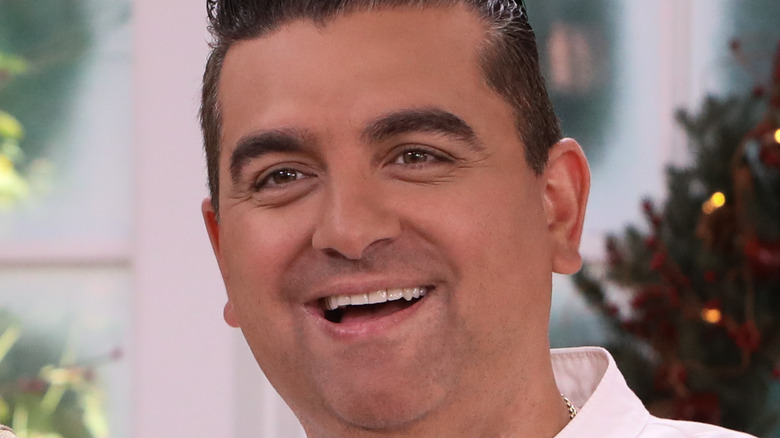 Paul Archuleta/Getty Images
Celebrity baker and TV personality Buddy Valastro is sharing beautiful pictures from his nephew's wedding ceremony that was held earlier this month. According to an article by People, Valastro and his family were present for the memorable event that took place in Jersey City, New Jersey, on October 9. Valastro and his sons wore tuxedos while the chef's wife, Lisa, was dressed in a strapless gown. Their daughter wore a black dress for the occasion.
Buddy Valastro posted a thoughtful message for his nephew on Instagram. "Special day today for the marriage of my nephew and his wife. May your marriage draw you closer as you share your hopes and dreams," he wrote. And yes, the baker rose to the occasion to prepare a gorgeous wedding cake for the celebration with his team. Fans are now understandably fawning over a lovely photo of the "nine-tiered" cake that was shared on Instagram.
It is a beautiful cake
"Check out this amazing cake we did for my nephews wedding last weekend! What do you think?" the chef wrote on Instagram. The gorgeous white cake has become an instant hit among Buddy Valastro's fans, who can't stop marveling over his latest creation. A commentator called it the "most beautiful wedding cake ever," while another Instagram user wrote, "it's gorgeous!! A work of ART!"
Additionally, someone wondered how difficult it must have been to move the wedding cake from one location to another. The post has already received over 80,000 likes. 
The chef is no stranger to wedding cakes. Per a former client who asked the baker to make her wedding cake from scratch, Valastro excitedly designed a beautiful wintry cake with pastry chef Jacques Torres (via New Jersey Bride). The client loved working with Valastro, and said, "Buddy made the entire planning process easy and great. He was so kind, and he made the experience seem completely normal." The cake was even featured in an episode of Valastro's show, "Cake Boss."