Bacardi Has Bad News For Fans Of Patron XO Cafe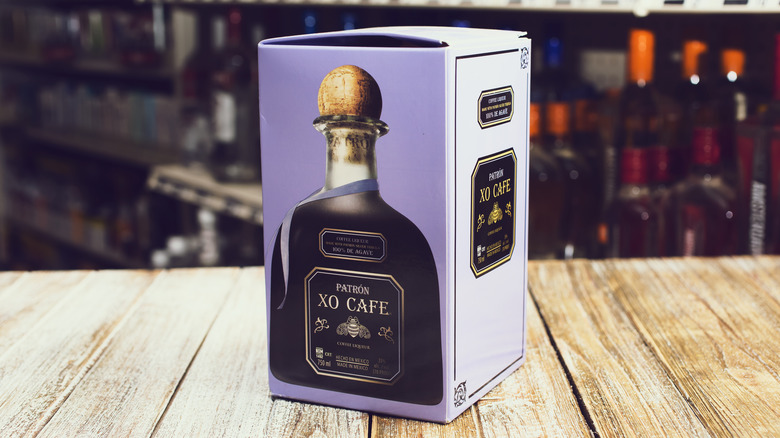 TonelsonProductions/Shutterstock
When it comes to liqueur, most enthusiasts would vouch for the Patrón XO Cafe from Bacardi, one of the interesting offerings in this category.  Describing it as a "dark delicious blend," the company mentions it's not overtly sweet like other coffee liqueurs and works well in cocktail beverages or even as an ingredient in a dessert.
It has an ABV of 35% and is definitely good in mixed beverages, per Reddit. "I'm imagining a lot of mixed drink possibilities. The after taste sits on your tongue like honey," a Reddit user wrote. Another commentator mentioned that it tastes great when it's been in the freezer for a while. "It gets the party started fast and goes down easy," they wrote. They did wonder whether the drink is made using leftover tequila and prepared using too much chocolate, coffee, and sugar, though.
Bacardí has grim news for those who enjoy sipping on Patrón XO Cafe. Per a report by The Grocer, the company is getting rid of the beverage for good.
The drink is being discontinued
It's true: the Patrón XO Cafe from Bacardí will soon be unavailable in stores across the world. According to The Grocer, Patrón Tequila president and COO Mauricio Vergara said that the team will now be working "on growing and protecting production and supply of our core super and ultra-premium tequilas." 
The brand is definitely excited to explore the growing potential of tequila on a large scale, though. Vergara said that tequila presents a promising opportunity in the U.S. as well as other parts of the world. 
A source from the industry remarked that it's likely that Bacardí decided to get rid of the Patrón XO Cafe to focus on more profitable beverages instead. "Because it's not obvious to the consumer what [the drink] is, it will take a lot to investment to scale," the source explained. 
Some people are not happy about this latest development, though. Those who love the beverage have come up with a petition on Change.org titled, "Don't let Patron XO Cafe be discontinued!" and are urging the company to not remove the drink from its portfolio.