This Chopped Moment Might Be The Most Awkward Of The Series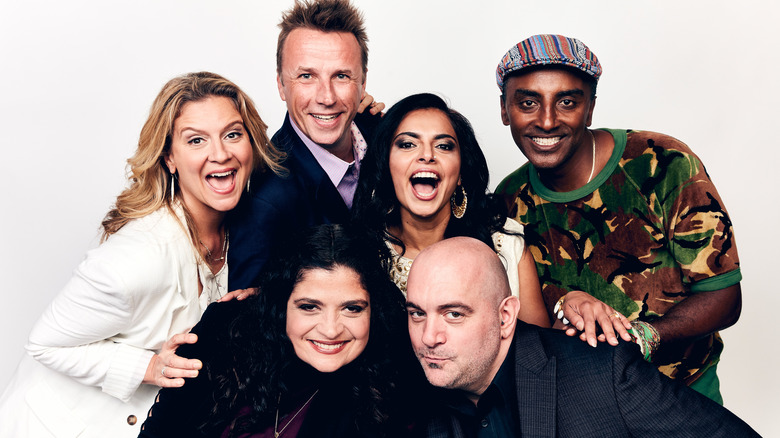 Robby Klein/Getty Images
If you're addicted to the series "Chopped," you've probably witnessed some pretty uncomfortable moments on the screen — whether someone completely botches a dish and gets totally torn apart during the judging, or maybe talks themselves up highly when they aren't cooking, only to completely fail. There are numerous ways to have a bit of an awkward moment on the Food Network show, but some instances are more uncomfortable than others, especially when it comes to chef-on-chef interactions. 
With so much money at stake, the chefs can get a bit snippy and cutthroat towards each other, particularly once it gets down to the dessert round. Whether they're trash-talking each other while working on assembling a dish from their baskets or getting frustrated when the other is in their way, or even playing tug-of-war like two contestants once did, tempers can rise a bit during this competition. One time, however, there was a moment that had the judges and the viewers sitting in shocked — and awkward — silence.
One contestant blatantly refused to give the other a second chance
During "Chopped" Season 3, two contestants, Joe Dobias and Josh Whigham, made it to the dessert round after a few tough baskets (via Food Network). Dobias felt confident in his final dessert and seemed to be all set, until one of the classic "Chopped" nightmare situations happens — he failed to plate his cake. After serving up only garnishes, the judges had a rare moment of pity on the chef and actually offered him the opportunity to bring his cake over to be tasted and judged, provided his competitor Whigham would allow it. 
Whigham, however, was not feeling nearly so charitable and refused the concession. This sparked a heated argument between the two men while on-screen during the judging round, leaving both the viewers and the judges speechless in discomfort. Dobias ended up winning despite his error, after the judges decided his first two rounds were strong enough to overlook his time management issue in the final round.