NFL Player's Tweet About Eminem's Mom's Spaghetti Restaurant Has The Internet Laughing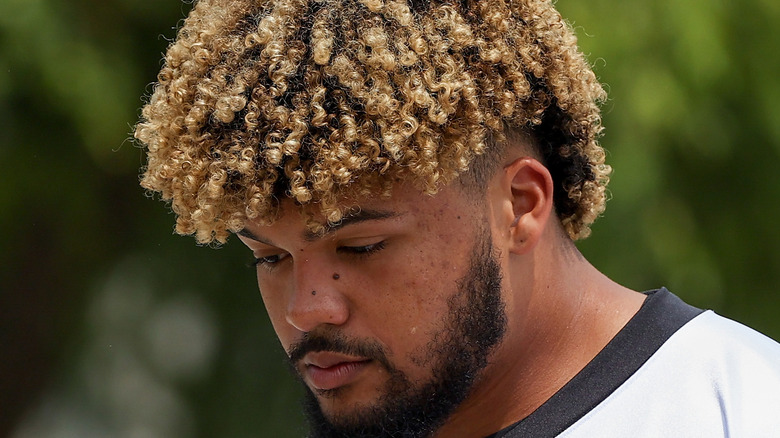 Dylan Buell/Getty Images
Eminem ventured into the food business by launching his own restaurant, Mom's Spaghetti, in Detroit last month. According to NPR, the eatery focuses heavily on delicious pasta dishes that were inspired by one of his most popular tracks, "Lose Yourself," which includes the words "mom's spaghetti" in the lyrics. To be precise, these are the lyrics in question: "His palms are sweaty, knees weak, arms are heavy. There's vomit on his sweater already, mom's spaghetti."
Eminem's food business was initially a pop-up shop that debuted in 2017. Eminem worked with restaurant company Union Joints on the project and showed up at the restaurant's launch, offering food to his first few patrons and posing with delighted fans for selfies. "The walk-up window and small diner-like spot for people to eat add to the feeling that this is a homegrown, DIY experience," Curt Catallo, one of the owners of Union Joints, said.
Well, unfortunately, the restaurant's food doesn't seem to agree with everyone. An NFL player recently tweeted about his experience, leaving readers amused.
Jackson Carman didn't have the best time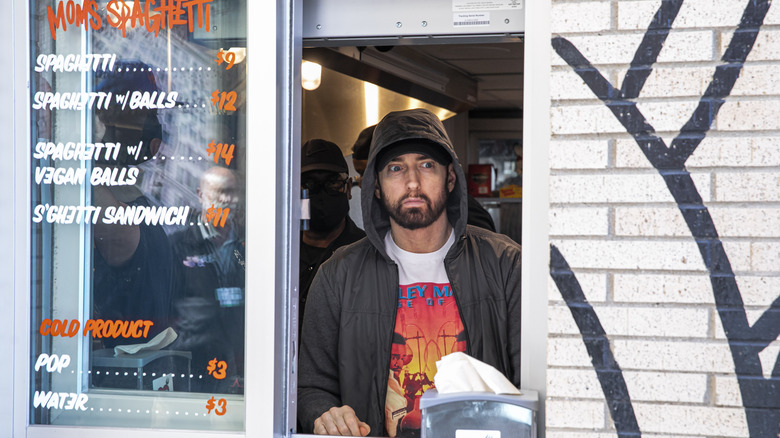 Scott Legato/Getty Images
For NFL player Jackson Carman from the Cincinnati Bengals, eating at Mom's Spaghetti could have been a difficult experience. According to People, the athlete decided to stop by Mom's Spaghetti for a meal after receiving recommendations from his fans online. He decided to give it a shot. Things seemed alright until he fell ill while playing against the Detroit Lions and threw up.
Well, Carman later came up with a simple explanation for his fans. "Would not recommend eating Mom's Spaghetti when you visit Detroit," he tweeted. His words were accompanied by a laughing emoji. A fan joined the conversation and joked, "vomit was supposed to go on your sweater, not the field." Several other fans couldn't stop being amused. A Twitter user pointed out that Eminem did admit to throwing up in his song. "Em on another level like that," they added.