Secrets To Making The Best Chocolate Cake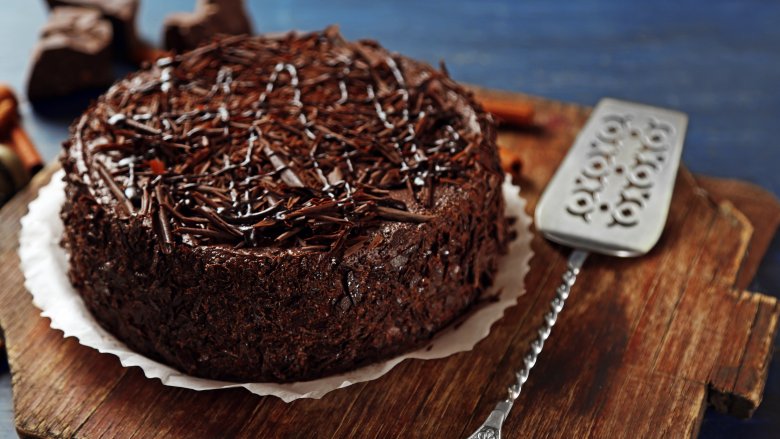 Shutterstock
We may receive a commission on purchases made from links.
If you plan to make chocolate cake from scratch, congrats! You are executing great life choices. While the task of whipping up a chocolate cake from nothing may seem daunting, I assure you that you are completely capable. Maybe you have considered going the way of boxed mixes to make your path to eating rich, moist, creamy chocolate cake just a little bit shorter. Don't do it! Having a good chocolate cake recipe—or three—in your back pocket comes in super handy for afternoon cravings, entertaining house guests, or attending parties.
Chocolate cake is ever popular for good reason. The people love chocolate. And while there is no shortage of recipes out there, you can ensure better results by knowing some of the less talked about secrets to making the best chocolate cake. Ready? Good. As a professional baker and recipe developer, I'm ready to divulge. Spoiler alert: Making delicious chocolate cake is way easier than you think.
Use high-quality unsweetened cocoa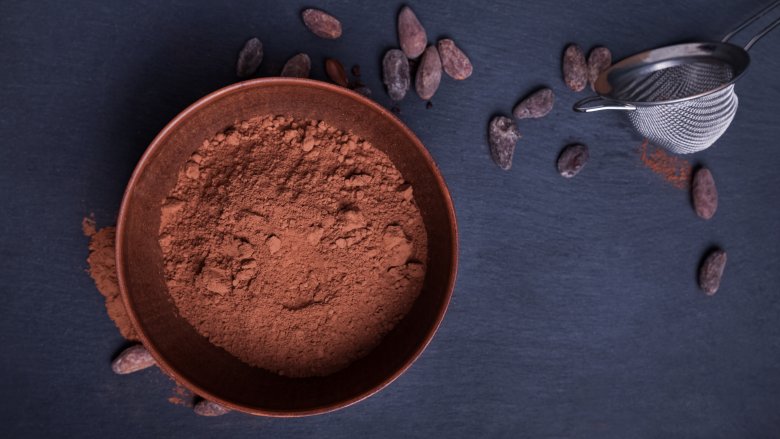 Shutterstock
Chocolate cake is beloved for its deep, rich flavor. As such, be sure to use the highest quality cocoa you can find. The darker the hue of the cocoa, the more satisfying the chocolate flavor will be. Keep in mind that cocoa powder for baking is different than standard cocoa powder, as the latter is used for making hot chocolate and contains sugar or milk powders. Using pure unsweetened cocoa lets you accurately gauge how much additional sugar you want to add. There are a plethora of fantastic (and mediocre) cocoa brands out there, making it confusing to decide what's best. I feel you big time. To make things easier, I want to share my personal favorites.
A superfine cocoa that's insanely rich, King Arthur Flour black cocoa is an extra dark Dutch-processed variety ideal for achieving intense chocolate flavor in your cake. The Dutch or European process of washing the cocoa powder balances the cocoa's natural acidity and doesn't react with alkaline leaveners like baking soda, which is why you'll find that recipes using only baking soda will call for natural cocoa powder instead. For a milder flavor profile than black cocoa, Frontier Natural makes a more mellow Dutch-processed variety. While low-acidity Dutch-processed cocoa is stunning and flavorful, be sure you use it only in recipes that specifically call for it since it reacts differently with other ingredients in the batter. Otherwise, stick with a premium natural unsweetened cocoa such as the one from Belgium brand Callebaut.
Opt for the best chocolate you can get your hands on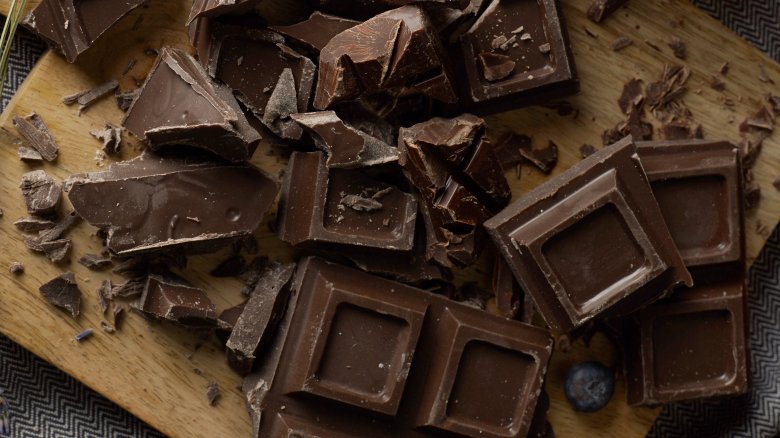 Shutterstock
Whether you're using chocolate to make your batter, frosting, or filling, you definitely want to splurge on high-quality chocolate. The type and grade of chocolate you use will affect how your finished chocolate cake tastes, and isn't that just about everything? My rule of thumb is to make my chocolate cakes with the kind of chocolate I would be happy to snack on from a bowl. That said, the baking aisle can be confusing with its shelf up on shelf of chocolate. Between bars, wafers, chips, and blocks, you may find it hard to discern which is best. What you choose to buy depends on what you plan to do with the chocolate.
For chocolate cake, I find that bars of chocolate are quite versatile. If you are not using chocolate in the cake batter but rather for the frosting or filling, I prefer wafers, which are disc-shaped and ideal for melting or eating by the handful. I like Guittard and Callebaut bars and try to keep myself stocked up for baking cakes and impromptu snacking scenarios.
Use shiny pans to bake chocolate cake rather than dark ones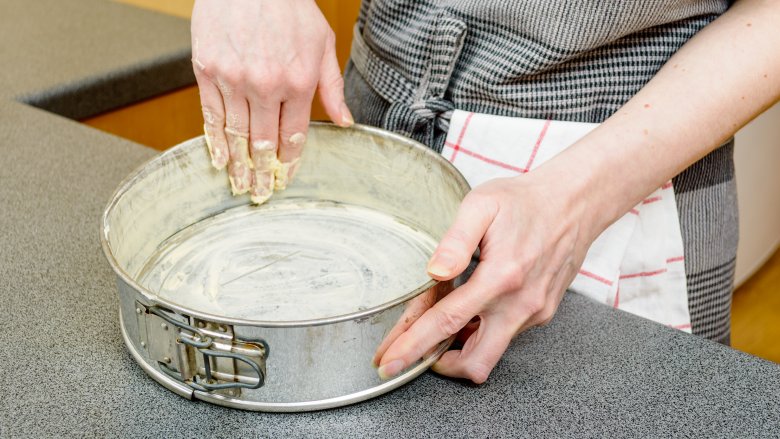 Shutterstock
There are so many cake pans to choose from, but I find that chocolate cakes fare best when baked in shiny ones, since dark ones absorb more of the oven's heat—kind of the way that dark clothing absorbs more heat from sunlight. This is the reason some recipes will say to use shiny aluminum foil to deflect some of the heat to prevent premature over-browning. The shininess reflects the heat. A dark pan does quite the opposite, which can cause your chocolate cake to brown too early around the edges and create a hard crust on the surface and general dryness. While some bakers opt for dark pans because they desire the nonstick properties, any pan can be rendered perfectly nonstick with the proper preparation. Think about greasing, lining, and dusting with flour or cocoa. Choose a pan with a lighter finish for the best chocolate cake finish.
Dust your parchment-lined pan with cocoa instead of flour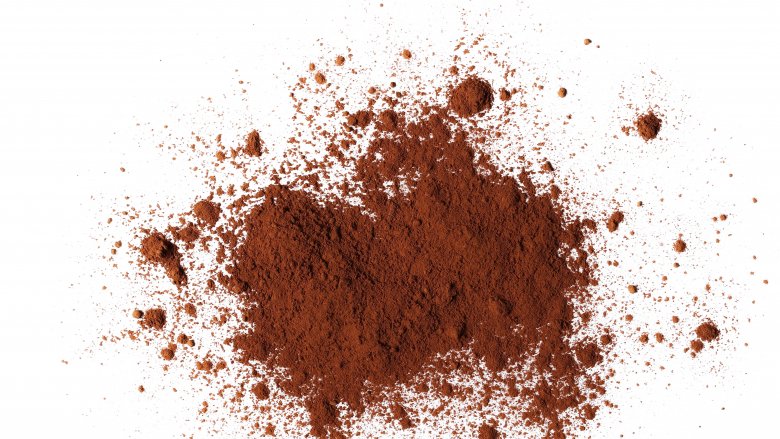 Shutterstock
Related to the last point about pan prep, many recipes will cue for you to dust your greased and lined pan with flour. This also helps with getting a clean release after baking. That said, when I make chocolate cake, I find that cocoa powder works in much the same way flour does. Dust your pan with cocoa for ease as well as extra chocolatey flavor.
Measure flour and sugar carefully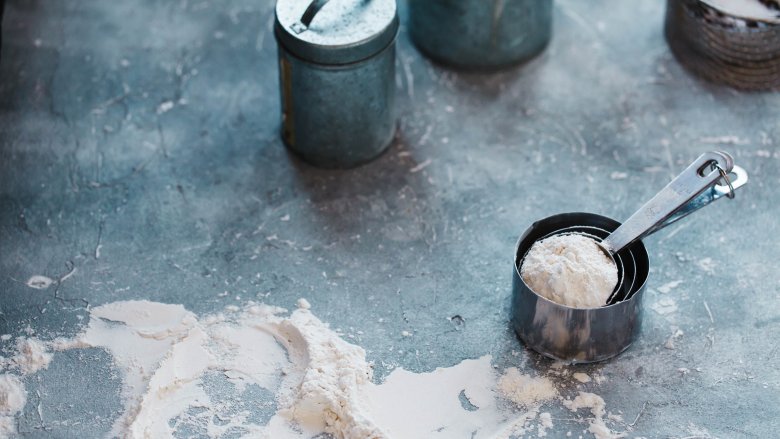 Shutterstock
While you may already know that measurements matter a lot when you're baking, you may not realize just how much measurements of sugar and flour can really affect your finished chocolate cake. Using too much sugar in chocolate cake can result in a crust that's too dark. On the other hand, not using enough sugar can prevent your cake from gaining a dark enough hue, and also make the texture tough. As for flour, adding too much to the batter will cause the top of the cake to crack, which isn't devastating, but also not exactly desirable.
Whenever possible, try to measure sugars and flour by weight. If you don't have a kitchen scale or the recipe does not indicate the measurements in weight, you can do a couple of things to help get the most accurate results in volume. With granulated sugar that's not packed and flour, spoon them into the measuring cup, then gently flatten the top with the flat edge of a knife to remove any excess.
Take the time to cream the butter and sugar thoroughly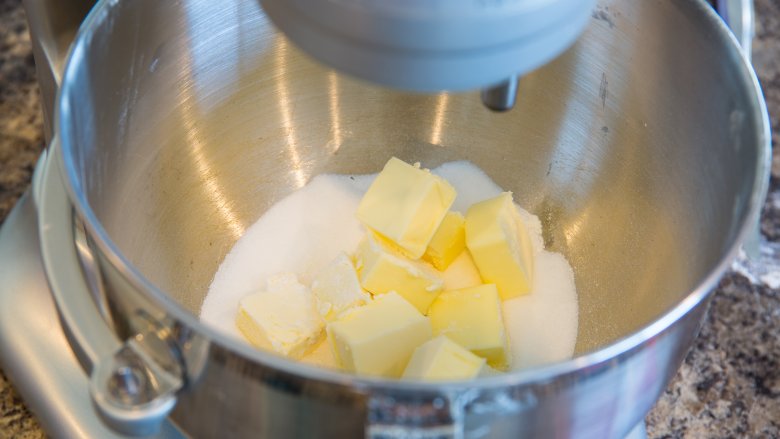 Shutterstock
Can we agree that fluffy chocolate cake is a life goal? Okay then. In order to ensure that your cake turns out light and fluffy, be sure to cream the butter and sugar thoroughly before adding other ingredients to the batter. This might take minutes instead of seconds, but the time is totally worth it. Beating the sugar and butter base until it's pale in color and fluffy in texture signifies that you have incorporated a significant amount of air into the mixture, which results in fluffier cake.
Add a dash of sea salt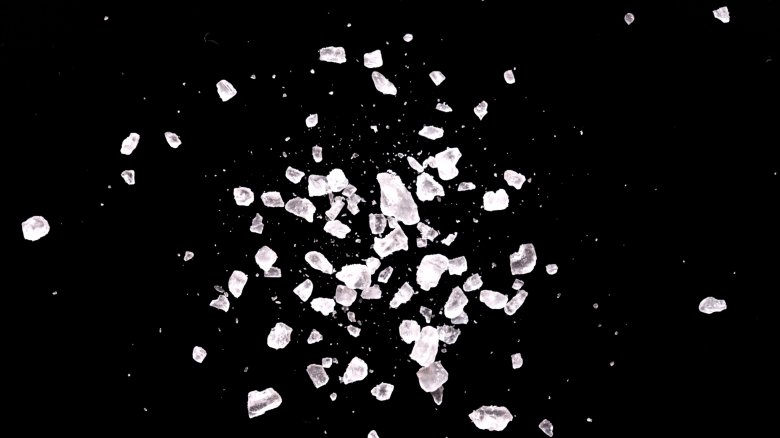 Shutterstock
Never skip the salt in a chocolate cake recipe. While the 1/2 teaspoon of sea salt that's called for in a recipe might seem minuscule and negligible, that little bit does wonders for all cakes, especially chocolate ones. As a flavor enhancer, it packs a big punch, making the cocoa notes more prominent while balancing out the sweetness.
That dairy component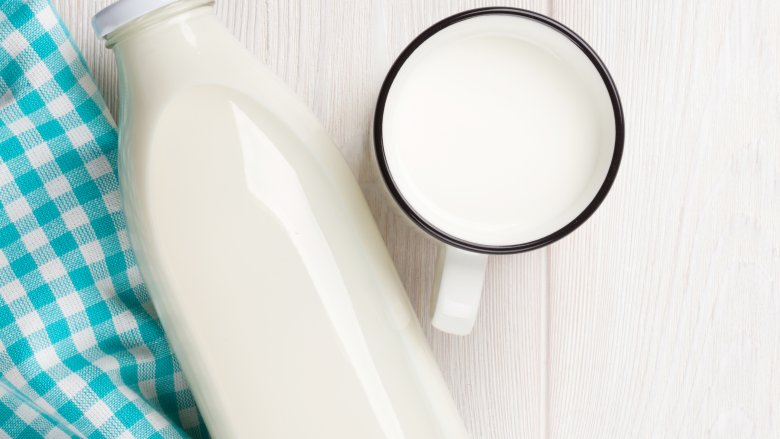 Shutterstock
Most chocolate cake recipes will call for milk or some other type of soft or liquid dairy. Milk helps the cake get its creamy texture. That said, you can certainly play around and experiment with sour cream, buttermilk, or yogurt in place of milk. The acidity in these other substitutions pair especially well with the richness of chocolate cake. For a decadently creamy texture, some bakers even swap in mayo instead of milk. Be bold!
Use room temp ingredients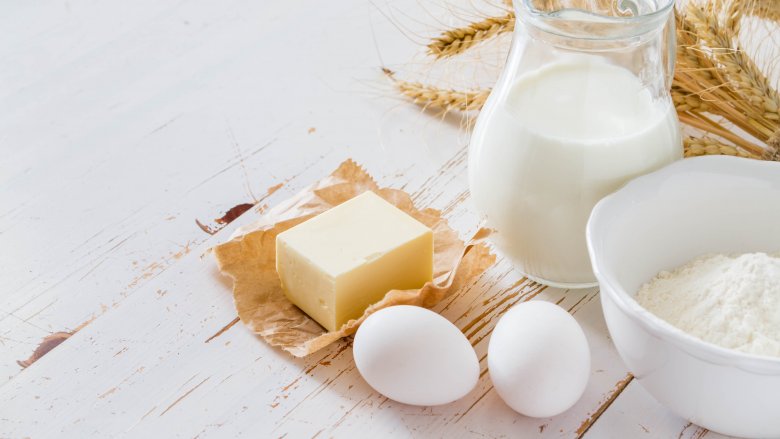 Shutterstock
You probably see that most chocolate cake recipes call for ingredients at room temperature. While you can use ingredients directly from the fridge, the result simply won't be as good. When baking cake, you want your eggs, butter, and dairy ingredients to be at room temp so they can create an emulsion that traps air that eventually expands with the oven's heat, resulting in chocolate cake that's impossibly fluffy rather than dense. Plan to leave these ingredients out on the counter ahead of baking and you'll see the difference by way of a lighter crumb when you bite into your chocolate cake.
Start and end with the dry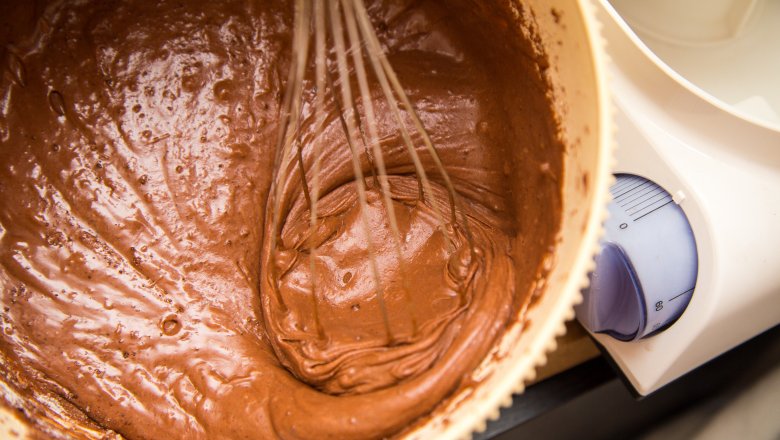 Shutterstock
When you're adding the wet and dry ingredients to your creamed butter and sugar mixture for chocolate cake, be sure to alternate between the dry and the wet, beginning and ending with the dry. Why? Whipped butter can't absorb the liquid very well, so the batter will become inundated with wetness and the liquid will remain on top instead of incorporated. If you then follow with all of the dry ingredients, the cake batter will become heavy and you'll end up with a dense cake. To avoid a cake that's heavy like a brick, add part of the dry ingredients first and mix until just incorporated. Follow with the liquid and finish with the dry ingredients.
Skip the vanilla extract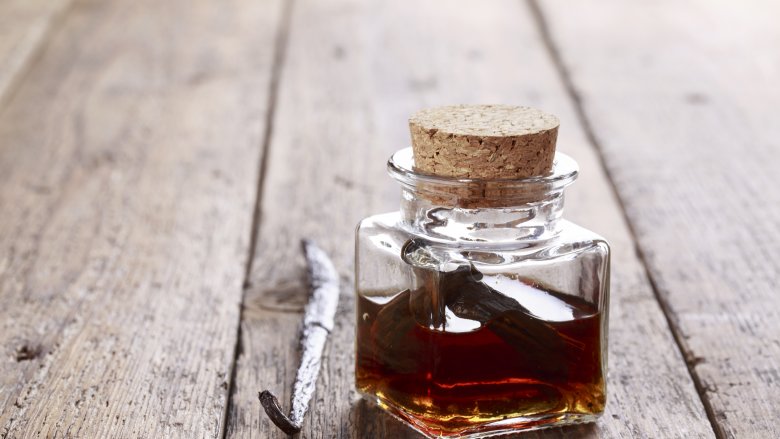 Shutterstock
While most cakes call for vanilla extract or essence, I find the flavor distracting in chocolate cake. Presumably you're making chocolate cake because you want to fully enjoy the robust chocolate flavors of the cocoa. To get the purest experience of chocolate cake, skip the vanilla.
Don't over mix the batter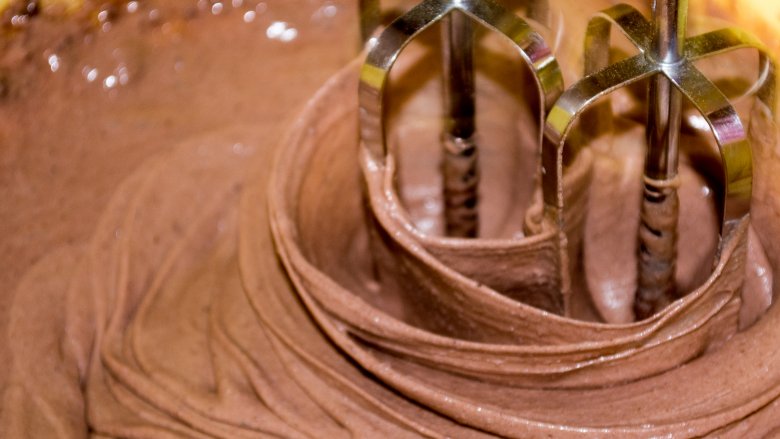 Shutterstock
As with most cakes, chocolate cake batter should not be over mixed. While you may feel the impulse to make sure every ingredient is completely blended, a heavy mixing hand leads to tough cake textures. Instead, mix only until dry ingredients are 99.8 percent incorporated. You need to be extra careful about not over mixing if you're using an electric mixer. To prevent myself from getting overzealous with the mixing, I often incorporate the dry ingredients by hand, mixing them in with a spatula.
Pat the cake pan on the counter a few times before transferring to the oven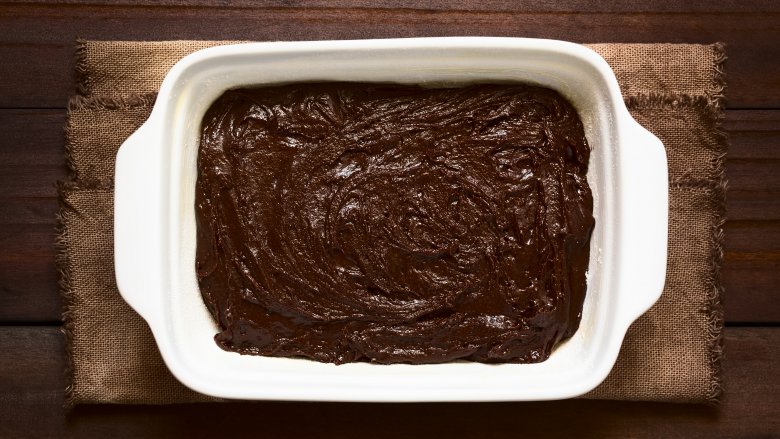 Shutterstock
Attention to detail results in better chocolate cake. Once you have transferred the batter to your meticulously prepared cake pan, take the extra step to tap the bottom of the pan on the kitchen counter or another hard surface to eliminate any remaining air bubbles in the batter and even out the surface. Doing so ensures even baking.
Avoid opening the oven door during baking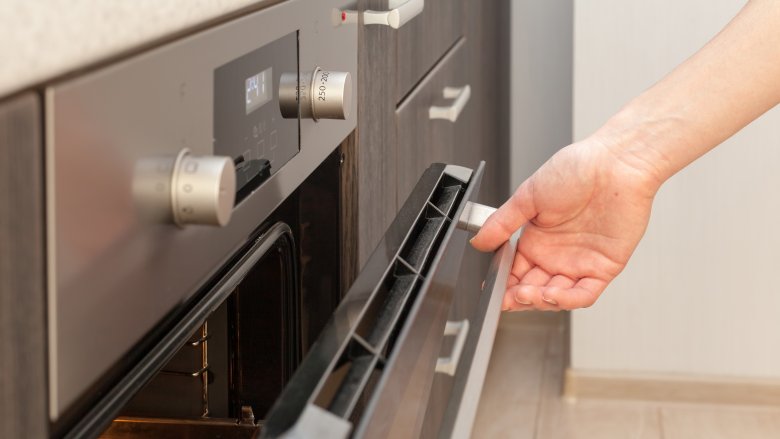 Shutterstock
While it may be tempting to open the oven door to check on your chocolate cake's progress during baking, try to withstand the urge. The more you open the door to look, the more heat escapes, altering the temperature of the oven and leading to uneven baking. You should make an extra effort not to open the oven door in the first 20 minutes of baking to give the batter a chance to properly set. After that, only open to check for doneness toward the end, rather than multiple times during.
Be extra cautious about timing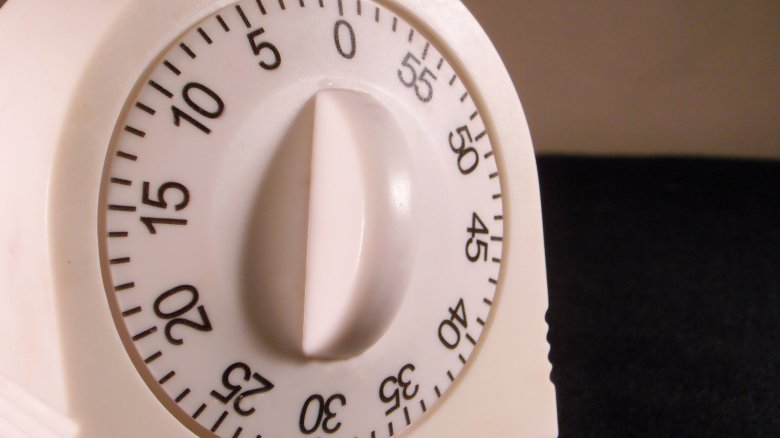 Shutterstock
Timing is always important when you're baking anything, but especially so with chocolate cake. I have found that chocolate cake tends to be more susceptible to drying out due to the addition of cocoa in the batter. One of the joys of chocolate cake consumption is the moistness of its crumb. To avoid dry, sad cakes, do everything you can to mind the time and avoid over baking. If a recipe gives you a time range for baking, check the cake for doneness closer to the fastest time. Erring slightly on the side of under baked is preferable to over baked. An over baked chocolate cake is done for, but a just under baked one will still finish baking in the pan's heat out of the oven and remain creamy on the inside.
Let the cake cool completely before frosting, preferably overnight
Shutterstock
In my youth, I frosted a number of not-yet-cooled cakes to disastrous results. While it may seem obvious that even a slightly warm cake will melt the frosting off during the frosting process, my impatience meant I just couldn't wait to finish my cakes! Of course, you should allow your chocolate cake to cool for 5 to 10 minutes in the pan before inverting it onto a wire rack to cool completely. If you have the time to do so, you can also wrap the room temperature cake in plastic and place it in the fridge overnight. This prevents crumbing, making the surface nice and smooth for applying icing. Moreover, the cake will be infinitely easier to slice through.
Carefully consider the filling and don't skimp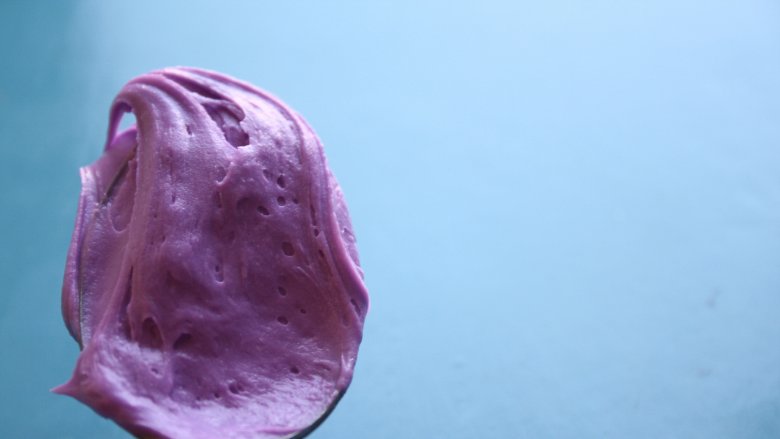 Shutterstock
Chocolate cake is rich and decadent. That's why we love it so much! That said, most varieties benefit greatly from being paired with fillings and frostings that balance out their richness, add intrigue to the chocolate notes, or otherwise complement the cocoa flavors. To cut through chocolate cake's natural richness, opt for fun contrasting fillings. Whether you use a fruit-based one, irresistible dulce de leche, or simple vanilla cream, carefully consider how the flavors will mingle.
My favorite chocolate cake recipes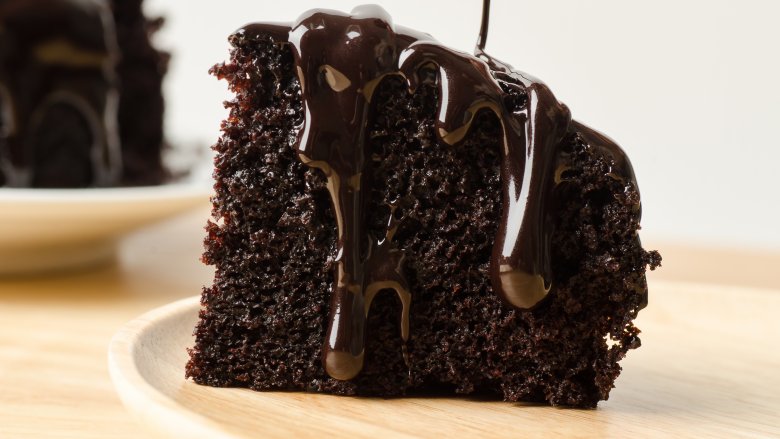 Shutterstock
I hope these simple tricks of the trade embolden you on your path to making the chocolate cake of your dreams. And if you're feeling inspired to get started ASAP, here are some of my favorite recipes to help get you closer to your perfect mouthwatering chocolate slice.
This recipe from the effervescent Deb Perelman of Smitten Kitchen is incredibly easy to execute and uses the acidity of buttermilk to great effect. Moist and scrumptious, it's perfect for birthdays, potlucks, and everyday chocolate cake cravings.
To the point of experimenting with interesting flavors to pair with chocolate cake, this recipe from Molly Yeh is spot on. Nutty tahini is used in both the cake batter and the frosting.
For a classic layered chocolate cake that screams elegant party time, try this recipe from The Faux Martha. Made with half-and-half in place of more traditional milk, the cake itself is ridiculously rich and moist.
Now that you have the lowdown on how to make an amazing chocolate cake and you're armed with a few recipes to start off with, there's no excuse not eat lots of cake and get chocolatey crumbs all over your stuff.