Burger King Has A New Menu For Dogs. Here's Where You Can Find It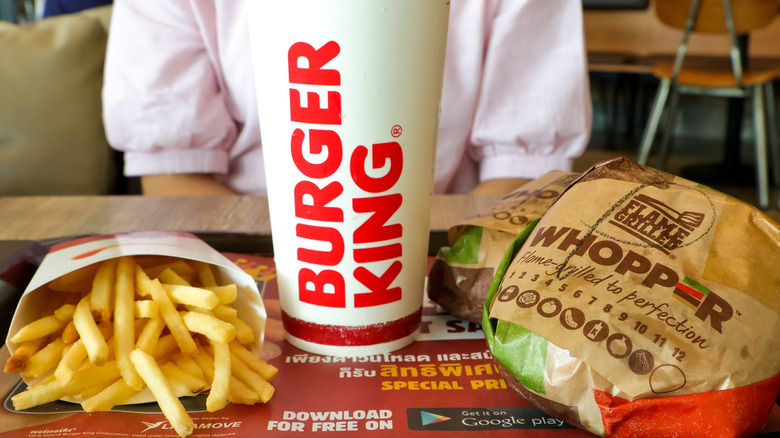 agencies/Shutterstock
Most fast-food joints are not known for dog food, but did you know there are a select number of menus with items specifically for dogs? The American Kennel Club reports that you can bring your pup and snag a whipped cream cup for dogs at Dunkin', a puppuccino at Starbucks, and a Poochini (vanilla custard with doggy treats as toppings) at Shake Shack. They also point out a savory option at Johnny Rockets, where they will "serve your pup a cut-up hamburger patty with a bowl of water." 
Fox News adds to that list with savory options like the pup patty and the Flying Dutchman ("two beef patties and two slices of cheese") at In-N-Out and plain ol' doggy treats from Sonic. And now you can add one more fast-food establishment to your dog-friendly list for when you're craving fries and want to bring the small fry along — Burger King!
Doggy dinner dates await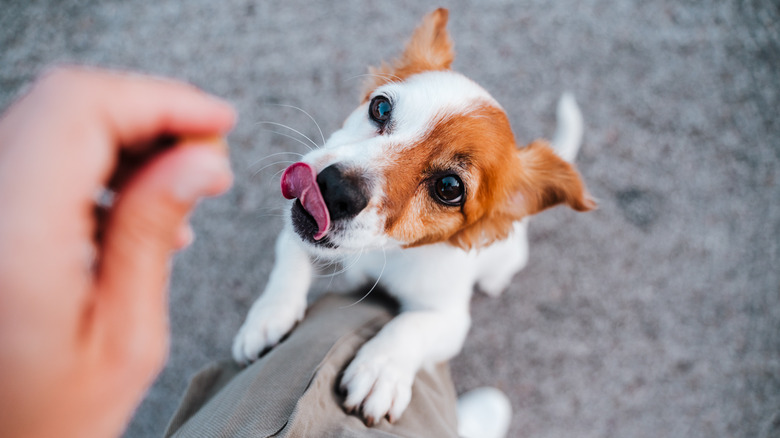 eva_blanco/Shutterstock
For a limited-time in 2018, Burger King made a Whopper-flavored treat for pups, dubbed the Dogpper, while you enjoyed your quarter pounder. Perfect for pet lovers who didn't want to dine alone but had trouble finding a spot where they could enjoy a good meal with man's best friend, Insider reported that the treat was "made out of beef, cheddar, eggs, oat and brown rice flour, and sesame seeds" and was only delivered via DoorDash. 
Now that menu is expanding. While Burger King's Whoppers are known for the 100% beef that is flame-grilled and topped with ketchup, mayo, lettuce, pickles, tomato, and onion, the bites will mimic the taste in a pet-friendly way. According to Hypebeast, the "Real Dogpper Menu" has human-grade foods, including "high-quality protein raw beef and superfood oats" formulated by a Korean food company. For now, Burger King Korea is the only one selling it, meaning Korean fans of the franchise will be having some fun doggy dates. Hopefully, they get to the U.S. as soon as possible.