Flamin' Hot Cheetos Fans Won't Want To Miss This Hot Dog On A Stick Collab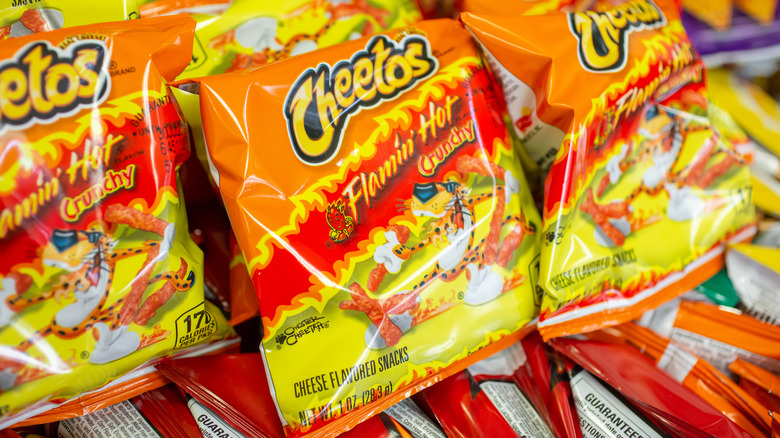 TonelsonProductions/Shutterstock
Foodies that love spicy fare are probably familiar with the iconic Flamin' Hot Cheetos. Though the origin of this delicious snack has recently been disputed by the Los Angeles Times, news outlets reported for many years that the Cheetos were first invented by Richard Montañez (via Inc). This was allegedly the result of an accident when a machine malfunctioned at the factory. This led to extra Cheetos that didn't get seasoned with the brand's distinctive seasoning powder, so Montañez decided to create his own recipe, which was ultimately a huge hit among customers.
Meanwhile, Hot Dog on a Stick first made an appearance as a food stall in 1946 in Santa Monica, California. According to the brand's website, its founder Dave Barham decided to take inspiration from his mom's traditional cornbread recipe to prepare the iconic Hot Dog on a Stick snack. The product gained popularity as Barham introduced more and more consumers to his unique creation. Luckily, if you're a fan of both snacks, there's some good news for you. The two brands have decided to work together on a new project.
Say hello to Hot Dog on a Stick with a spicy twist
According to a press release sent to Mashed, fans will now be able to dig into Flamin' Hot Sticks that will be served with chipotle aioli and a refreshing strawberry lemonade drink with Tajín. Customers can choose from any of the hot dog sticks on the menu to convert the snack into a spicy Flamin' Hot version for an extra $0.99. Frito Lay and PepsiCo have teamed up with Hot Dog on a Stick for this latest collaboration and the new menu item will be available until January 16, 2022. 
"Cheetos is all about bringing the fun and mischief, and this partnership with Hot Dog on a Stick gives fans a brand new way to experience the same Flamin' Hot taste they love," said Jessica Spaulding, senior director of marketing at Frito-Lay. "This new product offering is the perfect way to bring some heat to the fall, and we're confident Hot Sticks will be a hit with our consumers." And according to social media, customers are pretty excited to try out the new creation. An enthusiastic fan commented on Instagram that they can't wait to sample the Flamin' Hot Sticks, while another wrote, "ohhh shooott these look good!!!"