Trader Joe's Fans Are Divided On This Spiced Pumpkin Goat Cheese
Ah, pumpkin spice, that harbinger of fall that seems to have proliferated over the years, invading everything from Twinkies to Pringles to hummus. A mix of warming spices that typically includes cinnamon, ginger, nutmeg, and cloves, pumpkin spice has actually been around for hundreds of years. References to the blend, which was used to flavor pumpkin pie, appeared in cookbooks as early as 1798 (via Food & Wine). But the spice mix's popularity really took off after 2003, when select Starbucks locations started offering the Pumpkin Spice Latte that remains the chain's top-selling seasonal drink. 
Since then, pumpkin spice has shown up in a staggering variety of food and beverages, typically seasonal ones that only grace store shelves during the fall months. No stranger to offering limited-time-only products, grocery store mega-chain Trader Joe's has typically put out its fair share of pumpkin spice items, from wafer cookies to mini yogurt pretzels. Recently, TJ's added a spiced pumpkin goat cheese to its dairy cases and shoppers across the country are making their thoughts about it known.
Some Trader Joe's shoppers have pumpkin spice fatigue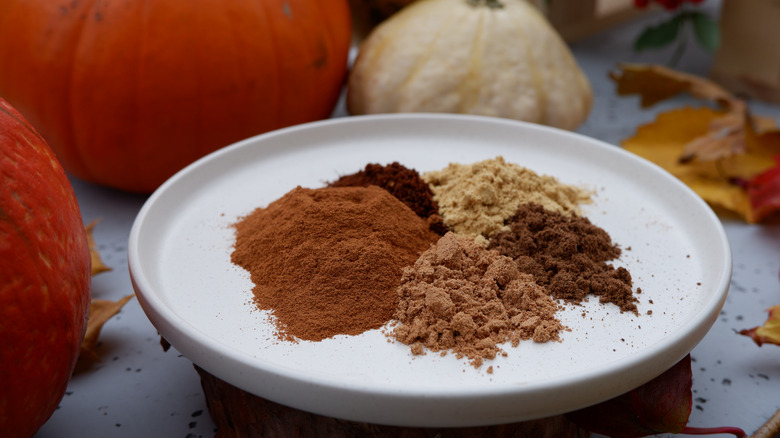 Joanna Musisz/Shutterstock
People tend to either love or hate pumpkin spice, with many eaters and sippers reveling in the seasonal availability of the warming blend — and just as many complaining that every fall product seems to have pumpkin spice in it. And so, when the social media accounts that track new Trader Joe's products posted about a new spiced pumpkin goat cheese available in stores, commenters, logically, appeared divided about the news. 
Instagram account @traderjoeslist posted a photo of the cheese alongside the caption, "This goat cheese is unbelievably creamy with a touch of sweetness and finishes with pumpkin spice that's not overpowering! I really enjoyed this and sampled it in this week's haul! If you're a goat cheese and pumpkin fan I would recommend adding this to your #traderjoes list!"
While one user was on the same page, commenting, "NEED THIS," not all shoppers seemed so psyched. "Jeez. They can't stop adding pumpkin spice to everything," wrote a different follower. Meanwhile, some TJ's shoppers fell squarely in the middle, unable to decide whether they wanted the cheese or not. On a charcuterie board roundup posted by @traderjoesobsessed, one Instagrammer wrote, "Pumpkin goat cheese!! Not sure if I should be intrigued or disgusted." We understand the feeling.